It's hard to believe another whole year has rolled around since Gavin Bishop's luminous Atua: Māori Gods and Heroes took the literary world by storm during the 2022 New Zealand Book Awards for Children and Young Adults, but last night at a joyous ceremony at the Pipitea Marae here in Te Whanganui-a-Tara, the 2023 NZCYA Book Award-winners were announced, to much fanfare and celebration.
This year, the Supreme Winner was multi-talented author and illustrator Mat Tait, for his book Te Wehenga: The Separation of Ranginui and Papatūānuku. This beautifully-crafted pukapuka not only won the Margaret Mahy Book of the Year Award, but also the Elsie Locke Award for Non-Fiction, and it is the first reorua/bilingual book ever to take out the Supreme Award. Our most heartfelt congratulations go to Mat, who has created a taonga to be treasured for generations to come.
Find Te Wehenga: The Separation of Ranginui and Papatūānuku, and the books that won the other categories on the night, on our catalogue below. For more literary greatness, be sure to check out our earlier post highlighting all of the finalists as well — congratulations to you all for your marvellous contributions to the world of children's books in Aotearoa.
---
Margaret Mahy Book of the Year Award; Elsie Locke Award for Non-Fiction
Te Wehenga : the separation of Ranginui and Papatūānuku / Tait, Mat
Judges' comments: Te Wehenga: The Separation of Ranginui and Papatūānuku presents the Māori creation pūrākau in a bold design using universal elements recognised across iwi. The bilingual text is poetic, and integrated into the artwork on each page in a way that draws readers into an interactive experience, inviting them to turn the book as they become immersed in the darkness of the space between Papatūānuku and Ranginui. The production values are exceptionally high, and the result is a book that is — like the story — a taonga, to be shared, closely read and enjoyed in both te reo Māori and te reo Pākehā… [Read more on the New Zealand Book Awards Trust website]
Our thoughts: This book feels like something genuinely special to hold. The story is one that will be familiar to many New Zealanders, as it has been told and re-told in multiple guises over the decades, but the way in which the artwork and bilingual text work together to engross the reader here is something truly unique. The initial darkness of the illustrations brings the reader physically closer to the page, challenging them to discern the beautiful details glowing softly in the dimness. As life flows into the world, the artworks too brighten, and the feeling of reaching the final, glorious spread is something similar to taking a deep breath after holding it for a long time. We hope you all enjoy experiencing this story as much as we did.

---
Picture Book Award
Duck Goes Meow / MacIver, Juliette
Judges' comments: Bold, munificent colours saturate the page, with animals rotund and lively, their hand-lettered animal sounds seamlessly blending into a flawless rhyming text. Readers are taken on a hilarious jaunt as these animals negotiate and encourage Duck to say the right thing, anticipation and humour building with each page turn. The little duck plucks at the heartstrings by being true to itself, and challenging our assumptions. Duck Goes Meow distills all the elements of a great picture book into a celebration of the unexpected, with a conclusion that surprises the animals and readers alike.
Our thoughts: We are so happy for author-illustrator pair extraordinaire Juliette MacIver (a local Wellingtonian!) and Carla Martell — this win is so thoroughly deserved! The absolute beauty of this book is in its simplicity — the design is clear, the humour perfectly-pitched for very young readers, and the text carries the reader inevitably through to the surprising, sweet ending. Plus it's the favourite book of this children's librarian's 19-month-old niece — how could it not win?!

---
Wright Family Foundation Esther Glen Award for Junior Fiction
Below / Hill, David
Judges' comments: From the squeeze of the hourglass on the cover, to the story's heart-thumping climax, a gripping sense of claustrophobia pervades this novel. The restricted point of view, oppressive setting and accelerating sense of danger conspire to close the reader in, yet the writing feels expansive. Relationships, reactions and conflicting positions are skilfully drawn, as two pre-teens rely on ingenuity and analytical thinking to help them survive in the collapsing heart of a mountain. As the stakes get higher and the chances of survival lower, the reader is left gasping. Below is a white-knuckled, powerful read, from one of Aotearoa's most exceptional storytellers.
Our thoughts: Below is palpably the work of an experienced author at the absolute top of his game. It seems anything David Hill takes his pen to turns to gold, and this book is no exception — it's fast-paced and engrossing, while still taking the time to explore the nuances of each of the characters we meet and expand upon their relationships in a way that makes the whole dynamic feel authentic. We found this one to be absolutely un-putdownable, and we suspect you will find the same.

---
Young Adult Fiction Award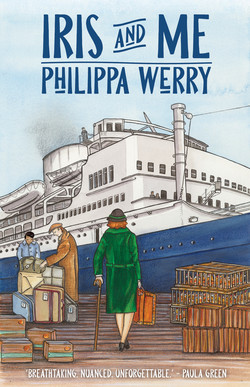 Iris and me / Werry, Philippa
Judges' comments: Iris and Me is audacious and daring, much like its subject Iris Wilkinson, who wrote poetry, fiction and journalism using the pen name Robin Hyde. This exploration of Iris' life is astonishingly original. Written in verse with a unique narrative voice, this is heartbreaking yet hopeful historical fiction. The book is impeccably researched and exquisitely written, and its quality is clear from its charming cover to its extensive endnotes. The many hardships that Iris suffers — including mental health issues, disability, and poverty — are sensitively handled and give insight into the life of an important New Zealand author while being relevant to rangatahi today. This is poetry our young people can relate to.
Our thoughts: The judges describe this book as audacious — certainly it's true that crafting a book in verse is a bold and impressive endeavour, especially one which flows and sings as naturally and compellingly as Iris and Me. What really shone through for us was that in this rich, kaleidoscopic exploration of the life of a significant, and today sadly underappreciated, New Zealander — her perseverance, her bravery in the face of misogyny and adversity, her suffusing love of travel and humanity despite her struggles — there is something in this book for almost every reader to resonate with. We are lucky to have had the opportunity to speak to Philippa about the creation of this book earlier this year — watch her full interview with our Fiction Specialist Neil here.

---
Russell Clark Award for Illustration
A portrait of Leonardo : the life and times of Leonardo da Vinci : a literary picture book / Bixley, Donovan
Judges' comments: Donovan Bixley excels in this illustrated biography of Leonardo da Vinci. Relishing the challenge, he plays joyously with puns and puzzles while demonstrating masterful use of tools that were developed by the great artist himself. Composition, perspective, light and colour are used to great effect, with a strong underpinning of drawing and digital skills, creating a vibrant historical read that is also a fluent and delightful feast for the eyes. A Portrait of Leonardo is enticing and accessible to young readers, a great example of words attributed to the master: "Simplicity is the ultimate sophistication."
Our thoughts: How exciting to see Donovan recognised for his consummate skill as an illustrator and storyteller with this award! A Portrait of Leonardo is a fresh and energetic take on the biographical form, and one could sit for hours, nose pressed against the page, following the pencil strokes and vibrant flashes of colour as they move from image to image, linking the whole story into one deliciously detailed whole. A fitting tribute to one of history's greatest ever artists and inventors, and as Donovan said during his acceptance speech, a take on his life that could only have been envisaged in New Zealand. This book is a triumph, and well deserving of its win in an absolutely stacked field.

---
Wright Family Foundation Te Kura Pounamu Award for Te Reo Māori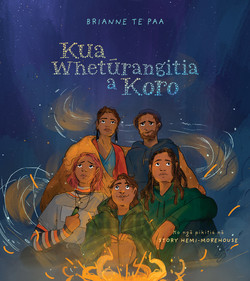 Kua whetūrangitia a koro / Te Paa, Brianne
Judges' comments: Matariki te tohu o maharanui. Matariki te tohu o te pito mata. Matariki te tohu o te ao hou. Kua Whetūrangitia a Koro is a traditional Māori narrative tailored to fit a new world and new audience. The significance of this story, its context, and its poetic use of te reo Māori place it in a stratosphere of its own. Much like Matariki, Kua Whetūrangitia a Koro represents authentic Māori stories being told in te reo Māori that will inspire and educate Māori, Pākehā, and all people of New Zealand and the world. Haramai tētahi āhua!
Our thoughts: Something about this pukapuka ataahua feels incredibly warm and embracing, even while it takes you on the absolute emotional rollercoaster that it does. The poetry of the reo and the simple tangibility of the illustrations infuse this book with a sense of spirituality and wonder while also giving it a quality of 'groundedness' that will make this a staple for any whānau who are looking for ways to navigate through tough situations, like the loss of a loved one. This is a book that will take your hand and sit beside you as long as you need, and we are grateful to Brianne Te Paa and Story Hemi-Morehouse for bringing it into the world for all to learn and grow from.

---
New Zealand Society of Authors Best First Book Award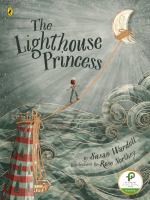 The Lighthouse Princess / Wardell, Susan
Judges' comments: The Lighthouse Princess stands out as a picture book that combines poetic writing and whimsical illustration to create a sum that is greater than its parts. This clever alchemy is all the more astounding considering it is both the writer's and the illustrator's first foray into publication. With details that draw a child's eye into the world of the Lighthouse, and language that lures us from page to page, Rose Northey and Susan Wardell take the reader to an escapist hideaway on a rocky coast inhabited by creatures both real and imagined. Like the boy in the story, once invited in, many will choose not to leave.
Our thoughts: Okay, we did say this last year as well, but the category of Best First Book is becoming increasingly hotly contested as, year by year, more and more extremely talented writers and illustrators throw their hats in the ring. As librarians, it's incredibly exciting for us to see such an assured debut from author Susan Wardell and Wellington-based illustrator Rose Northey — and we simply cannot wait to see what they both choose to create next. This picture book is absolutely charming and engrossing from cover to cover, and we predict it will soon become a firm bedtime or storytime favourite with whānau all over the country. Ka rawe!