Tēnā koutou kātoa! Join us in celebrating Matariki at Wellington City Libraries this winter! Matariki means "tiny eyes," or "eyes of god," and is celebrated in June and early July when a group of stars called the Pleiades rises above the horizon. Many Māori tribes have used the rising of Matariki to mark the beginning of the new year. It's a time of celebration and reflection, of whānau and of kōrerorero — and a time to cook and eat delicious kai! Whether you want to celebrate with others or just learn more about this wonderful festival, your library has you covered with books, resources and events for the whole family.
Many of our usual preschool storytime and Kōhunga Kōrero sessions this month will be Matariki-themed, but we're also running special Matariki events with stories, songs and crafts for tamariki and their families at some libraries — ask your local librarian if you'd like to find out more:
Cummings Park (Ngaio) Library: Monday 18th June, 6:30pm
Ruth Gotlieb (Kilbirnie) Library: Wednesday 20th June, 4:00pm
Island Bay Community Centre: Thursday 21st June, 10:30am
Karori Library: Thursday 21st June, 6:30pm
Mervyn Kemp (Tawa) Library: Thursday 28th June, 3:30pm
Khandallah Library: Thursday 28th June, 6:30pm
Johnsonville Library: Friday 29th June, 3:30pm

Also, check out some of our favourite Matariki books and resources below. As always, you can check our catalogue for more!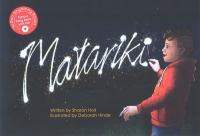 Matariki / Holt, Sharon
"The newest book in the popular award winning Te Reo Singalong series follows a family through their Matariki celebrations over the course of a day. The family wakes at dawn to see the Matariki star cluster and the book takes the family as visitors arrive for a traditional Matariki feast. As the evening draws in, the children create their own stars using sparklers. Each Te Reo Singalong book includes a song CD, English translation, guitar chords and extension ideas. This book also includes information about Matariki." (Catalogue)



Ngā whetū Matariki whānakotia / Kamo, Miriama
"Behind dusty orange hills, where the sky stretches down to the sea, theres a magical, wild, windy place called Te Mata Hapuku. Sam and Te Rerehua love to visit their Grandma and Poua at Te Mata Hapuku (aka Birdlings Flat). They like to collect agate from the stories, with a backdrop of whipping wind, flashing torchlight, and the splash of Pouas gaff in the water. But one night, Grandma notices something mysterious. Someone has stolen some stars from the sky." (Catalogue)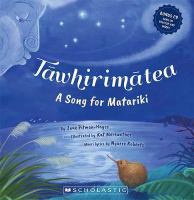 Tawhirimātea : a song for Matariki / Pitman-Hayes, June "Singer/songwriter June Pitman-Hayes wrote this waiata for the children at the Montessori School where she was teaching music. With its delightful, lyrical melody, it warmly weaves together aspects of Māori mythology with the seasons, as a family welcomes Matariki.
A te reo Māori version by Ngaere Roberts is also included in the book and on the CD." (Scholastic)



The little kiwi's Matariki / Slade-Robinson, Nikki "The little kiwi is fast asleep in her burrow. A beam of moonlight shines right down into her burrow. She wakes, and realises it is time […] This gentle tale about celebrating Matariki, the Maori New Year, finishes with an explanation of Matariki – its origins, traditions and how it is celebrated today. The constellation is also shown, with the Maori names for each star. The text contains some simple words in Te Reo Maori alongside the English equivalent." (adapted from Catalogue)