This year on Sunday, 22 January many countries and communities celebrate Lunar New Year, which is the calendar based on the monthly cycles of the Moon's phases! There are Lunar New Year festivals and celebrations in China, North Korea, South Korea, Vietnam, Singapore, Malaysia, Thailand, Indonesia, the Philippines, in Chinatowns all around the world, and there are plenty of local events to celebrate in Aoteaora New Zealand too!
Library Events
Lunar New Year Mandarin Storytime —10.30-11.00am, Tuesday 24 January
Te Awe Library, 29B Brandon Street, Wellington
To celebrate the 2023 Chinese New Year, Te Awe is going to have a Mandarin storytime on the Tuesday 24 January!
为了庆祝农历新年,提亚威图书馆将于年初三,1月24日(星期二)早上10.30至11时举办中文普通话故事时间
Lunar New Year Storytime — Tuesday, 31 January 10:30am
Johnsonville Library, 34 Moorefield Road, Johnsonville 
Celebrate the Lunar New Year with stories, songs, and rhymes in Mandarin, Hokkien, and English.​
欢迎参加Johnsonville图书馆组织的迎中国新年活动. 我们将用普通话, 福建话和英语讲述有趣的故事, 和以歌曲等形式开展与孩子们的互动活动
About the Lunar New Year
2023 is the Year of the Rabbit, in the Chinese zodiac. The rabbit is the fourth zodiac animal. He was a bit arrogant about how fast he was!  He used to tease his neighbour, the Ox for being slow. But one day, the Jade Emperor organised a party to determine the order of the zodiac, in order of who arrived first. The Rabbit arrived early, so he decided to go away and take a nap. When he woke up three other animals had beat him to the party, including the Ox! The rabbit is associated with kindness, quiet confidence and earnestness, which means rabbit might appear quite serious, but always moves forward with feeling and purpose. You can learn more by visiting Year of the Rabbit – Chinese Zodiac on chinesenewyear.net
In Vietnam, Lunar New Year is marked by the Tết Nguyên Đán festival, which is associated with lots of important customs and wonderful foods! Bánh chưng and bánh tét are some of the tasty festival cuisines, made from glutinous rice, mung beans, pork. Bánh chưng is cooked in squares wrapped in lá dong leaves, and bánh tét is cooked in cylinders wrapped in banana leaves, which is then cut into wheel-shaped slices.
In South Korea and North Korea, Lunar New Year is known as Seollal and is celebrated through important traditions, games, food and often by wearing the beautiful colourful hanbok, which are usually worn on special occasions.
In Malaysia, Chinese people and other ethnic groups like Malay and Indian also celebrate Lunar New Year together. You can say "Selamat Tahun Baru Cina" to a Malaysian which means "Happy Chinese New Year" in Malay. Chinese people will have a reunion dinner on the Lunar New Year's Eve. the children will receive "ang pao", red envelopes with money inside, on the first day of the Lunar New Year from the elderly people, represent a kind of blessing and good luck. In return, children need to say some good words back to the elderly people, like stay healthy, stay happy, and "wishing you safety all the time
You can learn more about Lunar New Year is celebrated in other countries by reading some great articles from the list of lunar new year articles from ThoughtCo.com, and by checking out some of the wonderful books listed below.

Books
The 12 days of Lunar New Year / Lettice, Jenna
"Count out twelve ways to celebrate Lunar New Year!… This cheery addition to the 12 Days series celebrates tradition, culture, and family in the lead-up to Lunar New Year! Young readers and their caregivers will enjoy counting all the different ways they can engage with their communities and honour their ancestors…" (Abridged from catalogue)

Lunar New Year / Eliot, Hannah
"Introduces Lunar New Year, describing the food, decorations, and activities of the holiday." (Catalogue)

Happy Chinese New Year! : A Festive Counting Story / Ho, Jannie
"Count to twelve with the zodiac animals as they get ready to celebrate Chinese New Year! Sweet, colorful illustrations introduce each of the zodiac animals as they bring special items to the celebration. Xīn Nián Kuài Lè! Happy Chinese New Year! The zodiac animals are ready to celebrate Chinese New Year with traditions and a big feast! Little ones can count to twelve as each animal prepares for the holiday…" (Abridged from catalogue)

Korean celebrations : festivals, holidays and traditions / Cho, Tina
"Korean Celebrations takes young readers on an exciting exploration of Korea's colorful festivals and family celebrations–wonderful days that are filled with exciting activities and delicious foods." (Abridged from catalogue)

Vietnamese children's favorite stories / Tran, Phuoc Thi Minh
One of the special stories in this book explains why you shouldn't sweep the house on Tết Nguyên Đán! Along with this story of Lunar New Year, there is a collection of wonderful stories connected to five great virtues of Vietnam: Nhan (Compassion), Le (Rituals), Nghia (Righteousness), Tri (Wisdom), and Tin (Trust).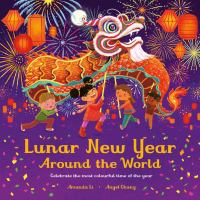 Lunar New Year Around The World: Celebrate The Most Colourful Time Of The Year / Li, Amanda
"Find out all about Lunar New Year and how it is celebrated in different communities across the world!" (Catalogue)

Home for Chinese New Year : a story told in English and Chinese / Wei, Jie
"The Chinese New Year is a time for family reunions. This Chinese children's story tells a delightful trip with lots of cultural details along the way! Jia Jun's Dad worked out of town all year around. Now it's time for him to come home…" (Abridged from catalogue)

Wellington City Libraries has children's books and bilingual editions available in community languages from many different cultures!
Gong Xi Fa Cai" 恭喜发财 — May you be happy and prosperous! 
– Blog by Wei Jing & Joseph