The Summer Reading Adventure for 2023-2024 is fast approaching, and this year the SRA has an exciting new challenge for you – a chance to design and draw your very own cryptid! But what is a cryptid, you might wonder?
A cryptid is a creature or being whose existence hasn't been proven, like the Bigfoot or Loch Ness Monster. Those are two of the most famous examples, but there are actually countless cryptids out there, including some amazing creatures here in Aotearoa! Since you'll be creating your own cryptid from scratch, let's get inspired by some of the more well-known ones in NZ:
Waitoreke
The Waitoreke (also known as the New Zealand otter or kaurehe) is supposedly a furry, amphibious creature the size of a cat, and accounts of this cryptid date back more than 200 years. Sightings of this creature are usually reported around the waterways of the South Island, so keep an eye out next time you go on a family road trip!
Moehau Man
Moehau Man is a large, ape-like creature said to live in the Moehau Range in the Coramandel. While some people suggest that the legend of the Moehau Man has roots in Māori mythology, or is even borrowed from the American Bigfoot, its definite origins are unknown and keen cryptozoologists (people who study and try to find cryptids) have yet to find enough proof to confirm its existence.
Fiordland Moose
Way back in 1910, a handful of moose were introduced into the South Island's Fiordland, where they disappeared into the wilderness. Ever since, the continued existence of these creatures has been much debated. With the last proven sighting in 1953, and an entire moose antler being found in the 1970s, the whole of New Zealand has been kept guessing about these moose, and wondering if they're still trekking around the Fiordland bush.
Canterbury Panther
The legend of the Canterbury Panther comes from regular reports and sightings of a giant black cat in the area around Canterbury. While some sceptics suggest that these sightings are of an abnormally large housecat, enough evidence remains that the Canterbury Panther is one of Aotearoa's most famous (and plausible!) cryptids.
Come down to your local library this summer to try designing your very own cryptid as part of our Summer Reading Adventure, and in the meantime, have a browse of our library's cryptozoological collection!
Cryptid creatures : a field guide / Halls, Kelly Milner
"Cryptozoology is the study of mysterious creatures that fall between the realm of real and imaginary on the scientific spectrum. Cryptid Creatures: A Field Guide offers a closer look at fifty of these amazing creatures, examining the best possible evidence for each, including scientific papers, magazine and newspaper articles, and credible eyewitness accounts." (Adapted from Catalogue)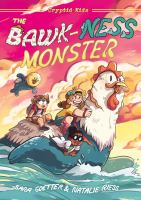 Cryptid kids [1] : the Bawk-ness Monster / Goetter, Sara
"Before she moves away to a new city, Penny wants to prove that she was truly saved from drowning by the Bawk-ness Monster but instead must rescue kidnapped cryptids from an evil collector along with Luc and K"– Provided by publisher." (Catalogue)

Monsters : 100 weird creatures from around the world / Banville, Sarah
"From well-known and well-feared monsters like Bigfoot and the Loch Ness Monster, to the lesser-known, but just as weird and wonderful Japanese Sea Serpent and Chinese Hopping Vampires, this book is the must-have guide to monsters from all over the world." (Adapted from Catalogue)

Cryptid Club / Andersen, Sarah
"Do you hate social gatherings? Dodge cameras? Enjoy staying up just a little too late at night? You might have more in common with your local cryptid than you think! Enter the world of Cryptid Club, a look inside the adventures of elusive creatures ranging from Mothman to the Loch Ness Monster." (Adapted from Catalogue)

The Cryptid Club [1] : Bigfoot takes the field / Brumm, Michael C
"Lily knows better than to listen to the gossip her little brother, Henry, has heard, but when her school newspaper needs a big headline, the rumour that Bigfoot has been spotted is the best lead she's got." (Adapted from Catalogue)

Monsters on the run / Sherry, Kevin
"Yeti Blizz Richards and his gang of cryptids set out to find a friend for Vanessa, the Loch Ness Monster, even though it means traveling back in time to the dangerous age of the Cretaceous looking for plesiosaurs–unfortunately Vanessa proves to be rather timid about meeting other dinosaurs." (Catalogue)

Drawing monsters / Scrace, Carolyn
" This title is packed full of inspiring ideas for your child to use to create entirely new artworks of their own. Art Works are a great way to start learning how to draw. Each title features simple step-by-step instructions that are perfect for practicing guided reading." (Adapted from Catalogue)

The taniwha of Wellington Harbour / Wairama, Moira
"Whataitai and Ngake are two taniwha living in a beautiful lake, however when Ngake gets bored and decides to break free into the ocean his actions have far reaching consequences and help shape the landscape of our capital city." (Adapted from Catalogue)

Mythical monsters : mad, mischievious, mysterious creatures / Smith, Lauren
"Have you ever met a yeti, or seen Nessie hiding below the surface? There's no proof that these creatures exist, but just in case, we've collected the stories of some of the biggest, baddest and oddest monsters in the world." (Catalogue)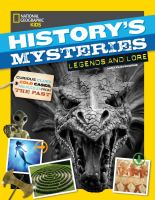 History's mysteries : legend and lore : curious clues, cold cases, and puzzles from the past / Claybourne, Anna
"Interesting and curious historical legends and their background, for children"– Provided by publisher." (Catalogue)

This blog post was written by our wonderful teen blogger,