It's Summer! School's out and the world is your proverbial oyster. But maybe you're not sure what to read over the break? Perhaps you're feeling bored and have forgotten what to do with that mythical concept called free time? Look no further, we've got you covered! I've put together a list of some excellent books, and not only that, each book has an accompanying activity to invite your friend/crush to! Now go get some books, and have an excellent Summer break.

The way you make me feel / Goo, Maurene
"Clara Shin lives for pranks and disruption. When she takes one joke too far, her dad sentences her to a summer working on his food truck, the KoBra, alongside her uptight classmate Rose Carver. Not the carefree summer Clara had imagined. But maybe Rose isn't so bad. Maybe the boy named Hamlet (yes, Hamlet) crushing on her is pretty cute." (Adapted from Catalogue)

IDEA #1 : Take a Sunday walk down the waterfront to the Habourside Market for some food truck and dog-spotting galore!

Love & gelato / Welch, Jenna Evans
"Lina is spending the summer in Tuscany, and she's only there because it was her mother's dying wish that she get to know her father. But what kind of father isn't around for sixteen years?" ( Adapted from Catalogue)

IDEA #2 : Go get some refreshing gelato/ice-cream.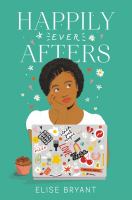 Happily ever afters / Bryant, Elise
"Sixteen-year-old Tessa Johnson has never felt like the protagonist in her own life. The only place she's a true leading lady is in her own writing. When Tessa is accepted into the creative writing program of a prestigious art school, she's excited to finally let her stories shine. But when she goes to her first workshop, the words are just…gone. Tessa needs to find some inspiration in a real-life love story of her own." (Adapted from Catalogue)
IDEA #3 : Go for a wander around Te Whanganui-a-Tara's many second-hand bookstores and try to find the perfect/weirdest book. 

Leah on the offbeat / Albertalli, Becky
"Leah Burke is an anomaly in her friend group: the only child of a young, single mom; her life is decidedly less privileged. Even though her mom knows she's bisexual, she hasn't mustered the courage to tell her friends– not even her openly gay BFF, Simon. When her rock-solid friend group starts to fracture in unexpected ways, it's hard for Leah to strike the right note.  If only real life was as rhythmic as her drumming…" (Adapted from Catalogue)

IDEA #4 : Take inspo from our music loving protagonist Leah and go see a band at Gardens Magic. Make sure to get there early to secure a good picnic spot, and don't miss the light installations around the gardens.

Summer of salt / Leno, Katrina
"No one on the island of By-the-Sea would call the Fernweh women what they are, but if you need the odd bit of help, such as a sleeping aid concocted by moonlight, they are the ones to ask. Georgina Fernweh waits for the tingle of magic in her fingers– magic that has already touched her twin sister, Mary. But with her eighteenth birthday looming at the end of her last summer on the island, Georgina fears her gift will never come." (Adapted from Catalogue)

IDEA #5 :  Go to the beach! The beach is great! Just remember to be safe; use plenty of sunblock and NEVER LOOK A SEAGULL DIRECTLY IN THE EYES.

Keep my heart in San Francisco / Coombs, Amelia Diane
"Caroline "Chuck" Wilson has big plans for spring break—but her dad wrecks those plans when he asks her to spend vacation working the counter at Bigmouth's Bowl, her family's failing bowling alley. Making things astronomically worse, Chuck finds out her dad is way behind on back rent—meaning they might be losing Bigmouth's, the only thing keeping Chuck's family in San Francisco.things" (Adapted from Catalogue)

IDEA #6 : Go bowling! It's a fun activity to do in your spare time. It might seem uncool, but personally that's just how I roll. I wonder how many of these puns I can sneak into this blog post before Stephen asks me to spare you all from my jokes. I might be told to put a pin in it, but I will keep making puns forever until I am banned and if that happens…I will go on strike. Anyways, go bowling.

Editor's note: Your pun quota is getting awfully close to being full, Alayne. I'm watching you. — SC

I think I love you / Desombre, Auriane
"A YA contemporary rom com about two girls who start as rivals but after a twist of events, end up falling for one another—at least they think so. A pitch perfect queer romance. Arch-nemeses Emma, a die-hard romantic, and more-practical minded Sophia find themselves competing against one another for a coveted first-prize trip to a film festival in Los Angeles . . . what happens if their rivalry turns into a romance?" ( Adapted from Catalogue)

IDEA #7 : The easy offer here is that you simply go to a movie, but everyone goes to the movies. Why not have a go at making a movie? Lots of films are shot on phones these days and you can even checkout the filmmaking courses on LinkedIn Learning, free with your library card.

This time will be different / Sugiura, Misa
"Katsuyamas never quit — but seventeen-year-old CJ doesn't even know where to start. She's never lived up to her mom's type A ambition, and she's perfectly happy just helping her aunt, Hannah, at their family's flower shop. She doesn't buy into Hannah's romantic ideas about flowers and their hidden meanings, but when it comes to arranging the perfect bouquet, CJ discovers a knack she never knew she had. A skill she might even be proud of. Then her mom decides to sell the shop — to the family who swindled CJ's grandparents when thousands of Japanese Americans were sent to internment camps during WWII. Soon a rift threatens to splinter CJ's family, friends, and their entire Northern California community; and for the first time, CJ has found something she wants to fight for." (Adapted from Catalogue)

IDEA #8 : Do you know about Wellington's Hidden Gardens? Until December 15th, you can discover seven hidden gardens across Pōneke. There will be secret events happening at every garden, and each is designed to a specific theme. For more information, check out the Wellington City Council website here.