Well, the 1st of October has finally arrived, and so we have officially opened submissions for Tūhono 2021, our annual poetry journal for children and teens! Visit wcl.govt.nz/tuhono to read the guidelines and submit your poem on this year's theme of "Whakaata | Reflection." Submissions will close at 11.59pm on Sunday 14 November.
Note: Submissions to Tūhono 2021 have now closed. Thank you to everyone who submitted.
Yes, you are!
In the meantime, you should definitely check out some of these rad collections of poetry by and for teens (and some by awesome local poets as well). You might just find your inspiration!
Tūhono. a journal of poetry by children and teens / 2020 :
"Tūhono : connection. This is the theme that binds together all 197 poems you are about to read, which were contributed by young Wellington writers aged 5-18 and collected by Wellington City Libraries throughout the month of November 2020. The year 2020 was challenging for many people. Some had to spend time apart from their friends and the people they love. Some had to find ways to live with uncertainty and the sense that everything might not be okay in the world. But taken together, these poems represent a constellation of thoughts, ideas, worries, anxieties, hopes, loves, and dreams about how we find ways to connect, even in the face of adversity." — SP, SC, and LH, Tūhono editors

Ink knows no borders : poems of the immigrant and refugee experience
"An important collection of sixty-four poems sharing the experiences of young adult immigrants and refugees from all over the world." — SP, Tūhono editor

I am a human being / Nieuwland, Jackson
"A truly awesome collection of poetry by local poet (and beloved librarian!) Jackson Nieuwland, this book is by turns funny, poignant, profound, and irreverent, but always, always, transformational. Read this to feel bewildered, but complete." — SC, Tūhono editor

Voices in the air : poems for listeners / Nye, Naomi Shihab
"Young People's Poet Laureate and author Naomi Shihab Nye has written nearly 100 poems in honour of the artists, writers, poets, historical figures, ordinary people, and diverse luminaries from past and present who have inspired her." — SP, Tūhono editor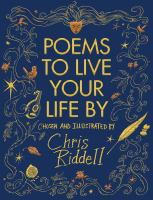 Poems to live your life by / Riddell, Chris
"In this gorgeous anthology, award winning illustrator (and friend to libraries) Chris Riddell has selected 46 poems to live your life by. Poems by both classic and modern poets sit alongside each other, and include Shakespeare, Carol Anne Duffy, Neil Gaiman, Nick Cave and W.B. Yeats. The poems are divided into sections covering, musings, youth, family, love, imaginings, nature, war and endings." — SP, Tūhono editor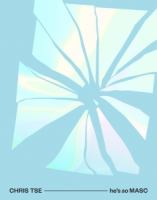 he's so MASC / Tse, Chris
"Look, all I'm saying is if you're a queer young person, a queer old person, or just a person of any type, you've gotta read this collection. You won't be the same afterwards. Or, you'll be the same, but more of yourself. Self-loathing, self-expression, self-identification — Tse holds himself up to the light and you see yourself reflected in the prismatic splitting that follows. If you don't quite understand that sentence, read the book and you will." — SC, Tūhono editor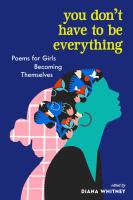 You don't have to be everything : poems for girls becoming themselves
"Sixty-eight diverse poets, including Amanda Gorman, Mary Oliver, Maya Angelou, Elizabeth Acevedo and Kate Baer address the complex feelings of growing up in this poetry collection. Poems are arranged around the themes of 'seeking', 'loneliness', 'attitude', 'rage', 'longing', 'shame', 'sadness' and 'belonging', ultimately offering a message of self-acceptance and giving permission to let go of shame and perfectionism." — SP, Tūhono editor

Young Kiwi voices. a collection of poems from young New Zealanders / Vol. 2
"This locally published collection brings together poems written by New Zealand teens aged between 12 and 18. Well worth a look to get ideas and inspiration for your own work." — SP, Tūhono editor