Coming this Friday June 9th to Newtown Library in conjunction with the Ngaio Marsh awards, we have a very special event  for all lovers of crime fiction.
The panel for this event features some of Aotearoa's finest crime and thriller writers. In the lead up to this unmissable event, we thought we would place a spotlight on just a few of the fabulous writers who will be in attendance.
Award -winning Wellington author Kirsten McDougall's books include the critically acclaimed Tess, "a wonderful, multi-layered can of worms" and The Invisible Rider, as well as short stories and non-fiction in a range of books and journals. She's a Killer has been heaped with praise since its release from the likes of The Listener, The Post and Radio New Zealand and is already one of this most talked about and highly regarded novels of recent years.
She's a Killer, her most recent novel, is set in the very near future in New Zealand where the effects of climate change are really beginning to bite and affect both our physical world and our society. The main theme of the book might be heavy, but the book is often very funny in a dark way. It contains layers of twists and turns and is a fast-paced thriller with great characters to boot.
Kirsten will be joined by the 2021 Ngaios winner Brannavan Gnanalingam and fellow Wellington
novelists Anne Harre and Rodney Strong to discuss how they craft page-turning stories about captivating characters. Join us for an exciting evening of criminally good conversation featuring four local authors.
Event details
WHEN: Friday 9 June 2023, 6pm
WHERE: Newtown Library, 13 Constable Street, Wellington
This is a free event
Event on Facebook Newtown Mystery in the Library.
Below is a selection Kirsten's work  available to borrow from the Library:
She's a killer. / McDougall, Kirsten
"Set in a very near future New Zealand where the effects of climate change are really beginning to bite and affect both our physical world but also our society.Full of spicy and fresh characters that leap of the book's pages and a plot effortlessly moves from razor sharp humour to Climate fear driven sure shot action. " ( Adapted from Catalogue)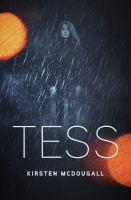 Tess / McDougall, Kirsten
"Tess is on the run when she's picked up from the side of the road by lonely middle-aged father Lewis Rose. With reluctance, she's drawn into his family troubles and comes to know a life she never had. Set in Masterton at the turn of the millennium, Tess is a gothic love story about the ties that bind and tear a family apart." (Adapted from Catalogue)
The invisible rider / McDougall, Kirsten
"This delightful collection of linked short stories focuses on Philip Fetch, a lawyer with an office in a suburban shopping mall who feels increasingly out of step with his society and neighbours. At once surreal and whimsical, and fired by a quietly burning moral engagement, The Invisible Rider is an antipodean cousin of Calvino's Marcovaldo" (Adapted from Catalogue)