There's a slew of new books to hit our shelves that explore both art history and the contemporary art world. Begin your reading with Possessions, a book that examines the contentious processes of cultural appropriation through the art-historical lens of settler societies Australia and New Zealand, raising important questions and discussions around decolonising our arts practices, collections and institutions.
The glorified and inaccurate dualities and myths surrounding the artists studio are deconstructed in The Artist's Studio. This book delves back into the Western art history canon to explore where popular stereotypes such as the 'starving' and 'bohemian' artist arose, and how these cultural constructions are played out and intensified in the art studio setting.
This Dark Country shines a light on the long list of forgotten female artists working in still life painting, as does the book Adelaide Perry, that focuses on one of Australia's preeminent Modernist printmakers. Weather Paintings features a new collection of work by Tamaki Makaurau-based painter Ammon Ngakuru. And for a wonderfully odd read, check out The Madman's Gallery for all things eccentric, strange, and utterly ridiculous in the worlds of painting, sculpture and "other artistic oddities".
Possessions : indigenous art, colonial culture, decolonization / Thomas, Nicholas
"The arts of Africa, Oceania and Native America famously inspired twentieth-century Western modernist artists. The politics of such stimulus have long been highly contentious: was this a cross-cultural discovery to be celebrated, or just one more example of Western colonial appropriation? This revelatory book explores cross-cultural art through the lens of settler societies. The dynamic of dispossession and resistance, against an Indigenous claim to place, history and sovereignty –asking is cultural exchange a two-way process?" (Adapted from Catalogue)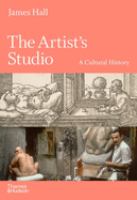 The artist's studio : a cultural history / Hall, James
"An exciting narrative and visual history of the artist's studio, examining the myth and reality of the creative space from early times to today. The artist's workplace has always been an imaginary as well as an actual location, an idealized utopia as well as the domain of dirty, back-breaking work. This pioneering cultural history charts the myth and reality of the creative space from Ancient Greece to the present day, tracing a history that extends far beyond the bohemian, romantic and renaissance cults of the artist." (Adapted from Catalogue)
This dark country : women artists, still life and intimacy in the early twentieth century / Birrell, Rebecca
"For women artists in the early twentieth century Still Life painting was a conduit for their lives, their rebellions, their quiet loves for men and women. But for every artist we remember, there is one we have forgotten; whose remaining artworks lie dusty in archives or attics. In this boldly original blend of group biography and art criticism, Rebecca Birrell brings these shadowy figures into the light and conducts a dazzling investigation into the structures of intimacy that make – and dismantle – our worlds." (Adapted from Catalogue)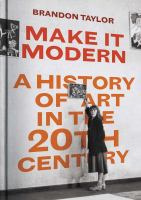 Make it modern : a history of art in the 20th century / Taylor, Brandon
"Original thought, startling artistic techniques, and new attitudes to experimentation were required to produce exceptional and timely work. 'Make It Modern' guides the reader through the art of the modern world. Works of celebrated artists, from Pablo Picasso and Wassily Kandinsky to Frida Kahlo, Jackson Pollock, and Yayoi Kusama, alongside a panoply of undervalued or less-known figures, populate this decade-by-decade narrative, telling an unforgettable story of how art was changed forever." (Adapted from Catalogue)
Adelaide Perry : artist & teacher / Oliver, J
"Adelaide Perry was part of the Modernist art movement in Australia and one of the innovative women printmakers between the wars. This biography explores her life and work over a period when the lives of women changed radically. The Adelaide Perry Gallery has been named in her honour and holds the prestigious Adelaide Perry Prize for Drawing each year, continuing this remarkable Australian woman artist and teacher's legacy." (Catalogue)
Exposed : the Greek and Roman body / Vout, Caroline
"The Greek and Roman body is often seen as flawless, but this, of course, is a lie. Here, classicist Caroline Vout reaches beyond texts and galleries to expose Greek and Roman bodies for what they truly were: anxious, ailing, imperfect, diverse, and responsible for a legacy as lasting as their statues. Taking us on a gruesome, thrilling journey, she taps into the questions that those in the Greek and Roman worlds asked about their bodies. You've seen the paintings, read the philosophers and heard the myths – now here's the classical body in all its flesh-and-blood glory."(Adapted from Catalogue)
Get your shit together / Shrigley, David
"Get Your Sh*t Together features recent artwork in colour by beloved British artist David Shrigley. Celebrating Shrigley's absurd, deadpan sensibility through both his signature drawing style and accompanying text. This collection is sure to delight die-hard Shrigley fans and new ones alike. Featuring not only artwork but also hand-written, humorous essays throughout." (Adapted from Catalogue)
The madman's gallery : the strangest paintings, sculptures and other curiosities from the history of art / Brooke-Hitching, Edward
"Discover an eccentric exploration through the curious history of art, to find the strangest paintings, sculptures, drawings and other artistic oddities ever made. This unique exhibition gathers more than a hundred magnificent works, each chosen for their striking beauty, weirdness and captivating story behind their creation." (Adapted from Catalogue)
Weather paintings / Ngakuru, Ammon
"Featuring a new body of work by Tamaki Makaurau-based painter Ammon Ngakuru. This collection builds less towards a diaristic record than a series of questions about what gets sedimented upon the everyday: about how histories, climatic conditions, systems of naming and structures of power might inform how one looks, and what one sees. Here, as with elsewhere in his practice, Ammon negotiates where and how the artist is positioned within the production of meaning, resisting an easily parsable biographical reading of an artistic output, while asking what facets of an identity might find themselves untranslatable within the context of an exhibition or a book: what, that is, as a matter of subterfuge or reticence, might appear only as a trace or gesture." (Adapted from Catalogue)