Books are great. We all like books here, right? It'd be odd to be on a library blog if you didn't. But you know, sometimes the books we want to read just aren't there, because we're all geniuses with brilliant ideas beyond what mere humankind can comprehend. Which leads us to a problem, we want these books to exist – but they don't.
Yet.
That, my friend, is where writing comes in. Why wait for some hack other person to write the amazing book in your head, when you yourself can do it! All you need is that little organ in your noggin and some kind of writing utensil. Perhaps even the device you are viewing this on.
It just so happens that this month is none other than National Novel Writing Month, or as its friends know it, NaNoWriMo.
NaNoWriMo is a month-long challenge, celebrating the act of writing, by attempting the gruelling task of writing a novel in a month!

Well, technically it doesn't have to be a full novel, with the actual numeric goal being fifty thousand words. So, all of you epic fantasy lovers who want to write a thousand-page tome of a novel that you could kill someone with, you don't have to write all of it in the month. For reference, fifty thousand words is about half of a Hunger Games or a medium length fanfic. While it may seem overwhelming (and it is a lot to write) if you break it down its only like 1 word a second, or 1.7 thousand words a day.
But why put yourself through this? Why do this marathon of writing?
It's to give you a goal to strive for, motivation to finally actually start putting those ideas from head to paper (or keyboard). So why not try it, even if you don't succeed in the big goal, you'll still have written. You'll still have some of your brilliant idea put into reality. And remember, you don't have to write good, you just need to write. It doesn't matter if what comes out is 'garbage', you can always rewrite, rework. But to be able to edit and perfect your creation, you have got to start somewhere.
But maybe you're new to the whole writing shindig and need some advice on how to write good. No worries, below I have included a collection of helpful "how-to" guides, for you to peruse.
Good luck, and merry writing!

The tough guide to fantasyland / Jones, Diana Wynne
"A unique guide to fantasy literature helps readers understand such subjects as virginity, why High Priests are always evil, how Dark Lords always have minions, and useful tips on what to do when captured by a Goblin." (Catalogue)


Spilling ink : a young writer's handbook / Mazer, Anne
"After receiving letters from fans asking for writing advice, accomplished authors Anne Mazer and Ellen Potter joined together to create this guidebook for young writers. The authors mix inspirational anecdotes with practical guidance on how to find a voice, develop characters and plot, make revisions, and overcome writer's block. Fun writing prompts will help young writers jump-start their own projects, and encouragement throughout will keep them at work." (Catalogue)


Rip the page! : adventures in creative writing / Benke, Karen
"Here are the ideas, experiments, and inspiration to unfold your imagination and get your writing to flow off the page This is the everything-you-need guide to spark new poems and unstick old stories, including lists of big, small, gross-out, and favorite words; adventurous and zany prompts to leap from; dares and double dares to help you mash up truths and lies into outrageous paragraphs; and letters of encouragement written directly to you from famous authors, including: Annie Barrows, Naomi Shihab Nye, Lemony Snicket, C. M. Mayo, Elizabeth Singer Hunt, Moira Egan, Gary Soto, Lucille Clifton, Avi, Betsy Franco, Carol Edgarian, Karen Cushman, Patricia Polacco, Prartho Sereno, Lewis Buzbee, and C. B. Follett. This is your journal for inward-bound adventures–use it to write, brainstorm, explore, imagine–and even rip" (Catalogue)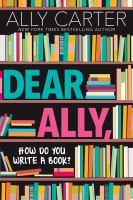 Dear Ally, how do you write a book / Carter, Ally
"Have you always wanted to write a book, but don't know where to start? Or maybe you're really great at writing the first few chapters . . . but you never quite make it to the end? Or do you finally have a finished manuscript, but you're not sure what to do next? Fear not — if you have writing-related questions, this book has answers! Whether you're writing for fun or to build a career, bestselling author Ally Carter is ready to help you make your work shine. With honesty, encouragement, and humor, Ally's ready here to answer the questions that writers struggle with the most. Filled with practical tips and helpful advice, Dear Ally is a treasure for aspiring writers at any stage of their careers. It offers a behind-the-scenes look at how books get made, from idea to publication, and gives you insight into the writing processes of some of the biggest and most talented YA authors writing today."–Amazon." (Catalogue)


But I'm not a writer/No way am I doing this fifty thousand words nonsense!
Firstly, thank you for reading through my blog even if you aren't going to NaNoWriMo. Secondly, I'll tell you a secret, the goal of 50k, like any goal, is made up, imaginary. The point of the challenge is to get writing, and write to your fullest extent within that time frame. If that extent is just a sentence? That's fine! You do you! We are all different people and that is amazing! Some people use NaNoWriMo to get started with their poetry!
But what if you wanna celebrate but don't feel like participating directly – maybe your creative juices have been drained by looming exams?
No worries! The library is, first and foremost, a purveyor of books. So why not read about writing?
Fun fact! The first book here: Fangirl was actually written during NaNoWriMo, and is about writing! Write what you know, I guess.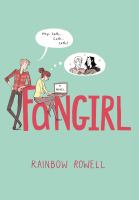 Fangirl – The Novel / Rowell, Rainbow
"Cath struggles to survive on her own in her first year of college while avoiding a surly roommate, bonding with a handsome classmate who only wants to talk about words, and worrying about her fragile father." (Catalogue)


Fangirl. 1 – The Graphic Novel / Maggs, Sam
"When twin sisters Cath and Wren go to college, Cath fears that it may be time to give up her love of the Simon Snow series, and possibly grow apart from her sister." (Catalogue)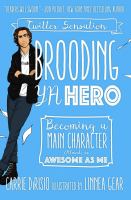 Brooding YA hero : becoming a main character (almost) as awesome as me / DiRisio, Carrie
"Join Broody McHottiepants as he attempts to pen Brooding YA Hero: Becoming a Main Character (Almost) as Awesome as Me, a "self-help" guide (with activities–you always need activities) that lovingly pokes fun at the YA tropes that we roll our eyes at, but secretly love.  As his nefarious ex, Blondie DeMeani, attempts to thwart him at every turn, Broody overcomes to detail, among other topics, how to choose your genre, how to keep your love interest engaged (while maintaining lead character status), his secret formula for guaranteed love triangle success, and how to make sure you secure that sequel, all while keeping his hair perfectly coiffed and never breaking a sweat." (Adapted from Catalogue)


Enter title here / Kanakia, Rahul
"Reshma is a college counselor's dream. She's the top-ranked senior at her ultra-competitive Silicon Valley high school, with a spotless academic record and a long roster of extracurriculars. But there are plenty of perfect students in the country, and if Reshma wants to get into Stanford, and into med school after that, she needs the hook to beat them all. What's a habitual over-achiever to do? Land herself a literary agent, of course." (Adapted from Catalogue)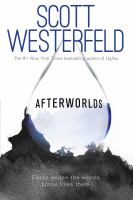 Afterworlds / Westerfeld, Scott
"In alternating chapters, eighteen-year-old Darcy Patel navigates the New York City publishing world and Lizzie, the heroine of Darcy's novel, slips into the "Afterworld" to survive a terrorist attack and becomes a spirit guide, as both face many challenges and both fall in love." (Catalogue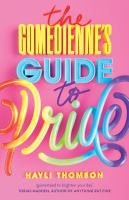 The comedienne's guide to Pride / Thomson, Hayli
"When Taylor is accepted as a finalist for a diverse writers' internship at Saturday Night Live, it turns her life upside down. And if Taylor wants a shot at winning, she'll have to come out about both of her secrets: she wants to be a comedian … and she's a lesbian. The only thing keeping Taylor from self-combusting is her pining for Salem's most bewitching actress – out and proud classmate, Charlotte Grey. So when Taylor finds herself sitting opposite Charlotte to discuss a school project, Taylor's simmering need to tell everyone exactly who she is and what she wants burns hotter than ever…" (Adapted from Catalogue)