Look at them! Aren't they so adorable, with their cute little faces, ferocious teefies, and big goofy ears. If you didn't know, today, April 17th, is International Bat Appreciation Day, a much beloved and well known holiday! Bats are like, super cool, so that's why I have decreed that we shall celebrate their existence! That and I wanted to show y'all some cool books about vampires, but first let's talk real bats.
The Bats of Kiwiland
Bats are Aotearoa's only indigenous land-based mammals, making them a truly unique part of our nation's already unique biodiversity. We have three* different species of bats: the New Zealand Lesser Short-Tailed Bat, the New Zealand Greater Short-Tailed Bat, and the New Zealand Long-Tailed Bat.
Pekapeka – The Short-Tailed Bats: 
Pekapeka are rather unique as bats go, hunting on the ground rather than the air. They are very capable at crawling along the ground and digging with their wings as front limbs. They are omnivores, eating mostly pollen, insects, fruit, and nectar. To attract mates, males will do this little song which is just too cute. Unfortunately the Greater Short-Tailed Bat is likely extinct, as the last time anyone saw one of these bats was 1967, but hopefully they are just being sneaky and are still alive.
Pekapeka-Tou-Roa – The Long-Tailed Bat:
Officially voted as New Zealand's Bird of the Year in 2021, the long-tailed bat is a much more traditional bat than the short tails. It eats insects which it catches while flying, which in fancy science talk is called hawking (because clearly this mammal is a bird.) If you've ever seen a bat in Aotearoa, it was most likely one of these beauties, as they often fly at dusk.
Vampires!
And now for the most popular type of bat, Nosferatu! Real life vampires, vampire bats, are a little less dangerous than the ones in fiction. Vampire bats only occasionally nom on humans, so they're mostly safe. However we need not restrict our imagination by paying attention to "reality". If the animal kingdom won't give us murderbats, the twisted minds of humanity shall.
Lo!
Behold!
Many a strange and horrific tale of the creatures of the night!
Plague of the undead / Cross, Gary
"The boy knew his father was going to kill him. Just like he'd killed everyone else tonight. The boy's mother, his two older sisters and baby brother, the servants. All of them dead.
When Lucius is ten years old his father returns home one evening as a vampire and destroys his entire family. By luck Lucius is spared. Fifteen years later Lucius has joined the elite group of vampire hunters that saved his life that night. Now it's his turn to lead the hunt." (Adapted from Catalogue)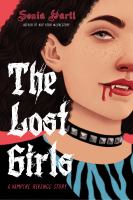 The lost girls : a vampire revenge story / Hartl, Sonia
"Holly Liddell has been stuck with crimped hair since 1987 when she agreed to let her boyfriend, Elton, turn her into a vampire. But when he ditches her at a gas station a few decades into their eternity together, she realizes that being young forever actually means working graveyard shifts at Taco Bell, sleeping in seedy motels, and being supernaturally compelled to follow your ex from town to town, at least until Holly meets Elton's other exes, who invite Holly to join them in their quest to kill Elton before he can trick another girl into eternal adolescence. Adapted from book jacket." (Catalogue)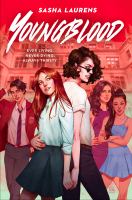 Youngblood / Laurens, Sasha
"Kat Finn and her mother can barely make ends meet living among humans. Like all vampires, they must drink Hema, an expensive synthetic blood substitute, to survive. Kat isn't looking forward to an immortal life of barely scraping by, but when she learns she's been accepted to the Harcote School, a prestigious prep school that's secretly vampires-only, she knows her fortune is about to change. Taylor Sanger has grown up in the wealthy vampire world, but she's tired of its backward, conservative values—especially when it comes to sexuality, since she's an out-and-proud lesbian. But when she discovers her new roommate is Kat Finn, she's horrified. Because she and Kat used to be best friends, a long time ago, and it didn't end well. When Taylor stumbles upon the dead body of a vampire, and Kat makes a shocking discovery in the school's archives, the two realize that there are deep secrets at Harcote—secrets that link them to the most powerful figures in Vampirdom and to the synthetic blood they all rely on." (Catalogue)
Go hunt me / Devos, Kelly
"For Dracula lovers and fans of Diana Urban's All Your Twisted Secrets , this spine-tingling thriller follows seven horror buffs as their dream trip to a remote Romanian castle turns into a nightmare when they begin to be killed one by one." (Adapted from Catalogue)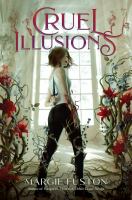 Cruel illusions / Fuston, Margie
"Since a vampire murdered her mother, Ava has survived foster home after foster home, determined to get revenge. It's been ten years since anyone has seen a vampire– until Ava stumbles across a hidden magic show where she witnesses impossible illusions. Ava sneaks backstage and catches them in acts they can't explain. But they've been waiting for her: they are part of an ancient secret society with true magic, and Ava has the same power in her blood that they do. If she joins them they will help her avenge her mother. But if she wants to keep the power they offer, she must participate in a sinister and dangerous competition where illusion and reality blur– and the stakes are deadly."– Adapted from jacket." (Catalogue)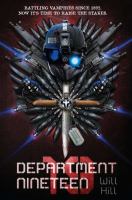 Department 19 / Hill, Will
"After watching his father's brutal murder, sixteen-year-old Jamie Carpenter joins Department 19, a secret government agency, where he learns of the existence of vampires and the history that ties him to the team destined to stop them." (Catalogue)
Direwood / Yu, Catherine
"No one ever pays attention to sixteen-year-old Aja until her perfect older sister Fiona goes missing. In the days leading up to Fiona's disappearance, Aja notices some extraordinary things. Aja's father, the neighbors, and even her ex-friend Mary all play down this strange string of occurrences, claiming there must be some natural explanation. It seems everyone is willing to keep living in denial until other teens start to go missing too. Aja is horrified when she meets Padraic, the vampire responsible for all the strange occurrences. His hypnotic voice lures her to the window and tells her everything she's longed to hear–she's beautiful and special, and he wants nothing more than for Aja to come with him.  Following him into the woods may be the only way to find Fiona, so she agrees on one condition: He must let her leave alive if she is not wooed after one week. " (Adapted from Catalogue)
Eighth grade bites / Brewer, Heather
"For thirteen years, Vlad, aided by his aunt and best friend, has kept secret that he is half-vampire, but when his missing teacher is replaced by a sinister substitute, he learns that there is more to being a vampire, and to his parents' deaths, than he could have guessed." (Catalogue)
The hunt / Fukuda, Andrew Xia
"Seventeen-year-old Gene has passed as a vampire for years, carefully following every rule, but now, just as he finds a girl worth fighting for, he is chosen to participate in the hunt for the last remaining humans among ruthless vampires who soon suspect his true nature." (Catalogue)
Vampires never get old : tales with fresh bite
"Eleven fresh vampire stories from young adult fiction's leading voices! In this delicious new collection, you'll find stories about lurking vampires of social media, rebellious vampires hungry for more than just blood, eager vampires coming out–and going out for their first kill–and other bold, breathtaking, dangerous, dreamy, eerie, iconic, powerful creatures of the night. Welcome to the evolution of the vampire–and a revolution on the page. Vampires Never Get Old includes stories by authors both bestselling and acclaimed." (Adapted from Catalogue)