Dear reader, it is painful for me to admit this, but I have been lying to you. I have portrayed myself as a wise old librarian, their vast knowledge of all things library, and just all things, is only matched by their eldritch unknowable power. I mean all of those are true, but there is something I haven't been telling you.
I haven't read every book in the library.
I know, I know. I feel your jeers, your wails of dismay and betrayal, and I am sorry. Unfortunately we, as (mostly) human beings, have limited time, and energy, and reading can be hard sometimes. It's an unfortunate situation, but not one without a solution.
See, still all powerful and knowing.
And for that I present you…
SHORT STORIES!
So you can get more reading out of your reading.
Now I love a big novel as much as any one, there's often nothing better than sitting down with a massive tome you're 99% sure could be a murder weapon if need be and letting all that story flow into you. But sometimes it's just a lot, and the world moves fast, and committing to a 1000 page story is too much. So why not anthologies?
Anthologies is the fancy person name for a bunch of artsy thingies, in this case short stories, gathered into a single collection. Often times they will have some sort of theme tying them together, but some are more looser than others. They're usually written by a bunch of different authors, though sometimes authors will make collections of their own work.
But yeah, anthologies are pretty rad. One of the best bits about anthologies is the sense of accomplishment they can give you. You can read an entire story, or multiple stories, in a single sitting. Sure you can do that with novels, if you have the time, but reading one more chapter in an anthology is a whole other story.
So you're sold, of course you are! But then you may be thinking, what anthology do I read, how do I choose? Silly goose, that's where I come in! So what's the theme?
It just so happens to be one of the best months of the year! Yes, even better than National Small Press Month!
In honour of that, let us read about stories of the Ls, the Gs, the Bs, the T's, the Qs, the Is, the As and of course the +s!
All out
"Take a journey through time and genres and discover a past where queer figures live, love and shape the world around them. Seventeen of the best young adult authors across the queer spectrum have come together to create a collection of beautifully written diverse historical fiction for teens. From a retelling of Little Red Riding Hood set in war-torn 1870s Mexico featuring a transgender soldier, to an asexual girl discovering her identity amid the 1970s roller-disco scene, this collection of short stories crosses cultures and time periods to shed light on an area of history often ignored or forgotten." (Catalogue)

One in every crowd : stories / Coyote, Ivan E.
"Stories for everyone who has ever felt alone in their struggle to be true to themselves. These are honest, wry, plain-spoken tales about gender, identity and family." (Catalogue)

Kindred : 12 queer #loveozya anthology stories
"Twelve of Australia's best writers from the LGBTQ+ community are brought together in this ground-breaking collection of YA short stories. What does it mean to be queer? What does it mean to be human? In this powerful #LoveOzYA collection, twelve of Australia's finest writers from the LGBTQ+ community explore the stories of family, friends, lovers and strangers – the connections that form us. This inclusive and intersectional #OwnVoices anthology for teen readers features work from writers of diverse genders, sexualities and identities, including writers who identify as First Nations, people of colour or disabled. With short stories by bestsellers, award winners and newcomers to young adult fiction." (Adapted from Catalogue)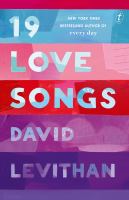 19 love songs / Levithan, David
"Born from Levithan's tradition of writing a story for his friends each Valentine's Day, this collection brings all of them to his readers for the first time. With fiction, nonfiction, and a story in verse, there's something for every reader here. Witty, romantic, and honest, teens (and adults) will come to this collection not only on Valentine's Day, but all year round." (Catalogue)

Love hurts
"Malorie Blackman brings together the best teen writers of today in a romantic collection about love against the odds. Featuring short stories and extracts – both brand-new and old favourites – about modern star-crossed lovers from stars such as Gayle Forman, Markus Zusak, Patrick Ness and Andrew Smith, and with a new story from Malorie Blackman herself, Love Hurts looks at every kind of relationship, from first kiss to final heartbreak." (Catalogue)

Meet cute
"A collection of short stories exploring the moment when a couple meets for the first time–from an African American girl in upstate New York who simultaneously finds a prom dress and a date to a transgender girl who confronts the student blocking her right to use the school restroom." (Catalogue)

Out now : queer we go / Mitchell, Saundra
"A follow-up to the critically acclaimed All Out anthology, Out Now features seventeen new short stories from amazing queer YA authors. Vampires crash prom … aliens run from the government … a president's daughter comes into her own … a true romantic tries to soften the heart of a cynical social media influencer … a selkie and the sea call out to a lost soul. Teapots and barbershops … skateboards and VW vans … Street Fighter and Ares's sword: Out Now has a story for every reader and surprises with each turn of the page! This essential and beautifully written modern-day collection features an intersectional and inclusive slate of authors and stories." (Catalogue)

Short stuff : a young adult LGBTQ+ anthology
"It could start anywhere… 
At a summer vacation at the lake, just before heading off to college. In a coffee shop,when the whole world is new. In a dragon's cave, surrounded by gold. At a swim club,with the future in sight.
In Short Stuff, bestselling and award-winning authors dial down the angst in four meet-cute LGBTQ young adult romances." (Catalogue)