There's a new fad of educational entertainment sweeping throughout the country: The PowerPoint Night. Brought to you by the kind of people who enjoy using slideshows to rank the hotness of the Greek Pantheon, or to methodically explain who they would most enjoy slapping with a wet sock, the PowerPoint Night is a vessel for unadulterated chaos. With great transitions.
So today I'm here to help you on your path to PowerPoint glory with some handy resources and suggestions to get you started. Such as this absolutely vital guide:

PowerPoint 2010 / Wood, William
"Provides step-by-step screen shots that show you how to tackle more than 130 PowerPoint 2010 tasks. Each task-based spread covers a single technique, sure to help you get up and running on PowerPoint 2010 in no time." (Catalogue)

Because I'm sure none of you have ever used Microsoft Office, Google Slideshow, or Canva in your entire lives. Once you've got your hands on this sweet little guide and kicked your dial-up internet into life, here are a few ideas for your very own PowerPoints:
How to Assemble a Hatred Bouquet
Strange new times call for strange new methods of communication! I propose we revive the practice of communicating through flowers, and – although you can use your linguistic floral skills to say anything – I would vote for focusing your PowerPoint on how to make your bouquet a declaration of eternal animosity. Who wouldn't want to make their menacing more aesthetic?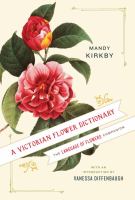 A Victorian flower dictionary : the language of flowers companion / Kirkby, Mandy
"Early Victorians used flowers as a way to express their feelings– love or grief, jealousy or devotion. Now modern-day romantics are enjoying a resurgence of this bygone custom. Kirkby shares the historical literary, and cultural significance of flowers." (Catalogue)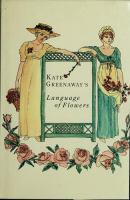 Kate Greenaway's Language of flowers. / Greenaway, Kate
"Contains alphabetical lists of flowers and the meanings associated with them." (Catalogue)

DIY Conspiracy Theory
In case the Victoria University Flat Earth Society Facebook page isn't quite scratching that conspiratorial itch, why not make up your own? PowerPoint night can be the perfect opportunity to make your case for the huge, telepathic platypus that may or may not be living at the centre of the earth.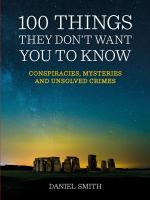 100 things they don't want you to know / Smith, Daniel
"Unsolved mysteries, strange disappearances, suspicious cover-ups, and consiracy theories. Discover the secrets they don't want you to know. – Who was Jack the Ripper? – Why was Lee Harvey Oswald shot? – Where did the Nazis stash their gold? – Who are the real Men-in-Black? – Did the lost cosonauts ever exist? – Who really discovered America? – Why was Stonehenge built? – Did aliens send the "Wow" signal? – Who stole the Irish crown jewels? – How will the world end?" — from back cover" (Catalogue)

Conspiracy theories & secret societies for dummies / Hodapp, Christopher
"Entering the world of conspiracy theories and secret societies is like stepping into a distant, parallel universe where the laws of physics have completely changed: black means white, up is down, and if you want to understand what is really going on, you need a good reference book." (Catalogue)

Plan Your Own Funeral
What better way to celebrate life than by having a party at the end? Or by having a picnic? A flash mob? Hiring the Wiggles to perform before your open casket? The choice is yours, so get choosing and announce your plans via PowerPoint!

The party of your life : get the funeral you want by planning it yourself / Dillman, Erika
"The Party of Your Life is a lively, irreverent guide to putting the F-U-N back in funeral […] With the help of The Party of Your Life, the newly dead will rest in peace knowing the tips in the book have helped reduce the drama and strain on their survivors, who are likely experiencing the most painful time of their lives." (Adapted from Catalogue)

They both die at the end / Silvera, Adam
"In a near-future New York City where a service alerts people on the day they will die, teenagers Mateo Torrez and Rufus Emeterio meet using the Last Friend app and are faced with the challenge of living a lifetime on their End Day." (Catalogue)

Zodiac Signs As….
An oldie but a goodie – why not embrace PowerPoint night to explore some astrological niches? You could pontificate over zodiac signs as panic-buying items (Taurus as toilet-paper & Pisces as flour for sure), tag them as Barbie characters, or discuss what famous landmarks you would most like to eat (Stonehenge looks nice and crunchy). For a little more background info from which to build your case, check out some of our astrology collection:
Nasty astrology : what your astrologer won't tell you! / MacDonald, Richard
"Exploring exactly what hidden demons lurk within other people's psyches, this book reveals all the unspoken truths about people's star signs. Aren't you bored with all the astrology books that tell you what a nice person everyone is? Don't you know, deep down, that there are some very unpleasant aspects to all our characters? Wouldn't you like to know the truth about the other signs? What makes them tick? What their dark little secrets are?" (Catalogue)

Cinemastrology : the movie lover's guide to the sun, the moon, and the stars / Wonderly, Stella
"Let the celestial signposts of the zodiac guide you to your next cinematic adventure. With Cinemastrology, you'll find new flicks, view forgotten favorites from a new perspective, make film-watching plans with a friend or date, and even learn a few things about yourself along the way. Cinemastrology will illuminate the sun-sign secrets of some of cinema's biggest stars, movies, and moviemakers. But the main star is you! Book jacket." (Catalogue)

So whether you need some free internet with which to get crafting, or are looking to utilise our magnificent and eclectic collection, come on down to your local library for Peak PowerPointing Perfection.