This is a blog post NOT for the faint hearted. This is NOT a blog post full of hearts, flowers and romantic embellishments.  What you're about to read is raw, gritty, deadly, but could very well save your life and may help you avoid getting murdered. This is a post for teens addicted to true crime stories/podcasts and interested in fiction, on 'how NOT to get murdered,'  inspired by A Good Girl's Guide to Murder by Holly Jackson.

Here are some basic tips on how NOT to get murdered?
Learn how to escape from large suitcases.
When your friend advises you "split up" to go look for something in the cemetery after dark … just don't do that. When did that ever work out?
When someone has a knife as their hand, don't be judgemental… but maybe do be suspicious. Archaeological proof of knife-prosthetics: Medieval Man Used a Knife as a Prosthetic Limb

Trust your gut.

Read the following books as cautionary tales that may prompt you to follow the advice above.
A good girl's guide to murder.
"The case is closed. Five years ago, schoolgirl Andie Bell was murdered by Sal Singh. The police know he did it. Everyone in town knows he did it. But having grown up in the small town that was consumed by the murder, Pippa Fitz-Amobi isn't so sure. When she chooses the case as the topic for her final-year project, she starts to uncover secrets that someone in town desperately wants to stay hidden. And if the real killer is still out there, how far will they go to keep Pip from the truth?" (Catalogue). Also available as an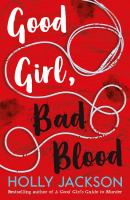 Good girl, bad blood.
"Pip Fitz-Amobi is not a detective anymore. Her true crime podcast about the murder case she solved last year has gone viral. Yet Pip insists her investigating days are behind her. But she will have to back on her word when some close to her goes missing and the police can't do anything about it." Also available as an eAudiobook.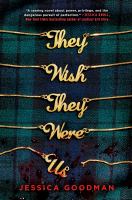 They wish they were us.
The lives of Jill Newman and her friends look perfect, but nothing is as it seems. Jill's best friend, the brilliant, dazzling Shaila, was killed by her boyfriend, but suddenly Jill starts getting texts proclaiming his innocence. But digging deeper could mean putting her friendships, and her future, in jeopardy.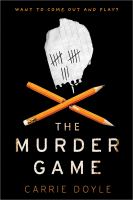 The murder game.
"Luke Chase's roommate Oscar convinces him to sneak out of their boarding school dorm to meet up with a couple of girls in the forest, have a good time, and no one will ever know. When the wife of one of their teachers is found dead in the woods the next morning, the group decides to solve the murder on their own. Will they be able to catch the killer before the killer catches them? — adapted from back cover." (Catalogue). Also available as an eBook.
White rabbit, red wolf.
"A gripping and gloriously treacherous thriller without guide ropes or safety nets. Leave all certainties by the door." Frances Hardinge A taut thriller about murder, maths and the mind. Peter Blankman is afraid of everything but must confront truly unimaginable terror when his mother is attacked. Seventeen-year-old Peter Blankman is a maths prodigy. He also suffers from severe panic attacks. Afraid of everything, he finds solace in the orderly and logical world of mathematics and in the love of his family: his scientist mum and his tough twin sister Bel, as well as Ingrid, his only friend. However, when his mother is found stabbed before an award ceremony and his sister is nowhere to be found, Pete is dragged into a world of espionage and violence where state and family secrets intertwine. Armed only with his extraordinary analytical skills, Peter may just discover that his biggest weakness is his greatest strength." (Catalogue).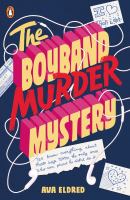 The boyband murder mystery.
"When frontman Frankie is arrested on suspicion of murdering his oldest friend Evan, Harri feels like her world's about to fall apart. But quickly she realises that she – and all the other Half Light superfans out there – know and understand much more about these boys than any detective ever could. Now she's rallying a fangirl army to prove Frankie's innocence – and to show the world that you should never underestimate a teenage girl with a passion." (Catalogue).
Pride and premeditation.
"Perfect for fans of the Lady Janies and Stalking Jack the Ripper, the first book in the Jane Austen Murder Mysteries series is a clever retelling of Pride and Prejudice that reimagines the iconic settings, characters, and romances in a thrilling and high-stakes whodunit. When a scandalous murder shocks London high society, seventeen-year-old aspiring lawyer Lizzie Bennet seizes the opportunity to prove herself, despite the interference of Mr. Fitzwilliam Darcy, the stern young heir to the prestigious firm Pemberley Associates. Convinced the authorities have imprisoned the wrong person, Lizzie vows to solve the murder on her own. But as the case-and her feelings for Darcy-become more complicated, Lizzie discovers that her dream job could make her happy, but it might also get her killed." (Catalogue). Also available as an eBook and an eAudiobook. 
#MurderTrending.
"In the near future, citizens can enjoy watching the executions of society's most infamous convicted felons, streaming live on The Postman app from the prison island Alcatraz 2.0. Dee Guerrera wakes up in a haze, lying on the ground of a dimly lit warehouse, about to be the next victim of the app, found guilty of murdering her stepsister. But Dee refuses to roll over and die for a heinous crime she didn't commit. Her newly formed posse, the Death Row Breakfast Club, needs to prove she's innocent before she ends up murdered for the world to see. That's if The Postman's cast of executioners don't kill them off one by one, first." — Adapted from jacket. Available as an eBook.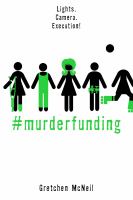 #MurderFunding.
"WELCOME TO WHO WANTS TO BE A PAINIAC?, the latest reality TV show on the hunt for the next big-hit serial killer. But don't worry-no one is actually going to murder anyone, as real as the fake gore and pretend murder may appear . . . uh, right? Seventeen-year-old Becca Martinello is about to find out. When her perfectly normal soccer mom dies in a car crash, a strange girl named Stef appears and lets Becca know that her deceased mom was none other than one of Alcatraz 2.0's most popular serial killers-Molly Mauler. Soon, Becca ends up on Who Wants to Be a Painiac? to learn the truth about her mom's connection to Molly Mauler, but things turn sinister when people are murdered IRL. Will Becca uncover dark secrets and make it out of the deadly reality show alive? Or will she get cut?" (Catalogue).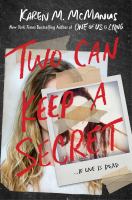 Two can keep a secret.
"The New York Times bestselling author of One of Us Is Lying is back with an all-new, page-turning mystery perfect for fans of Riverdale! Echo Ridge is small-town America. Ellery's never been there, but she's heard all about it. Her aunt went missing there at age seventeen. And only five years ago, a homecoming queen put the town on the map when she was killed. Now Ellery has to move there to live with a grandmother she barely knows. The town is picture-perfect, but it's hiding secrets. And before school even begins for Ellery, someone has declared open season on homecoming, promising to make it as dangerous as it was five years ago. Then, almost as if to prove it, another girl goes missing. Ellery knows all about secrets. Her mother has them; her grandmother does too. And the longer she's in Echo Ridge, the clearer it becomes that everyone there is hiding something. The thing is, secrets are dangerous–and most people aren't good at keeping them. Which is why in Echo Ridge, it's safest to keep your secrets to yourself." (Catalogue).

For more reading guides on how NOT to get murdered, click here.