I  know
how
to write
Poe-
Try good
Just press ent-
er a whole bunch at
random point-
s
It looks super
✨fancy✨
It's another day
It's another holiday
Who woulda thunk it?
Dear God! The blogger
Is writing verse once again!
TREMBLE YE MORTALS!
Let's celebrate art
The most fançioux: poetry
but not the good stuff
drop the pretention
rake those nails on the chalkboard
make fun, not good, stuff
just stop counting
abandon the thesaurus
who cares if a haiku is supposed to have a specific amount of syllables? rules? what are those? oh im "breaking the rules" who are you? my dad? hah i can does what me wantses irregardless!
It is national bad poetry day
Where we celebrate creativity
By making and reading poems that may
not exactly be "literary"
There's so much pomp and circumstance in it
You'd think you could only read poetry
With a lordship and some prestige degree
But anyone can read 'em, they're fun, try it
Here's my suggestion: write some pretty words
They don't have to be good, but maybe they'll be.
Do whatever you want, follow rules or don't
I'm sure there's many a poem in ye.

"But alas", you cry, "I doth not know how!"
Worry not, the librarian me knows all about crappy poetry
Rhyme is sublime. It's a crime, I'mma chime, anytime the paradigm of rhyme goes bye. Similar sounds bound together incur profound purr renowned all-around. Astound year-round you crowned amateur litterateur!
Alliteration: an amazing action an author attempts, attracting attention among audiences. Bundling beginnings breaklessly becomes bountiful by bewitching bodies, banishing boredom.

Sibilance: certain s/c sounds said surplus, structured so somehow specialises sufficiently so sibilance stays separate. Sibilance starts sounds ampersand simultaneously starts inside some sounds.
Meter is not just a form of measure.
Iambic pentameter; what Shakespeare
Wrote requires ten syllables in five "feet".
Feet is a unit, the Bard used iambs
Unstressed then stressed, a meter of two sylls
But I'll tell you a secret: it's nonsense,
Gobbledygook! Pick a random number
Of syllables and stick to it. Pretend!
People assume you know what you're doing.
One format to try: Old Shakespeare's sonnet
Three groups of four lines, rhyme A B A B
Ten syllables: Iamb pentameter
End it with a rhyming couple of lines,
A couplet, if you will, wrapping it up
Limericks are fun don't you know
Rhyme A A B B A like so
Write li'l shorter here
For reasons we'll veer
Answers? Nah, just enjoy the show
Haikus are classic
A sandwich of funny words
It's easy as pie
Five syllables up
Seven syllables between
Five syllables down
So there it is, go poetry right now
If creativity is hard, then I suggest thou

Should pick up a book, read some nonsense poetry.
Where silly people make silly sounds sillily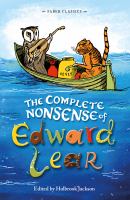 The complete nonsense of Edward Lear / Lear, Edward
"King and Queen of the Pelicans we;
No other Birds so grand we see!
None but we have feet like fins!
With lovely leathery throats and chins!
Ploffskin, Pluffskin, Pelican jee!
We think no Birds so happy as we!
Plumpskin, Ploshkin, Pelican jill!
We think so then, and we thought so still!"
(Edward Lear, The Pelican Chorus)
The musician Cosmo Sheldrake has turned one of these poems into a song, it's worth a listen
Fox in socks / Seuss
"Knox in box.
Fox in socks.
Knox on fox in socks in box.
Socks on Knox and Knox in box.
Fox in socks on box on Knox."
(Dr. Seuss, Fox in Socks)
There's a very fun video of this book as a rap from the Dr. Seuss YouTube channel
Old Possum's book of practical cats / Eliot, T. S.
"Macavity, Macavity, there's no one like Macavity,
He's broken every human law, he breaks the law of gravity.
His powers of levitation would make a fakir stare,
And when you reach the scene of crime—Macavity's not there!"
(T.S. Eliot, Macavity: The Mystery Cat)
(Also it inspired the brilliant musical Cats and its… less brilliant movie adaptation Cats)
Jabberwocky / Carroll, Lewis
"'Twas brillig, and the slithy toves
Did gyre and gimble in the wabe:
All mimsy were the borogoves,
And the mome raths outgrabe.
"Beware the Jabberwock, my son!
The jaws that bite, the claws that catch!
Beware the Jubjub bird, and shun
The frumious Bandersnatch!"
(Lewis Carroll, Jabberwocky)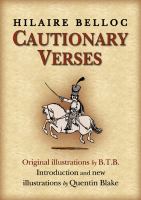 Cautionary verses / Belloc, Hilaire
"And is it True? It is not True.
And if it were it wouldn't do,
For people such as me and you
Who pretty nearly all day long
Are doing something rather wrong.
Because if things were really so,
You would have perished long ago,
And I would not have lived to write
The noble lines that meet your sight,
Nor B. T. B. survived to draw
The nicest things you ever saw."
(Hillaire Belloc, Introduction)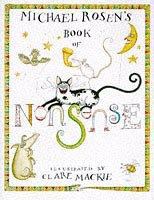 Michael Rosen's book of nonsense / Rosen, Michael
"The seagulls think we live at the seaside:
the tower blocks are their cliffs;
they swoop for fish in the gutter
but are happy that it's last night's fried rice."
(Michael Rosen, The Seagulls)
Fun fact: this book's written by the guy behind this meme:

via GIPHY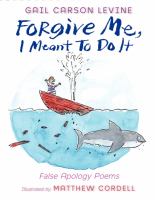 Forgive me, I meant to do it : false apology poems / Levine, Gail Carson
"This Is Just to Say
If you're looking for a nice happy book
put this one down and run away quickly
Forgive me sweetness and good cheer are boring"(Adapted from Catalogue)