Welcome to the Wellington Comic Lover's Guide, where we take you through the Wellington City Libraries' collection of a comic book character or series. This post is all about the story of a kid who wants to be King of the Pirates and sets out find the world's greatest treasure: One Piece!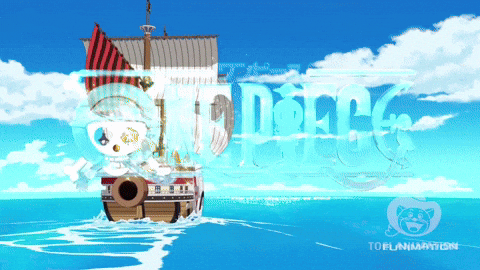 The Straw Hats' ship, the Thousand Sunny, sails off into the horizon (via GIPHY)
---
What is One Piece?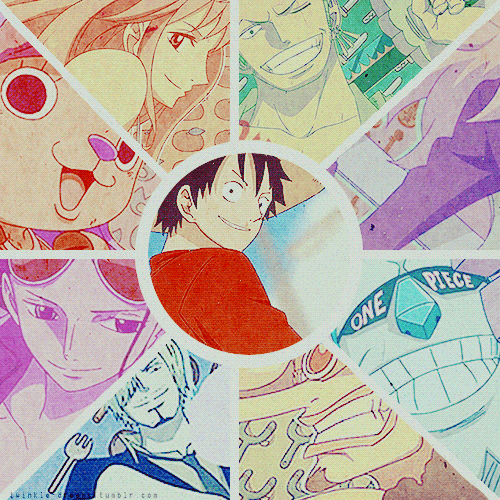 Luffy (centre) and the Straw Hats (clockwise from top left) Nami, Zoro, Brook, Franky, Usopp, Sanji, Robin, and Chopper (via GIPHY)
One Piece is a weekly manga published by the anthology manga magazine Weekly Shōnen Jump. Written and drawn by mangaka (manga artist) Eiichirō Oda, it's the longest-running manga in the magazine's history, running for over 26 years, and has been adapted into movies, video games, a long-running anime, and a live-action TV series on Netflix.
The story of One Piece takes place following the capture of notorious pirate Gol D. Roger, who proclaims before his execution that he hid a fabulous treasure named 'The One Piece' at the end of the world's most perilous ocean, the Grand Line. This inspires a generation of pirates to seek out the treasure, including Monkey D. Luffy, a boy with the power of the Gum-Gum Fruit, which allows him to stretch his body like rubber at the cost of being able to swim.
Luffy gathers a loyal crew (named the 'Straw Hat Pirates' after his signature lid) including ace swordsman Zoro, sassy cat burglar Nami, cowardly sharpshooter Usopp, and chivalrous chef Sanji, and they set off to find the One Piece, battling rival pirates, crime lords, sea monsters, corrupt governments, and despotic rulers, while gathering new crew members along the way.
---
How do I start reading One Piece?
Start at Volume 1! You can reserve it here or start reading here on our eLibrary app Libby. We have the first four volumes on the eLibrary, and the first 99 volumes of the series in tankōbon (manga collection). In fact, the most recent tankōbon in our collection has the series milestone 1000th chapter in it, which sets up the series' final arc. So now has never been a better time to get caught up!
That's the how explained, but the more important question is why should you start reading One Piece? A series this long is a big commitment, but as someone who is currently up to date with the manga (all 1091 chapters as of this writing), I can tell you from experience that it is well worth the journey. Come aboard, and let us count the ways…
Luffy and the Straw Hats in the order they joined the crew (via GIPHY)
---
The Story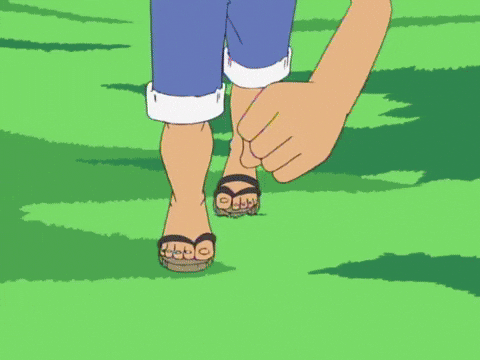 Come aboard and bring along all your hopes and dreams! (via GIPHY)
While One Piece's overall story is literally just the world's biggest treasure hunt, it's the journey that matters, as the Straw Hat crew travel from island to island encountering rivals and obstacles to their quest. The series is divided into discrete arcs, which vary in length and build in complexity as more characters are introduced and the world gets further fleshed out.
My personal favourite One Piece arcs are:
Baroque Works (vol 13-24) – The Straw Hats help a princess disguised as a bounty hunter save her desert kingdom of Arabasta from Crocodile, a crime lord with the power of the Sand-Sand Fruit. The first major arc of the series which sets the template for the rest of One Piece's storylines.

Skypiea (vol 25-33) – Arguably the most imaginative setting in One Piece, here the crew ascends up a giant geyser to a civilization in the sky, where ships can sail on clouds and an indigenous population protects their land from the 'Sky People' and the self-proclaimed lightning god Eneru.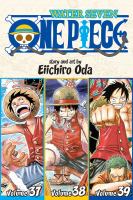 Enies Lobby (vol 39-45) – After fighting through a train that rides over the ocean, the Straw Hats must rescue a member of the crew from a government stronghold guarded by highly trained secret agents. This arc sees the crew come face-to-face with the oppressive World Government, the major governing body of the One Piece world that silences or imprisons anyone who threatens their power.

Impel Down (vol 55-57) – To save his brother Ace from execution, Luffy teams up with a number of the series' previous villains to break him out of the titular prison island, which is inspired by the circles of Hell from Dante's Inferno. This story also sets up the Marineford arc, a major turning point in the One Piece narrative and the halfway point of the manga's overall story.

Whole Cake Island (80-90) – Luffy and half of the Straw Hat crew venture to a chain of fairy tale-inspired islands to save Sanji from an arranged marriage. Despite the island's (literally) sugar-coated surface, the lands of Whole Cake are ruled with an iron fist by the villainous 'Big Mom', a giantess pirate and member of the series most powerful villains, the Four Emperors.
---
The Fights
Luffy performs his Gum-Gum Jet Gatling attack (via GIPHY)
It wouldn't be a shōnen manga if the fights weren't top-notch, and in that respect One Piece does not disappoint. In addition to a litany of sword-wielders, martial artists, cyborgs, and mythical creatures like giants and fishmen that inhabit the Grand Line, we have the signature superpowers of One Piece that come from the mysterious Devil Fruits. When eaten, these fruits grant their user supernatural abilities, ranging from 'growing extra limbs at will' to 'turning into a dinosaur' to 'being able to manipulate biscuits', making the fights incredibly imaginative depending on each character's particular skillset.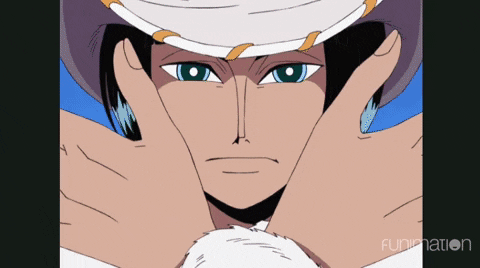 Nico Robin has the Flower-Flower Fruit, allowing her to grow copies of her limbs onto anything or anyone (via GIPHY)
Every One Piece arc has an act dedicated just to Luffy and the Straw Hats going mano-a-mano with the antagonists of that storyline. Over the course of the series, we've seen such hits as:
The Crew Fights a Pirate Circus, Led by a Clown Who Can Split His Body into Pieces!
Who Can Sword More: The Crew's Swordsman, or A Literal Man Made of Swords?
Usopp and Chopper Fight a Mole-Woman and a Guy Whose Dog is a Bazooka!
Zoro and Usopp Fight a Sword-Wielding Giraffe-Man… While Handcuffed Together!
How Many Biscuit Soldiers Can Luffy Eat in One Battle? The Answer May Surprise You!
Sanji Abandons His Noodle Stand and Embraces His Power Ranger Heritage to Beat Up a Spinosaurus-Man!
While those all sound ridiculous, every fight is written with an emphasis on showing growth through conflict, and drawn to showcase action and exaggerate the impact of each blow (it helps when your main character can squash and stretch like a Looney Tune). Some of the best moments in One Piece are when a character overcomes a limitation or sees their motivation in a new light while mid-conflict. It's classic shōnen manga stuff, but filtered through One Piece's signature brand of wackiness, it'll make you laugh and cheer (and sometimes cry).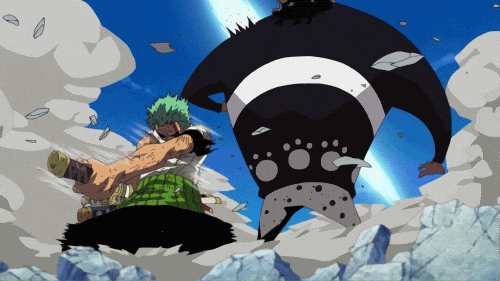 Zoro always gets the final cut (via GIPHY)
---
The Art
The art style of One Piece is unlike a lot of other manga, which in the 90s tended to favour sharper designs and large, expressive eyes. Though Oda was inspired by earlier Japanese mangaka like Akira Toriyama (Dragon Ball), his style also takes influence from Western comics and animation, giving his characters a more noodley, 'cartoonish' quality.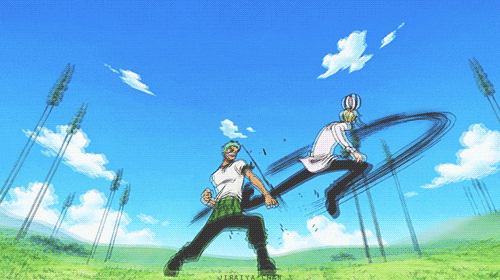 When your characters are mostly leg, they gotta know how to use them (via GIPHY)
In contrast, every background in One Piece is drawn with the utmost attention to detail, thanks to Oda and his team of tireless art assistants that maintain the manga's quality week after week. Because of this unique blend of dense worldbuilding and cartoony characters, the series can shift tones from goofy to serious on a dime, but still never break your immersion in the story.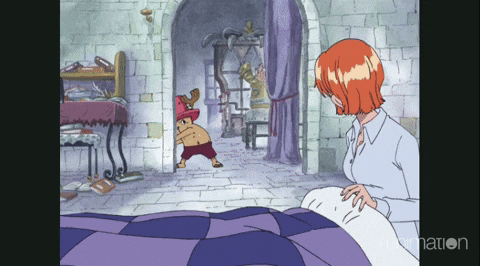 Yes, the joke is Chopper doesn't know how to hide, but can we take a second to notice someone had to draw ALL those bricks? (via GIPHY)
Oda is a notorious fiend for research and he puts all on the One Piece page, pulling inspiration from mythology, animation, history (including, naturally, the Golden Age of Piracy), architecture, cinema, even professional wrestling. It keeps the Grand Line interesting, and it only gets better as Oda keeps adding new ideas to the story and grows more confident in his draftsmanship, cramming immense amounts of detail into each page.
Over the course of the series, the Straw Hat crew have visited such imaginative locales as:
Baratie, a giant floating restaurant for pirates in the middle of the ocean (I do not envy who had to draw all those floorboards…)
Skypiea, a civilization in the clouds built on floating islands, full of dense jungles and ancient temples
Water Seven, a massive canal city that puts Venice to shame, with multi-tiered, interconnected river roads
Fishman Island, a colourful kingdom of fishmen located deep under the ocean, which can only be accessed by covering your ship in an airtight bubble of a special tree sap and sinking straight down
Zou, a society of humanoid animals called 'Minks' that live on the back of a colossal, centuries-old talking elephant who walks through the ocean
Thriller Bark, a Tim Burton-inspired island full of zombies and Frankensteined animals that's basically just 'The Straw Hats go to Nightmare Before Christmas'
Five minutes in Thriller Bark and Luffy is already sick of it (via GIPHY)
Oda clearly never wants the series to grow stagnant by staying in one setting for too long, and that promise of novelty is what keeps every One Piece fan coming back to the series week after week.
---
The Writing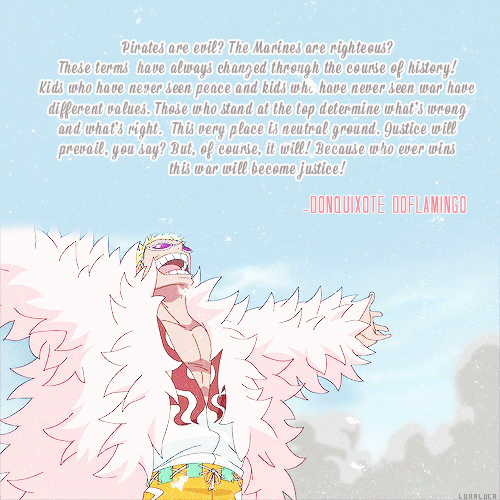 'Warlord of the Sea' Doflamingo explains the 'justice' of the Grand Line (GIF via Anime Amino)
A world as dense and diverse as the Grand Line needs to be populated with characters that believably inhabit that world. Every character in One Piece, from the Straw Hat crew to the villains to the incidental villagers, have motivations, habits, beliefs, even specific laughs. But where the manga really shines in terms of character writing is when you get to see how a character became the way they are, and some of One Piece's most affecting moments are when a character's ambition comes into harsh conflict with the unfair world around them.
This comes to a head in the series' halfway point, the Summit War, a massive battle between the authoritarian World Government and a united army of pirates. The tension in the story comes from not from who will win, but how the winning side will determine what justice in the world gets to be. Pirates are defined against the laws and norms of their society, branded as criminals by the governmental and economic powers of their era. This makes One Piece uniquely suited to explore themes of justice, inequality, and resistance against entrenched power structures. English teachers, take note!
Storylines like Arlong Park and Fishman Island not only examine systemic racism experienced by the series' unique aquatic peoples, but also their disagreements on how they respond to their oppression. Characters like Nico Robin and Luffy's brother Ace are targeted for their ties to historical events that the World Government has tried to cover up, touching on ideas of "history being written by the victors" and whether any one person is a criminal simply for existing.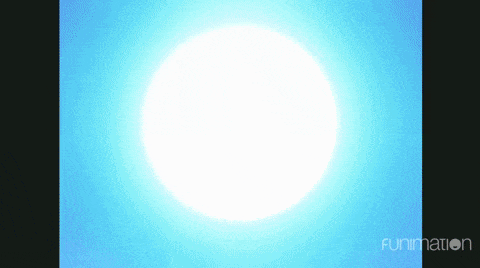 The people of Skypeia fly into battle (via GIPHY)
And in my opinion, the Skypiea arc is one of the best fictional interpretations I've seen of indigenous resistance to colonisation, written in a way that is both broad yet specific, and one that immediately made me think of Aotearoa's own history. Probably helped by the fact that it literally takes place on a land of long white cloud.
---
The Journey
Will Monkey D. Luffy be the one to challenge the world? (via Pinterest)
At over 1000 chapters and counting, One Piece is a truly monumental feat of serialised storytelling for any medium. Unlike American comics, where writers and artists change hands on a title regularly, Eiichirō Oda has been the sole creator of One Piece since it began in July 1997, which gives the series a consistent level of quality. It's exceedingly rare to read something still being published today that is written and drawn by the same person, where everything that excites, fascinates, and concerns them has been filtered into one work of art over two and a half decades.
With recent buzz that the manga is heading into its finale, all eyes are on One Piece to stick the landing, especially as it's grown more popular worldwide in recent years. But it would go against the series' goals to recommend it solely on how it might end. After all, it's the journey that matters.
Recommending One Piece is like talking about your best overseas trip: you can explain all the specifics of what you did, who you met or how you got there, but you really just have to experience it for yourself. And the more people you can share that experience with, the better it becomes.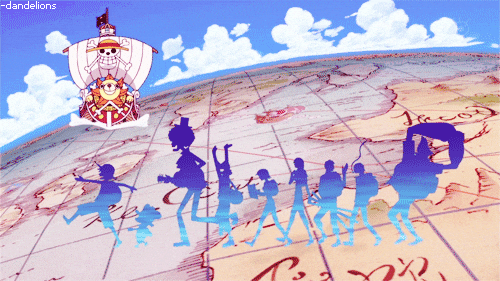 Set sail for One Piece! (via GIPHY)