Well, folks, it's been a little while since the venerable From the Vaults series has been updated — and it's high time we did something about it!
For those of you who are new around these parts, From the Vaults is the programme where we show you some of the cool, weird and different stuff that finds its home on our shelves that you might not have known about. So far, we've covered the Archives of Sexuality and Gender, manga gems from the '80s and '90s (twice!), books in languages other than English and te reo, printed music, and much more.
The topic of today's episode? Basically, it's old stuff. Welcome to The Stack.
Let's rewind a little — what even is The Stack? In short, it's a collection of (mostly*) old books that we think are super cool and important, and won't be getting rid of. (*Of course, not everything in the Stack is super old, as we still add books to it now — and everything's new at some point in its life!).
Books get added to the Stack if they are:
out of print and significant in the history of New Zealand literature (How do we know if they are 'significant in the history of New Zealand literature? Our librarians, located deep within the book-mines of Te Pātaka, use their uncanny powers of analysis and scientific deduction to make those determinations!)
classic, or modern classic international titles that cannot be replaced (What is a 'classic?' What is a 'modern classic?' Visit our Classic Novels in Haiku page to find out.)
If you're keen on borrowing items from the Stack, they are all to be found in Te Pātaka, our storage warehouse that contains all the books from the currently-closed Central Library. You can browse them on the catalogue by:
Doing a Call Number search for "young adult"
Under 'Available Now' on the left hand side of the screen, select "Off-site collections" from the list of locations
Use the 'Place Reserve' button to have the book sent to the library of your choice to be picked up!
---
To get you started, here are some of our librarians' favourite reads from the Stack:
Dream-bite / Catran, Ken (published 1995)
"One by one people are dying as they play with virtual reality. The enigmatic Rhoda, travelling around on an antique Harley, decides to find out what is behind the killing. She draws Preben into a dangerous world of technology, intrigue and mind games." (Catalogue)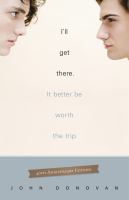 I'll get there, it better be worth the trip / Donovan, John (published 1969)
"While trying to cope with his alcoholic mother and absent father, a lonely New York City teenager develops a confusing crush on another boy." (Catalogue)

Tanith / Jordan, Sherryl (published 1994)
"When she is three years old, Tanith is taken from a den of wolves to live with the chief of a war-like clan, until, after many years, circumstances force her to choose between wolves and men." (Catalogue)
Read this 'review of the week' on our blog from 15-year-old Ana in 2008! A veritable piece of blog history 🙂
Shadow of the mountain / Mackenzie, Anna (published 2008)
"Geneva's world has been blown apart by loss. Maybe that's why her decisions are not always the sharpest. One thing she knows, there's no way back to the person she once was. When Angus appears in her orbit it seems an omen that things are changing, but life is never that simple. Suggested level: secondary." (Catalogue)

Kura Toa : warrior school / Tipene, Tim (published 2004)
"Haki's pounamu is taken from him by a strange old man as he lies in the road after a car accident. His search to find the old man brings him into conflict with his family and friends but forces him to confront his fears, re-connect with his family and Māori heritage and, ultimately, become a warrior." (Catalogue)

David and Jonathan / Voigt, Cynthia (published 1992)
"The relationship between two close friends, Henry and Jonathan, changes when Jonathan's cousin David, a victim of the Holocaust, comes to live with David's family." (Catalogue)

The faery flag : stories and poems of fantasy and the supernatural / Yolen, Jane (published 1989)
"A collection of stories and poems on various fairy tale, ghost, or supernatural themes." (Catalogue)