Tuesday 29 March is World Piano Day! Interesting… why today you ask? It's because 29 March is 88 days into the year, and the humble piano has 88 keys – 52 white keys and 36 black keys.
A Brief History
The piano was invented by Bartolomeo Cristofori (1655-1731) of Italy. Cristofori was unsatisfied by the lack of control that musicians had over the volume level of the harpsichord. He is credited for switching out the plucking mechanism with a hammer to create the modern piano in around the year 1700. By using hammers to hit the piano strings, he could create a loud or soft sound depending on how hard he hit the keys. This method is still used today and is called "the action" of the piano.
How did the piano get its name?
The instrument was actually first named "clavicembalo col piano e forte" (literally, a harpsichord that can play soft and loud noises). This was shortened to the now common name, "piano."

What's the difference between an upright and grand piano?
Grand piano strings lie horizontal to the ground. Once a hammer has struck the string, gravity does the work of resetting the hammer. The quicker you can reset a hammer, the faster you can play that note again. So yes, on average, grands play faster than uprights.
Upright strings lie, well… upright! So once a hammer strikes a string, it relies on a series of complex mechanisms to reset the hammer.
Fun Piano Facts
By the time a piano is put together it can be quite heavy. A Steinway Concert Grand can weigh up to 500 kg – about the same weight as an adult horse!
The largest piano is the 'Alexander Piano' is  5.7 metres long, and weighs around one tonne. That's over twice the length of your usual concert grand piano, and weighs almost as much as a small car.
Piano playing is sometimes referred to as "tickling the ivories". That's because originally the white piano keys were made from ivory. but this has changed since the ivory trade has been banned to save elephants and rhinos from extinction. Black keys were originally made from the black hardwood ebony. These days modern piano keys are coated in a hard plastic.
Becoming a Concert Pianist
Becoming a concert pianist requires loads of dedication and hard work. On average, it takes most concert pianists 15+ years, 3-5 hours a day of  practice, and quite a bit of study to achieve their goals!
Check out this video of New Zealand pianist Richard Farrell performing in 1952. He was widely thought of as one of the most talented pianists in the world when his life was tragically cut short in a car accident in 1958, when he was only 31 years old.
Want to dig deeper into the piano world?
Blog: What are piano keys made of and why?
Johnsonville Library's Lockdown 2020 Quarantunes (with library staff playing the piano and other instruments)
Kids' Blog: Reaching for the Stars – What Makes a Champion?
---
Want to read more piano books?
My first piano book / Helsby, Genevieve
"Following the success of "My First Classical Music Book," author Genevieve Helsby and illustrator Jason Chapman return with "My First Piano Book." Bursting with life and humour, this is a uniquely comprehensive introduction to the piano, designed first and foremost to inspire. Text and illustrations are so perfectly in tune with each other that every page is a treat to explore. With a cast of animal characters showing what they know (and what they don't!), this truly is both informative and great fun. Book and two CDs, with online music, and narration. Part 1: "Why is the Piano So Special?" How the piano works and sounds. 23 music tracks including: Bach – Prelude in C; Mozart – Piano Concerto No. 21; Joplin – The Entertainer; Debussy – Clair de lune; Faure – Berceuse; John Cage – Perilous Night No. 6; Satie – Gymnopedie No. 1 Part 2: "How Do I Play It?" A clear introduction to playing the piano. Play along with 12 specially written pieces with "Guide Me" narration option." (Catalogue)

The bear and the piano / Litchfield, David
"One day, a young bear stumbles upon something he has never seen before in the forest. As time passes, he teaches himself how to play the strange instrument, and eventually the beautiful sounds are heard by a father and son who are picnicking in the woods. The bear goes with them on an incredible journey to New York, where his piano playing makes him a huge star. He has fame, fortune and all the music in the world, but he misses the friends and family he has left behind. A moving tale of exploration and belonging." (Catalogue)

Easy piano pieces for children.
"The compositions in Easy Piano Pieces for Children have all been carefully selected for the beginner pianist. Over 100 selections in this songbook are progressively graded, with editorial markings and suggested fingering, allowing beginner children to learn with specially selected songs that they will enjoy playing. This large songbook includes classic favorites by Mozart, Debussy and Grieg, piano miniatures by Schumann, Arensky and Turk, as well as selections from Bartok's For Children, among many others. Each piece is graded with a star to indicate difficulty, while a glossary of music symbols and a keyboard chart are included to help early students with note and key recognition." (Catalogue)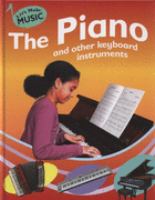 The piano and other keyboard instruments / Storey, Rita
"Introduces children to groups of musical instruments and how they make music with them." (Catalogue)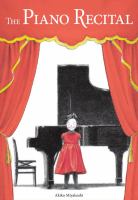 The piano recital / Miyakoshi, Akiko
"It's the day of Momo's very first piano recital, and she is terribly nervous. Today is the day of a little mouseling's very first performance, too, and she's just as nervous as Momo. The mouseling invites Mom to watch her performance. Momo follows the mouseling through a small door backstage, where she's met with an amazing sight: an elaborate miniature theatre, and an audience of finely dressed mice! When the Grand Mouse-ter takes the stage, a hush falls over the crowd and a magical show unfolds – a circus, a magic act, acrobats! Momo is delighted. And when it's the mouseling's turn to take the stage, Momo soothes her little friend's nerves – her own now long forgotten – and accompanies her on piano. As Momo finishes her piece and gives a bow, she's surprised to see that her audience isn't furry and miniature, but human! And they're all clapping – for her! A proud Momo is quite sure she can hear mouse paw-clapping, too…" (Catalogue)

Elton John / Sánchez Vegara, Ma Isabel
"As a child, Elton started playing his grandmothers piano in Harrow, London. He could pick tunes out by ear and was soon attending lessons at the Royal Academy. After answering an advertisement in a newspaper, Elton teamed up with a lyric-writing buddy: Bernie Taupin. The rest was history. Elton's songwriting talent, musical skill and dazzling outfits have made him one of the all-time greats. This moving book features stylish and quirky illustrations and extra facts at the back, including a biographical timeline with historical photos and a detailed profile of the musician's life." (Catalogue)

Children's songs : a superfast way to learn awesome songs on your piano or keyboard / Kemmeter, Jennifer
"A fun and easy way to learn to play the piano or keyboard, with helpful instruction on classic and favorite songs. Written by the author of the best-selling Build It! series in collaboration with an experienced piano teacher, the Play It! books teach how to play the piano or keyboard in a simple, effective way. Using color-coded notes and character icons, the books include piano sheets of popular and favorite songs as well as a primer on how to read sheet music and some basic techniques. For beginners ages 5 and up, Play It! is the perfect companion on your musical journey." (Catalogue)