---
Sticky note…
Many of the links in this blog go to the Encyclopaedia Britannica for kids. This is accessible to all Wellington City Libraries users. But to access this wonderful resource, you'll need to login using your library card number (on the back of your card) and 4 digit pin (last FOUR numbers of the phone number listed on your library account), and the link will take you straight there.

---
A 180-million-year-old "sea dragon" has been unearthed from the depths of an old reservoir in the United Kingdom – and it's a massive find: It's as long as a double-decker bus (around 9.7 metres) and just its skull alone weighs 907kg, which is almost as much as a the weight of a small car!
Palaeontologists say the discovery are the bones of the ichthyosaur (or Sea Dragon)  is an extinct reptile that lived in water. Its name means 'fish lizard'. Ichthyosaurus belonged to a larger group of reptiles called ichthyosaurs. Ichthyosaurs were distant relatives of lizards and snakes. They were not dinosaurs.
Watch the palaeontologists work:
What's the difference between reptiles and dinosaurs?
Dinosaurs lived around 66 million years ago. They are now extinct. Dinosaur were warm-blooded, whereas reptiles are cold-blooded animals. Both dinosaurs and reptiles hatch eggs and have scaly skin. However, the main difference between dinosaurs and reptiles is posture. Dinosaurs held their limbs directly under their bodies (like most mammals do) while reptiles, like lizards, have their limbs spread out sideways.

Do sea monsters exist today?
Hundreds of years ago, European sailors told of a sea monster called the kraken that could toss ships into the air with its many long arms. The legend may actually have originated from sightings of  the giant squid, which is a real living sea animal. It has 10 arms, can grow longer than a bus, and because it lives in deep oceans, has massive eyes. It's only in recent years that these elusive creatures have been videoed alive, but you can see a deceased giant squid that has been preserved at the Colossal Squid (Te Ngū Tipua) exhibition at Te Papa.
Another mythical creature was called the Leviathan which is like a giant sea snake. Sea snakes are real animals, found in the Indian and Pacific Oceans. The longest can grow to about nine feet — almost as long as our ancient Sea Dragon fossil above. Although some of these snakes are venomous, they usually do not pose a threat to humans.
And of course, we can't forget the Loch Ness Monster. The Loch Ness Monster (also referred to as Nessie) is a supposed animal, said to live in the Scottish loch of Loch Ness, the second biggest lake in Scotland. Most scientists believe that the Loch Ness Monster is not real, and they say that many of the sightings are either hoaxes or pictures of other mistaken existing animals.

Dig deeper with these cool links:
Paleontology and dinosaurs for kids
The ocean's weirdest creatures
Our Blue Planet: Exploring the alien world of brine pools (YouTube)
---
There are lots of books about sea monsters real and imagined in our library collection for you to read if you dare!
Monsters : 100 weird creatures from around the world / Banville, Sarah
"Ever wondered what terrorised the Scape Ore swamp in 1980s South Carolina? Or who visits the naughty children in Northern Europe to punish them on Christmas Eve? Or how bloated undead feeders got upgraded to a shape-shifting castle-dwelling Count? From well-known and well-feared monsters like Bigfoot and the Loch Ness Monster, to the lesser-known, but just as weird and wonderful Japanese Sea Serpent and Chinese Hopping Vampires, this book is the must-have guide to monsters from all over the world"–Publisher's description." (Catalogue)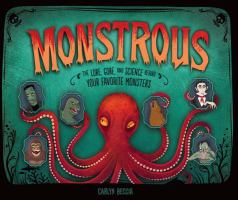 Monstrous : the lore, gore, and science behind your favorite monsters / Beccia, Carlyn
"Could Dr. Frankenstein's machine ever animate a body? Why should vampires drink from veins and not arteries? What body parts are best for zombies to eat? (It's not brains.) This fascinating encyclopedia of monsters delves into the history and science behind eight legendary creatures, from Bigfoot and the kraken to zombies and more. Find out each monster's origin story and the real-world history that informed it, and then explore the science of each creature in fun and surprising ways. Tips and infographics—including monster anatomy, how to survive a vampire attack, and real-life giant creatures of the deep sea—make this a highly visual and fun-to-browse book." (Catalogue)

Deep dive into deep sea / Flannery, Tim F.
"You might think you know about the ocean, but the deep sea is nothing like the beach. Things are weird down there. Who is the giant squid's mortal enemy? Can you see ghosts in the deep sea? Why would a sea cucumber have teeth on its butt? And what on earth is a headless chicken monster?" (Catalogue)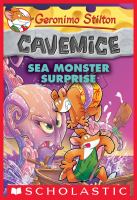 Sea monster surprise / Stilton, Geronimo
"Bart Barnacle, the prehistoric pirate who has been visiting the cavemice, is ready to return to his pirate island home. It's so far away that the Stiltonoots offer to accompany him on the long, treacherous journey over the sea. On the way, they encounter megalithic danger and hungry sea monsters! What an adventure!" (Catalogue)

The sea of monsters : the graphic novel / Venditti, Robert
"After discovering a secret that makes him question the honor of being the son of Poseidon, demi-god Percy Jackson journeys into the Sea of Monsters in an attempt to save Camp Half-Blood." (Catalogue)

Nessie the Loch Ness monster / Brassey, Richard
"Fact or fiction? Whether or not you believe in the legendary tale from Loch Ness, this bestselling book is an essential part of British culture." (Catalogue)

Sepron the sea serpent / Blade, Adam
Book 2 of the Beast Quest series. Sepron the Sea Serpent is a beast who protects the Western Ocean of Avantia. He is a long serpentine beast with green hair-like mane often compared to seaweed and a wide mouth lined with jagged fangs.

Twenty thousand leagues under the sea / Verne, Jules
"In the mid-nineteenth century, a French professor and his two companions, trapped aboard a fantastic submarine as prisoners of the deranged Captain Nemo, come face to face with exotic ocean creatures and strange sights hidden from the world above." (Catalogue)

Ocean monsters / Davies, Nicola
"IExplore: Ocean Monsters is packed with fascinating information about the biggest, fiercest and strangest sea creatures, and is sure to inspire a sense of wonder and awe in nature. This book also brilliantly harnesses the wonders of AR to explore the world's mysterious seas. Children can interact with dynamic sea creatures from the convenience of a tablet or smartphone." (Catalogue)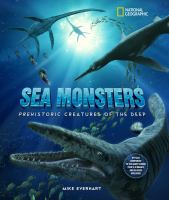 Sea monsters : prehistoric creatures of the deep / Everhart, Michael J
"This book takes readers back in time – 82 million years ago – to when a massive sea divided North America, stretching from the Gulf of Mexico northward to Canada… giving us a glimpse of creatures like the sinuous Styxosauras, whose serpentine neck weighed more than a ton, or the fierce 40-foot Tylosaurus, the undisputed top predator of the time." (Catalogue, abridged)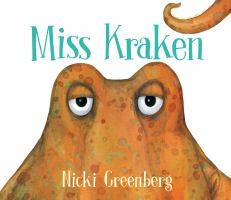 Miss Kraken / Greenberg, Nicki
"The minute we saw Miss Kraken, we all knew it was going to be a bad year. She's cranky. She's strict. She's just plain . . . weird. Miss Kraken is definitely not the teacher the kids were hoping for. But she might have a surprise or two up her sleeves. A hilarious tale of bad behaviour and unexpected consequences." (Catalogue)

The Kiwi fossil hunter's handbook / Crampton, J. S.
"New Zealand has a rich fossil record, which is accessible to the amateur fossil-hunter in locations around New Zealand, including shells and plant remains, as well as the bones, teeth and other remnants of ancient reptiles, birds and fish. This handy pack-sized guide features 30 accessible locations around the country where kids and their families can find fossils. Each location contains specific information on where to look and what to look for, as well as the geological background and other details of each site, and colour images of fossils that could be found there" (Catalogue)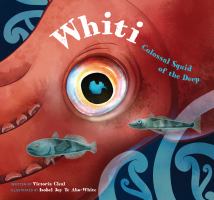 Whiti : colossal squid of the deep / Cleal, Victoria
"The colossal squid has been the most popular exhibit at Te Papa since it arrived there in 2007. Now this appealing book for young readers tells the fascinating story of these creatures from the deep, through sparkling and informative text and amazing illustrations. A must-have natural history book for young readers and their whānau and teachers"(Catalogue)