At some point in your school life you'll be asked to read and study a Jane Austen novel. It'll happen. Yes, really! These books are considered classics but the language used in the stories, and the way the characters behave is often quite different to what you find in our modern society. That's because Jane Austen was born in England a long time ago – in 1775 – and her novels reflect the society she grew up in. This was a time when English society was sharply divided by wealth and women were expected to marry young (often in their teens).
Jane grew up in a family of seven children. Her dad was a clergyman, so the family was well-respected in their local community. This meant that Jane could observe their society, especially the role women played in it, and write about it – often in a witty and humorous way.  Sadly, her novels were not widely read or praised in her lifetime (Jane only lived to the age of 41), but they are now and have gone on to inspire countless poems, books, plays and films.
Why read the Awesomely Austen series?
The Awesomely Austen series are a fresh, funny and accessible retelling of Jane Austen's well-known stories, all with black and white illustrations throughout.  The language is fun and easy to read and, even though the books still follow the plot of the original novels, the writing is modern, understandable and makes the characters very relatable. There's also a family tree of main characters in the front of each book to help you with who's who, and some interesting facts about the era the book was written in in the back.

All six of Jane Austen's books have been retold in this fun series:
Jane Austen's Pride and prejudice / Woodfine, Katherine
"Elizabeth Bennet is the second eldest in a family of five daughters. Although their mother is very keen to see them all married to wealthy men, Elizabeth is determined that she will only ever marry for love. At a ball, Elizabeth meets Mr Darcy, who at first she believes is proud and haughty. But perhaps there is more to him than first meets the eye." (Catalogue)

Jane Austen's Persuasion / Dhami, Narinder
"When she was just 19, Anne Elliot followed the wishes of her father and turned down the proposal of the man she loved – a naval officer called Frederick Wentworth. Years later, Captain Wentworth returns from his time at sea, and Anne dares to hope that their paths might cross once more. But the course of true love is bumpy at best – will Anne and Frederick ever be reunited?" (Catalogue)

Jane Austen's Emma / Birchall, Katy
"Emma Woodhouse is pretty, clever and rich, and sees no reason why she would ever need to get married. But she loves matchmaking for her neighbours, despite the advice of her friend Mr Knightley, who warns her against meddling. Her latest success – the wedding of her governess – makes her certain that she can find the right match for anyone. Can Emma's lucky streak continue? Or will best laid plans unravel as they always seem to do?" (Catalogue)

Jane Austen's Sense and sensibility / Nadin, Joanna
"When Elinor and Marianne Dashwood's father dies, they are forced to leave their home behind and move far away to a tiny cottage. Their lives look set to change for ever, in ways neither had expected. Elinor must leave behind the man she loves, whereas Marianne falls for their charming – but entirely unsuitable – new neighbour. The sisters will need each other's support if they are to find happiness, but will they ever find the right balance of sense and sensibility?" (Catalogue)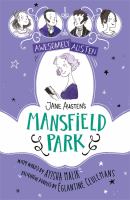 Jane Austen's Mansfield Park / Malik, Ayisha
"Fanny Price is one of nine children, and her family are very poor. So when a distant relative offers to take her in – giving her the opportunity to grow up wealthy and comfortable – her parents jump at the chance. But money doesn't always bring happiness, and Fanny struggles to settle into her new home, where the family are very cold towards her. Her only friend amongst them is Edmund, who tries his best to help her be happy. As she grows up, Fanny realises that Edmund is the most important person in her life. But will he ever see her as more than the timid little girl who arrived at his home so many years before?" (Catalogue)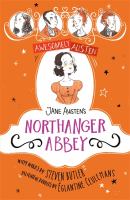 Jane Austen's Northanger Abbey / Butler, Steven
"Catherine Morland loves nothing more than reading a romantic novel, but as one of ten children she doesn't have much time for reading or for romance. When she is seventeen, her wealthy neighbours invite her to spend the winter season with them in Bath – to experience balls, the theatre and other social delights for the first time. Catherine makes friends with the passionate Isabella, and dances with a handsome man called Henry, and it seems that all her dreams are coming true. But real life doesn't always play out like a novel, and Catherine will have to overcome many obstacles before she can find her happy ending …" (Catalogue)