What is LEGO
®?
This simple concept of colourful, interlocking plastic bricks that, when built together, can create almost anything has entertained children and adults for years. Originating in Denmark, the popularity of

LEGO®

has remained strong to this day, and people have used

LEGO®

blocks to create everything from massive replicas of famous monuments (such as the Eiffel Tower) to modern art. The original

LEGO®

blocks were created in the workshop of Ole Kirk Christiansen in a town called Billund, Denmark in 1949. Two years later he named his company

LEGO®

after the Danish phrase leg godt ("play well"). Christiansen's son Godtfred Kirk, who replaced his father as the head of the company, patented the brick in 1958, which has remained the same design since it was patented.


LEGO® has become such a creative success, it has given rise to features such as
The LEGOLAND theme park in Billund – This opened in 1968 and offers rides and attractions featuring large LEGO models.
DUPLO

®

– In 1969 the company started selling the DUPLO

®

line of larger bricks for young children.
MINDSTORMS

®

– In 1998 LEGO

®

started production of customised bricks to make programmable robots.

LEGO®

MASTERS NZ – This television show has become a huge hit both here and overseas. Contestants build some wonderful creations all in the bid to win the TV competition. And Aotearoa is about to start filming its own version! Stay tuned!

---
LEGO®

Fun at Wellington City Libraries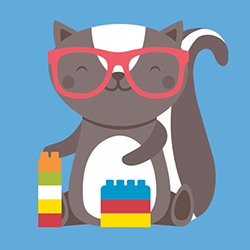 Check out the Events pages on our website to see when the next LEGO® activity is happening near you:
---
Build Wellington's Heritage in
LEGO®

– COMPETITION!
This is a great new competition run by the Department of Conservation to celebrate NZ Heritage Week. Go to this page to find out more!
This competition is open to all ages of young from 1 August to 30 September 2021.  All you have to do is build your favourite  heritage site LEGO® from the Wellington / Kāpiti region, take a photo of it and send it into DoC at this email: agents@doc.govt.nz.
Easy-peasy!

---
LEGO
® Books to Explore!
Here're some recently added LEGO® books to get you excited:
LEGO minifigure handbook / Dolan, Hannah
"Meet the coolest LEGO Minifigures ever! The strange, the spooky, and the silly – all of your favourite LEGO minifigures are here. Go back in time with retro minifigures from the LEGO archives. Meet new characters from fun LEGO themes, including LEGO NINJAGO, LEGO City, and LEGO Collectible Minifigures. Your guide to more than 300 awesome minifigures!" (Catalogue)

Bricks & tricks : the new big unofficial Lego builders book / Klang, Joachim
"Joachim Klang and Uwe Kurth show how to re-purpose a varied assortment of Lego bricks, tiles and plates to create even newer models, scenes, and entire worlds." (Catalogue)

Amazing brick mosaics : fantastic projects to build with the Lego blocks you already have / Brack, Amanda
"Every LEGO-loving kid has at least one huge bin of bricks the sets are built, dismantled, and typically never built again and this book gives them dozens of ways to reusethem in fun projects that range from easy to challenging. Featuring a simple yet elegant mosaic technique, step-by-step instructions, and full-color photographs for making 25 cool two-dimensional pictures, Amazing Brick Mosaics offers unique projects that will delight any LEGO enthusiast"–Provided by publisher." (Catalogue)

100 ways to rebuild the world / Murray, Helen
"You're never too young to change the world! Discover 100 fun ideas to be kind and spread joy to the world around you. Get creative with your LEGO bricks and be inspired to care for others, yourself, and the planet. For example: Make a neighbour a LEGO thank-you card; Get active with a LEGO building race; Create a LEGO emoji to make your friend smile. How will you rebuild the world?" (Catalogue)

Brickman's family challenge book / McNaught, Ryan
"Challenge each member of your household to a building competition that is the brainchild of Brickman himself, star judge of smash hit TV show LEGO (R) Masters and a LEGO Certified Professional. Each of the 30 challenges can be attempted at beginner, intermediate or advanced levels. So whether you're 5 or 105, an infrequent brick builder or a huge LEGO fan, these challenges will get you off the screens, and your creative juices flowing with even the most basic of LEGO collections. Is your family up for the challenge?" (Catalogue)

Incredible LEGO creations from space : with bricks you already have : 25 new spaceships, rovers, aliens and other fun projects to expand your LEGO Universe / Dees, Sarah
"Turn your bucket of LEGO® bricks into fun new space expeditions–complete with epic spaceships, kooky aliens and cool vehicles!" — back cover." (Catalogue)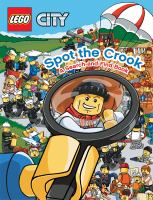 Spot the crook : a search-and-find book.
"Can you spot the crook? There's a crook hiding in the crowds in Lego City, and it's your job to find him! This search-and-find book is packed with amazing detailed scenes featuring all your favourite Lego City characters. Once you've found the Red Scarf Crook, there are loads of extra cool things to spot for hours of Lego fun!" (Catalogue)