What I say is: "Yay for this day", because…Sunday 21 March is World Poetry Day!
This special day was adopted by UNESCO (United Nations Educational, Scientific and Cultural Organization) in 1999 to encourage and keep alive poetry and verse in its many forms and languages throughout the world. Poetry has been around since ancient times, with this form of expression being part of a rich oral history in many cultures. Today poetry can be as diverse and vibrant as the cultures that write, read and speak it, and even the simplest verse can be a catalyst for change in a community.  Just think how powerful the recital of "The Hill We Climb" by Amanda Gorman at President Joe Biden's inauguration in January 2021 was, and you'll get some sense of the power of poetry. Speaking before the inauguration, Amanda said: "Poetry is a weapon, it is an instrument of social change. Poetry is one of the most political arts out there."
At Wellington City Libraries, 2021 has seen an exciting focus on children and youth poetry with our inaugural edition of Tūhono: A journal of poetry by children and teens / 2020 now out on the shelves and e-library for you to borrow. All the poems in this volume were written by Wellington kids and teens, with the poetry reflecting on 'connection' and what that means for them in these turbulent times. Some are inward looking, some look to the universe and the future. Some are sad, some are happy. Some are short and some are long, but all are about connection:
For connection you must first love
and create relationships.
Feel empathy, care
and show compassion to others.
Make a link,
Make a bond,
Make a friend.
You can't make connections without people.
So love,
And share your love.
(By William, aged 8)

---
Verse is here for you
Just check our website for more
You will be amazed…
What is poetry? : the essential guide to reading & writing poems / Rosen, Michael
"A detailed and very personal guide to reading and writing poetry by one of the country's leading children's poets. Over many years as a working poet, Michael Rosen has thought a great deal about what poems are, what they can do and the pleasure that comes from writing and reading poetry. In this invaluable handbook, he shares this knowledge and experience in book form for the very first time. Starting with a detailed analysis of a number of classic poems, he offers a real "writer's guide" to writing and performing poems, as well as a wealth of technical information and tips." (Catalogue)

Feel a little : little poems about big feelings / Palmer, Jenny
"Feel A Little is a colourful, character-filled book about big feelings for little ones. Youth emotional and mental health are huge issues in our communities, with children maturing earlier and facing an isolating modern world with modern challenges. As a community we need to start focussing on understanding and encouraging communication around feelings from an early age – equipping children with the tools they need to best face the ups and downs (and in-betweens) of life. Parents, caregivers and educators need a variety of ways to encourage these conversations and the safe space of engaged reading together is a proven, effective beginning. Feel A Little creates poetic and imaginative word prompts and a visual language for emotions, providing a starting point for discussions that you can come back to again and again." (Catalogue)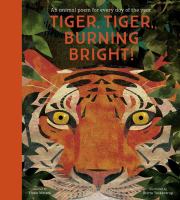 Tiger, tiger, burning bright!
"A breathtaking, illustrated anthology featuring an animal poem for every day of the year by award-winning artist, Britta Teckentrup." (Adapted from Catalogue)

With my hands : poems about making things / VanDerwater, Amy Ludwig
"Brief, lively poems illustrated by a New York Times-bestselling duo invite young makers and artists to tap into creativity and enjoy the hands-on energy that comes from making things." (Adapted from Catalogue)

Poems aloud / Coelho, Joseph
"A wittily illustrated anthology of poems, written to be read aloud. 20 poems arm children with techniques for lifting poetry off the page and performing with confidence. Poems are made to read OUT LOUD! There are tongue twisters, poems to project, poems to whisper, poems to make you laugh. There are poems to perform to a whole class and others to whisper in somebody's ear." (Catalogue)

100 best poems for children
"A collection of the very best poems for children, edited by Roger McGough." (Adapted from Catalogue)