Folks! Friends! Fellow humans living on this nice crispy earth!
It is a high school rite of passage to spend at least one class (I would recommend Maths – who really needs it?) debating with your friends on how best to survive a Zombie Apocalypse. In my mind, your survival plan said a lot about who you were as a person, and I definitely judged my friends based on their plans and how closely they aligned with my own (steal a bus, break into the SPCA and take all the animals, then hole up in the local Pak 'n' Save – make of that what you will).
Eight years later, and I am infinitely more preoccupied with my plans for thriving in the Soft Apocalypse: The global is warming, the 1 are %ing and things are looking iffy… Welcome to the Soft Apocalypse! It's time for us to give capitalism the finger, and return to our humble roots as a pastoral society that bakes bread and sings Kumbaya way too often. AKA my escapist daydream when the Stresses of Life get a bit too much (my Soft Apocalypse plan includes joining a commune and ✨constantly touching grass✨).
If/when the Soft Apocalypse hits, I will be trailing around after my green anarchist forager brother so I expect I will be just fine, but at the same time it would be very nice to have a few handy-dandy skills of my own. Enter: Soft Apocalypse for Beginners! Where we will be embarking on a journey of Learning to Look After Ourselves Even if the World is Ending (and saving the bees while we're at it), with the support of a certain gorgeous library collection.
Stay tuned for the next episode of Soft Apocalypse for Beginners!
via GIPHY
---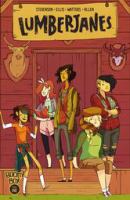 Lumberjanes [1] : beware the kitten holy / Stevenson, Noelle
"Five best friends spending the summer at Lumberjane scout camp… defeating yetis, three-eyed wolves, and giant falcons… what's not to love?! Friendship to the max! Jo, April, Mal, Molly and Ripley are five best pals determined to have an awesome summer together…and they're not gonna let any insane quest or an array of supernatural critters get in their way! " (Adapted from Catalogue)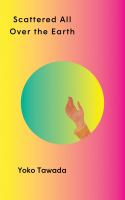 Scattered all over the earth / Tawada, Yōko
"Welcome to the not-too-distant future: Japan, having vanished from the face of the earth, is now remembered as "the land of sushi." As she searches for anyone who can still speak her mother tongue, Hiruko soon makes new friends. Her troupe travels to France, encountering an umami cooking competition; a dead whale; an ultra-nationalist named Breivik; unrequited love; Kakuzo robots; red herrings; uranium; an Andalusian matador." (Adapted from Catalogue)

The quiet at the end of the world / James, Lauren
"How far would you go to save those you love? Lowrie and Shen are the youngest people on the planet after a virus caused global infertility. Closeted in a pocket of London and doted upon by a small, ageing community, the pair spend their days mudlarking and looking for treasure – until a secret is uncovered that threatens not only their family but humanity's entire existence." (Adapted from Catalogue)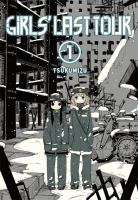 Girls' last tour. 1 / Tsukumizu
"Civilization is dead, but not Chito and Yuuri. Time to hop aboard their beloved Kettenkrad motorbike and wander what's left of the world! Sharing a can of soup or scouting for spare parts might not be the experience they were hoping for, but all in all, life isn't too bad…"–Back cover." (Catalogue)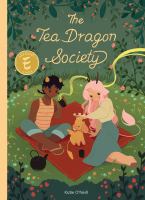 Tea Dragon Society / O'Neill, Katie
"The beloved and charming all-ages book that follows the story of Greta, a blacksmith apprentice, and the people she meets as she becomes entwined in the enchanting world of tea dragons. After discovering a lost tea dragon in the marketplace, Greta learns about the dying art form of tea dragon care-taking from the kind tea shop owners, Hesekiel and Erik. As she befriends them and their shy ward, Minette, Greta sees how the craft enriches their lives–and eventually her own." (Adapted from Catalogue)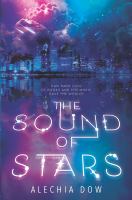 The sound of stars / Dow, Alechia
"Music, art and books are illegal, but Ellie breaks the rules by keeping a secret library. When a book goes missing, Ellie is terrified that the Ilori will track it back to her and kill her. Born in a lab, M0Rr1S was raised to be emotionless. When he finds Ellie's illegal library, he's duty-bound to deliver her for execution. The trouble is, he finds himself drawn to human music and in desperate need of more. M0Rr1S has a lot of secrets, but also a potential solution–thousands of miles away. The two embark on a wild and dangerous road trip with a bag of books and their favorite albums, all the while creating a story and a song of their own that just might save them both." (Adapted from Catalogue)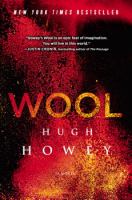 Wool / Howey, Hugh
"In a ruined and hostile landscape, in a future few have been unlucky enough to survive, a community exists in a giant underground silo. To live, you must follow the rules. But some don't.  Their punishment is simple and deadly. They are allowed outside. Jules is one of these people. She may well be the last." (Adapted from Catalogue)

This poison heart / Bayron, Kalynn
"When Briseis's aunt dies and wills her a dilapidated estate in rural New York, Bri and her parents leave Brooklyn behind for the summer. Hopefully there, surrounded by plants and flowers, Bri will finally learn to control her gift: the ability to grow plants from tiny seeds to rich blooms with a single touch. " (Adapted from Catalogue)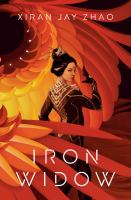 Iron widow / Zhao, Xiran Jay
"The boys of Huaxia dream of pairing up with girls to pilot Chrysalises, giant transforming robots that can battle the aliens that lurk beyond the Great Wall of China. It doesn't matter that the girls die from the mental strain. When 18-year-old Zetian offers herself up as a concubine-pilot, it's to assassinate the ace male pilot responsible for her sister's death. But when she gets her vengeance, it becomes clear that she is an Iron Widow, a rare kind of female pilot who can sacrifice males to power up Chrysalises instead. Now that Zetian has had a taste of power, she will not cower so easily. She will take over instead, then leverage their combined strength to force her society to stop failing its women and girls. Or die trying."– Provided by publisher." (Adapted from Catalogue)