It's a bird
It's a plane
No… It's…
Super cool awesome man….
Again? Really?  I saw him just last week, is there no end to his heroics? Oh and that silly bat-guy too, and some man spider thingy. Wow, how boring. You know, I love superhero media, I really do, but sometimes things just get too popular, too mainstream for old J'Shuall of Jackanapery. I prefer to be a hipster, have something literary enough for my esteemed taste. All you hear about nowadays are these Marvels and these DCs and honestly, sometimes it's nice to have a change of pace.
Does that mean I hate Marvel and DC comics?
Ye-
Legal is telling me that the correct answer is no, which yeah, fine. There's a bunch of gems in the comics, from inventive re-imaginings of beloved characters to straight bangers of classic stories. Our good friend The Wellington Comic Lover is the real expert in that field, guiding you through the weird and wonderful world of comics. Give some of those blogs a look if that's your thing.
But that's not what I'm here for. I'm here to show you all the interesting things the genre of superpowers, superheroes, and supervillains have to offer in novel form! Now you don't have to worry about appearing uncivilised by looking at pictures, you can get your superpower goofiness from WORDS!
All without you having to read the billions of volumes about the s-squad, retaliators or good guy group™!
The infinite noise / Shippen, Lauren
"Caleb Michaels is a sixteen-year-old champion running back. Other than that his life is pretty normal. But when Caleb starts experiencing mood swings that are out of the ordinary for even a teenager, his life moves beyond "typical." Caleb is an Atypical, an individual with enhanced abilities. Which sounds pretty cool except Caleb's ability is extreme empathy-he feels the emotions of everyone around him. Being an empath in high school would be hard enough, but Caleb's life becomes even more complicated when he keeps getting pulled into the emotional orbit of one of his classmates, Adam. Adam's feelings are big and all-consuming, but they fit together with Caleb's feelings in a way that he can't quite understand. Caleb's therapist, Dr. Bright, encourages Caleb to explore this connection by befriending Adam. As he and Adam grow closer, Caleb learns more about his ability, himself, his therapist-who seems to know a lot more than she lets on-and just how dangerous being an Atypical can be." (Catalogue)

Steelheart / Sanderson, Brandon
"Ten years ago, Calamity came. It was a burst in the sky that gave ordinary men and women extraordinary powers. The awed public started calling them Epics. But Epics are no friend of man. With incredible gifts came the desire to rule. And to rule man you must crush his will. Nobody fights the Epics…nobody but the Reckoners. A shadowy group of ordinary humans, they spend their lives studying Epics, finding their weaknesses, and then assassinating them. And David wants in. He wants Steelheart – the Epic who is said to be invincible. The Epic who killed David's father. For years, David's been studying, and planning, and he has something the Reckoners need. Not an object, but an experience. He's seen Steelheart bleed. And he wants revenge." (Catalogue)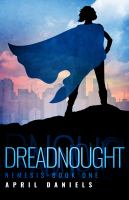 Dreadnought / Daniels, April
"Danny Tozer has a problem: she just inherited the powers of Dreadnought, the world's greatest superhero. Until Dreadnought fell out of the sky and dies right in front of her, Danny was trying to keep people from finding out she's transgender. But before he expired, Dreadnought passed his mantel to her, and those secondhand superpowers transformed Danny's body into what she's always thought it should be. Now there's no hiding that she's a girl. It should be the happiest time of her life, but Danny's first weeks finally living in a body that fits her are more difficult and complicated than she could have imagined. Between her father's dangerous obsession with "curing" her girlhood, her best friend suddenly acting like he's entitled to date her, and her fellow superheroes arguing over her place in the ranks, Danny feels like she's in over her head. She doesn't have time to adjust. Dreadnought's murderer -a cyborg named Utopia- still haunts the streets of New Port City, threatening destruction. If Danny can't sort through the confusion of coming out, master her powers, and stop Utopia in time, humanity faces extinction." — Page 4 of cover." (Catalogue)
Zeroes / Westerfeld, Scott
"Told from separate viewpoints, teens Scam, Crash, Flicker, Anonymous, Bellwether, and Kelsie, all born in the year 2000 and living in Cambria, California, have superhuman abilities that give them interesting but not heroic lives until they must work as a community to respond to a high stakes crisis." (Catalogue)
The Extraordinaries / Klune, TJ
"If being the most popular fanfiction writer in the Extraordinaries fandom was a superpower, Nick Bell would be a hero. Instead he's just a fanboy with ADHD, posting online. After a chance encounter with Shadow Star, Nova City's mightiest hero (and Nick's biggest crush), he sets out to make himself extraordinary. And he'll do it with or without the reluctant help of Seth Gray, Nick's best friend (and maybe the love of his life). — adapted from jacket and Amazon info" (Catalogue)
Not your sidekick / Lee, C. B.
"Welcome to Andover… where superpowers are common, but internships are complicated. Just ask high school nobody, Jessica Tran. Despite her heroic lineage, Jess is resigned to a life without superpowers and is merely looking to beef-up her college applications when she stumbles upon the perfect (paid!) internship-only it turns out to be for the town's most heinous supervillain. On the upside, she gets to work with her longtime secret crush, Abby, who Jess thinks may have a secret of her own. Then there's the budding attraction to her fellow intern, the mysterious "M," who never seems to be in the same place as Abby. But what starts as a fun way to spite her superhero parents takes a sudden and dangerous turn when she uncovers a plot larger than heroes and villains altogether." (Catalogue)
Illusive / Lloyd-Jones, Emily
"After a vaccine accidentally creates superpowers in a small percentage of the population, seventeen-year-old Ciere, an illusionist, teams up with a group of fellow high-class, super-powered thieves to steal the vaccine's formula while staying one step ahead of mobsters and deadly government agents"– Provided by publisher." (Catalogue)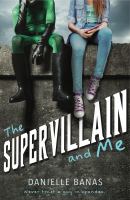 The supervillain and me / Banas, Danielle
"Abby Hamilton's older brother moonlights as a superhero, but she has no interest in following in his footsteps–until a "supervillain" called Iron Phantom saves her life and warns her that not everyone in the "hero" world is who they seem to be. Now, Abby's the one who'll need to leap into action and save the day." (Catalogue)
Transparent / Whipple, Natalie
"Sixteen-year-old Fiona O'Connell is the world's first invisible girl, which makes her the ideal weapon for her crime-lord father. But now, she and her mother have escaped and are hiding out in a small town where they're determined to start a normal life."– Provided by publisher."(Catalogue)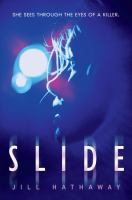 Slide / Hathaway, Jill
"Vee Bell, able to slide into other people's minds, sees someone standing over the body of her sister's best friend, Sophie, holding a bloody knife but she is afraid that anyone she tells will think her crazy and so she must find a way to identify the killer herself, before he or she strikes again." (Catalogue)
Gone / Grant, Michael
"In a small town on the coast of California, everyone over the age of fourteen suddenly disappears, setting up a battle between the remaining town residents and the students from a local private school, as well as those who have "The Power" and are able to perform supernatural feats and those who do not." (Catalogue)