Lockdown has been a great opportunity to learn some new skills, and get cracking on the projects that have been gathering dust on your shelf. And here to help we have a brand new sewing and craft group starting for you! Sit 'n' Knit will be meeting every other Sunday at Johnsonville Library (with the first meeting date to be announced very soon, once we are back in Level 1) and is for thread-heads of all skill levels and ages. We have some spectacular content coming out for you soon – keep an eye out for yarn bombing around the Waitohi Hub!
In the meantime, I'm here to whet your knitting appetite with some updates on what your faithful librarians have been working on during the lockdown.
Rylee is one of the amazing organizers of Sit 'n' Knit, and is leading the way with her embroidery and knitting skills. She's been working on these beautiful embroidery flowers over lockdown, as well as putting together her first scarf!

These glorious minion creatures are brought to us by lovely librarian Claire, who has been working on this crochet project for an upcoming ski trip with her family. Although lockdown has shifted their plans a little, they can look forward to rocking a spectacular banana-loving look when they do go!
The million and one French knots in this tree aside, I had a lovely time putting this little embroidery together. So much so that —like an absolute masochist— I've just started work on another knotty number, this time with more of a focus on the little 'shrooms.
So gather your yarn and come along to Johnsonville Library once we're back into Level 1 to get involved with free tutorials, challenges, and more incredible projects like these!
In the meantime, get started on your own creative endeavours with the help of the WCL catalogue: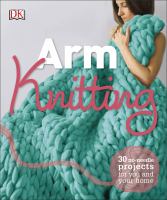 Arm knitting : 30 no-needle projects for you and your home.
"Using chunky yarns and your arms instead of needles, Arm Knitting shows you how to create beautiful knits in no time at all. With 30 no-needle projects for you and your home, Arm Knitting is the ideal guide to this quick knitting technique. Try knitting projects including scarves, hats, curtains, rugs, and even a hammock to brighten up your home. Large patterns and no needles means that projects are easily completed in an hour or less, perfect for beginner knitters or busy lifestyles. With gorgeous step-by-step photography and detailed instructions covering all knitting materials, tools, and techniques, Arm Knitting is ideal for knitters of all abilities looking for projects that save on time but still look beautiful." (Catalogue)

The knitter's dictionary : knitting know-how from A to Z / Atherley, Kate
"Over the years knitting has produced its own language of technical terms, abbreviations, and familiar ways used in very particular ways. Atherley helps you learn to read instructions, and expand your knitting knowledge. In addition to the A-to-Z definitions, she addresses questions about gauge, tools, sweater construction, and much more that will help you become a better knitter." — (Source of summary not specified)" (Catalogue)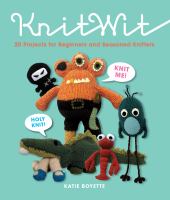 Knitwit : 20 fun projects for beginners and seasoned knitters / Boyette, Katie
"Suitable for both children and adults, this title presents the 20 knit projects that are organised from beginning to end. It contains more than 150 full-colour photographs of these projects, showing along-the-way photos, important steps such as attaching arms and legs, and final photos of the completed piece." (Catalogue)