It's the World of Wearable Art awards month! That magical time of year when Welly is unbeatable on a good day, literally ANYTHING can be used as a bra, and fashion designers are hard at work reduce/reuse/recycling the mothballs and fruit burst wrappers at the bottom of their closets to create the most ineffable and astonishing works of art.
I was lucky enough to grow up within driving distance of the World of Wearable Art Museum in Nelson, and – not to share a core memory with y'all – but going to the WOW Museum for my 13th birthday was a formative experience. I even took notes in my very sparkly, very pink notebook with a little dress on the cover and one of those incredibly miscellaneous locks (obviously an essential feature, as my fashion designs were, and are to this day, strictly confidential and highly sensitive information which will likely revolutionize the world).
All this to say, WOW and I have history. And this year, we're lucky enough to bring a little bit of WOW into your local libraries! With displays, designs, and even a couple of Wearable Art outfits designed by some immensely talented Queen Margaret College students, it's enough to elicit a "WOW" from Owen Wilson himself.


This year, our Arapaki Library branch played host to the extraordinary designs of Adelene Cheung and Claire Ryan, two year thirteen Queen Margaret College students who produced Wearable Art creations as part of an assignment for their materials technology class.
Tui Much Drama, Adelene Cheung
Materials: Plastics bottles, plastic plates, plastic bags, fabric, spray paint, split-pins.
Adelene's design, Tui Much Drama, is intended "to highlight the amazing biodiversity of native species that can be found in the Wellington region." Working from the theme of Wellington Biodiversity – The Tui, the garment draws on the "drama and elegance" of its titular bird, and aims to replicate the effect of sunlight off a tui's wings. Adelene had masterfully manipulated a variety of fabrics and upcycled throwaway plastics to create a "glamourous gown with a repetitive feather element throughout the components of the outfit."


Story Time, Claire Ryan
Materials: Book page paper, fabric, wire, printing ink, split-pins.
Claire's garment explored ideas surrounding the library, and considered the question: "What does [the library] mean to people?" Claire said she was particularly inspired by "how it can be a very creative space and how so many stories come to life here, and people create stories – they're inspired by stories, so that's why there's a lot of imagery and colours [in the design], because that's how I view a library."
When asked if – given unlimited time and resources – she would change anything about the final product, Claire said that she really loves the final design. "Sometimes, with unlimited time, you can overthink and start adding too much. So, I feel that sometimes that time constraint can actually be a helpful thing, and kind of help see what you actually need on the garment that will make it effective."


Come by Arapaki Library to see these incredible designs for yourself, and keep your eyes peeled for future masterpieces from these two talented young designers!
Special thanks to Claire, Adelene, Joseph, Simon, and Queen Margaret College for helping these incredible designs come to life and be shared with the Wellington community.
Now, in case you've been overwhelmed by the flood of fashion and are thinking to yourself "I'm just here for the books, my dude!", then read on for a more literary jaunt into the world of fashion and wearable art!
Spin the dawn / Lim, Elizabeth
"When a royal messenger summons her ailing father, once a tailor of renown, to court, Maia poses as a boy and takes his place. Her life will be forfeit if her secret is discovered, and Maia is one of twelve tailors vying for the job […] The final challenge: sew three magic gowns for the emperor's reluctant bride-to-be, from the laughter of the sun, the tears of the moon, and the blood of stars." (Adapted from Catalogue)

The prince and the dressmaker / Wang, Jen
"Paris, at the dawn of the modern age: Prince Sebastian is looking for a bride – or rather, his parents are looking for one for him. Sebastian is too busy hiding his secret life from everyone. At night he puts on daring dresses and takes Paris by storm as the fabulous Lady Crystallia – the hottest fashion icon in the world capital of fashion! Sebastian's secret weapon (and best friend) is the brilliant dressmaker Frances." (Adapted from Catalogue)

Coco Chanel : pearls, perfume, and the little black dress / Rubin, Susan Goldman
"Beginning with the difficult years Chanel spent in an orphanage […] Coco Chanel focuses on the obstacles Chanel faced as a financially independent woman in an era when women were expected to marry; as well as her fierce competition with the Italian fashion designer Elsa Schiaparelli; and some of her most memorable firsts for the fashion industry, including the little black dress, the quilted purse with gold chain, and the perfume Chanel No. 5." (Adapted from Catalogue)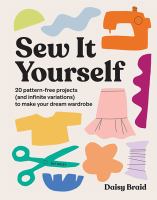 Sew it yourself : 20 pattern-free projects (and infinite variations) to make your dream wardrobe / Braid, Daisy
"Sew It Yourself with DIY Daisy is a colourful, size-inclusive and inspiring book for sewers of all stages and abilities, beginners included. It includes guides on everything you need to get started (including equipment, materials and basic techniques) and step-by-step projects with clear instructions, photographs and illustrations that will take the scary out of sewing. Just remember: sewing is self-care, and you make the rules!" (Catalogue)

World of Wearable Art
"All new photos of garments from the last two shows, as well as new photos of some of the most extraordinary award-winning entries from the last decade"–Cover." (Catalogue)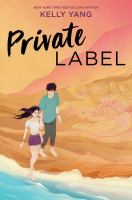 Private label / Yang, Kelly
"Serene dreams of making couture dresses […] but for now she's an intern at her mom's fashion label. When her mom receives a sudden diagnosis of pancreatic cancer, all that changes. […] Lian Chen moved from China to Serene's mostly white Southern California beach town a year ago. […] Lian thinks there's nothing to stick around for, until one day, he starts Chinese Club after school … and Serene walks in." (Adapted from Catalogue)

Fashion : Australian & New Zealand designers / Oakley Smith, Mitchell
"Since Collette Dinnigan became the first Australian to launch her ready-to-wear collection in Paris in 1995, Australian and New Zealand fashion designers have become increasingly recognized and admired in the international arena. Fashion documents the countries' current key players, showcasing the work of 70 leading antipodean designers of women's and men's fashion." (Catalogue)

Dior. [Fashion] / Bongrand, Caroline
"The pinnacle of French haute couture and savoir faire, the house of Dior is one of the world's most celebrated luxury brands. […] As a young man, Christian Dior had hoped to become an architect; his mother wanted him to be a diplomat: He was all that and more." (Adapted from Catalogue)

Glitter / Pike, Aprilynne
"A teenager living in an alternate-history futuristic Versailles must escape its walls by selling a happy-enducing makeup called Glitter"– Provided by publisher." (Catalogue)

Be dazzled / La Sala, Ryan
"Raffy has a passion for bedazzling– and sewing, stitching, draping, pattern making. He is determined to make his mark at this year's biggest cosplay competition. If he can wow there, it could lead to sponsorship, then art school, and finally earning real respect for his work. One small problem: Raffy's ex-boyfriend, Luca, is his main competition. " (Adapted from Catalogue)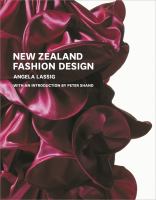 New Zealand fashion design / Lassig, Angela
"New Zealand Fashion Design is the first and most authoritative book to document New Zealand's contemporary fashion design scene, showcasing the work of top designers and encapsulating the developments that have brought New Zealand to the attention of the international fashion world over the past 30 years. " (Adapted from Catalogue)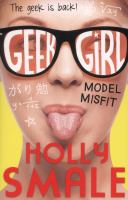 Model misfit / Smale, Holly
"Geek girl, Harriet Manners, having been spotted by a fashion designer, is suddenly on a whirlwind modelling trip to Tokyo while surreptitiously studying maths for her GCSE. But while she know a lot of facts, clearly, she knows nothing about boys…" (Catalogue)

The World of WearableArt / Potton, Craig
"The World of WearableArt is the second edition of this inspirational and truly original visual design sourcebook. Completely revised with all new photographs, it features the best garments that have been entered over recent years in a remarkable celebration of the diversity and creativity of wearable art." (Catalogue)

Shoe obsession / Steele, Valerie
"This fabulously illustrated book explores western culture's fascination with extravagant and fashionable shoes. […] Shoe Obsession examines recent extreme and fantastical shoe styles in relation to the history of high heels, the role of shoes as a reflection of their wearers' personality traits, and the importance of shoes in art and exhibitions." (Adapted from Catalogue)