18 years after the release of The Lightning Thief, the Percy Jackson series is finally getting a proper adaptation into live action for the first time!
For the first time!
The FIRST time!
You cannot convince me otherwise.
To celebrate this momentous occasion, why not get our Greek on by reading stories about their oh so wonderful mythology?
Now, where else to start our Greek Mythology bonanza than where it all began. No, not with those old geezers from Greece but Percy Jackson! Why not give the old Lightning Thief a reread for the millionth time (or gods forbid, the first time). How else are you going to be able to go through every new episode of the show knowing exactly what minute detail they miss or change? We've got to get our smugness supply somewhere. Here at the library, we have all the Percy Jacksons you could ever want. Obviously we have the book, but that's not all we got! We got the eBook, the audiobook (on CD (which are those old person things used in cars)), the audiobook again (but this time digital), the terrible movie that does not exist, and the graphic novel! So many options, so many books.

The lightning thief / Riordan, Rick
"After learning that he is the son of a mortal woman and Poseidon, god of the sea, twelve-year-old Percy is sent to a summer camp for demigods like himself, and joins his new friends on a quest to prevent a war between the gods." (Catalogue)
But why stop there?
One of the great parts of Percy Jackson is how he takes these millennia-year-old stories (back when the world was still in black and white) and modernises them, retelling them for newer generations. The Lightning Thief is a delightful hodgepodge of various different myths and legends. However, Mr Riordan wasn't the first person, nor the last, to do this to Greek myth. So lets have a look at other people's takes on the monsters, deities, heroes, and tales told in The Lightning Thief.
Super minor spoilers for that book ahead.
That time some spooky grandmas knitted a sock ominously
Threads that bind / Hatzopoulou, Kika
"Descendants of the Fates are always born in threes: one to weave, one to draw, and one to cut the threads that connect people to the things they love and to life itself. The Ora sisters are no exception. Io, the youngest, uses her Fate-born abilities as a private investigator in the half-sunken city of Alante. But her latest job leads her to a horrific discovery: somebody is abducting women, maiming their life-threads, and setting the resulting wraiths loose in the city to kill. To find the culprit, she must work alongside Edei Rhuna, the right hand of the infamous Mob Queen—and the boy with whom she shares a rare fate-thread linking them as soul mates before they've even met. But the investigation turns personal when Io's estranged oldest sister turns up on the arm of her best suspect. Amid unveiled secrets from her past and her growing feelings for Edei, Io must follow clues through the city's darkest corners and unearth a conspiracy that involves some of the city's most powerful players—before destruction comes to her own doorstep." (Catalogue)
Sometimes people are just really stubborn about things… Bull-headed, if you will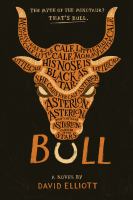 Bull : a novel / Elliott, David
"A modern twist on the Theseus and Minotaur myth, told in verse. Much like Lin-Manuel Miranda did in Hamilton, New York Times best-selling author David Elliott turns a classic on its head in form and approach, updating the timeless story of Theseus and the Minotaur for a new generation. A rough, rowdy, and darkly comedic young adult retelling in verse, Bull will have readers re-evaluating one of history's most infamous monsters. — Provided by publisher." (Catalogue)
The Gods really need to get better at holding on to their stuff
Daughter of Sparta / Andrews, Claire
"Seventeen-year-old Daphne has spent her entire life honing her body and mind into that of a warrior, hoping to be accepted by the unyielding people of ancient Sparta. But an unexpected encounter with the goddess Artemis—who holds Daphne's brother's fate in her hands—upends the life she's worked so hard to build. Nine mysterious items have been stolen from Mount Olympus and if Daphne cannot find them, the gods' waning powers will fade away, the mortal world will descend into chaos, and her brother's life will be forfeit. Guided by Artemis's twin—the handsome and entirely-too-self-assured god Apollo—Daphne's journey will take her from the labyrinth of the Minotaur to the riddle-spinning Sphinx of Thebes, team her up with mythological legends such as Theseus and Hippolyta of the Amazons, and pit her against the gods themselves." (Adapted from Catalogue)

To be honest, I'm actually quite fond of snakes, I don't know what all this fuss is about
Medusa / Burton, Jessie
"Exiled to a far-flung island by the whims of the gods, Medusa has little company except the snakes that adorn her head instead of hair. But when a charmed, beautiful boy called Perseus arrives on the island, her lonely existence is disrupted with the force of a supernova, unleashing desire, love, betrayal … and destiny itself." (Catalogue)
The Goddess of Love is a nosey busybody and more trouble than she's worth
Lovely war / Berry, Julie
"In the perilous days of World Wars I and II, the gods hold the fates — and the hearts — of four mortals in their hands. They are Hazel, James, Aubrey, and Colette. A classical pianist from London, a British would-be architect-turned-soldier, a Harlem-born ragtime genius in the U.S. Army, and a Belgian orphan with a gorgeous voice and a devastating past. Their story, as told by goddess Aphrodite to her husband, Hephaestus, and her lover, Ares, is filled with hope and heartbreak, prejudice and passion, and reveals that, though War is a formidable force, it's no match for the transcendent power of Love." (Catalogue)
Going to the underworld? Pshh, what could be so hard about that?
The shadow thieves / Ursu, Anne
"Something extraordinary is about to happen to Charlotte Mielswetzski. It's not the very cute kitten that appears out of nowhere. It's not the arrival of her cousin Zee, who believes he's the cause of a mysterious sickness that has struck his friends back in England. And it's not the white-faced, yellow-eyed men in tuxedos who follow Charlotte everywhere. What's so extraordinary is not any one of these things. It's all of them. Then Charlotte's friends start to get sick, Charlotte and Zee set out to find a cure. Their quest leads them to a not-so-mythical Underworld, where they face Harpies that love to rhyme, gods with personnel problems, and ghosts with a thirst for blood. Charlotte and Zee learn that in a world overrun by Nightmares, Pain, and Death, the really dangerous character is a guy named Phil. And then they discover that the fate of every person — living and dead — is in their hands." (Adapted from Catalogue)
Daughter of darkness / Corr, Katharine
"Enter the Underworld in an epic new fantasy, where the Gods of ancient Greece rule everything but fate. Deina is trapped. As one of the Soul Severers serving the god Hades on earth, her future is tied to the task of shepherding the dying on from the mortal world unless she can earn or steal enough to buy her way out. Then the tyrant ruler Orpheus offers both fortune and freedom to whoever can retrieve his dead wife, Eurydice, from the Underworld. Deina jumps at the chance. But to win, she must enter an uneasy alliance with a group of fellow Severers she neither likes nor trusts. So begins their perilous journey into the realm of Hades. The prize of freedom is before her but what will it take to reach it?" (Catalogue)
Even! More! Myths!
Mythos / Fry, Stephen
"The Greek myths are amongst the best stories ever told, passed down through millennia and inspiring writers and artists as varied as Shakespeare, Michelangelo, James Joyce and Walt Disney. They are embedded deeply in the traditions, tales and cultural DNA of the West. You'll fall in love with Zeus, marvel at the birth of Athena, wince at Cronus and Gaia's revenge on Ouranos, weep with King Midas and hunt with the beautiful and ferocious Artemis. Spellbinding, informative and moving, Stephen Fry's Mythos perfectly captures these stories for the modern age – in all their rich and deeply human relevance." (Catalogue)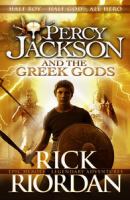 Percy Jackson and the Greek Gods / Riordan, Rick
"Who could tell the stories of the gods of Olympus better than a modern-day demigod? In this whirlwind tour of Greek mythology, Percy Jackson gives his personal take on the gods and goddesses of Ancient Greece, and reveals the truth about how they came to rule the world." (Catalogue)
Percy Jackson and the Greek heroes / Riordan, Rick
"If you like poisonings, betrayals, mutilations, murders and flesh-eating farmyard animals, keep reading…In this gripping follow-up to Percy Jackson and the Greek Gods, demigod Percy Jackson tells the stories of twelve of the original Greek heroes in all their gory, bloodthirsty glory. Want to know who cut off Medusa's head? Which hero was raised by a she-bear? Who tamed Pegasus, the winged horse? Percy has all the answers…" (Adapted from Catalogue)