Young people aged 14— 18 are invited to join us at Karori Library's last youth night of 2023 on Saturday, 18 November from 5 – 8pm.

These after-hours events are for teens who are into books, gaming, making music, watching movies, crafts, eating pizza, and generally just hanging out!
This month we explore the fourth & fifth generation of gaming consoles from the 16 bit and early era of 3D graphics capabilities! Yes, that does mean the original Sonic the Hedgehog from 1991 will be making an appearance!
The retro consoles we will get a chance to use include the Dreamcast (1999), Sega Megadrive II (1993) and the Nintendo 64 (1996).

Our Youth Nights are totally free (pizza included!) but you do need to be 14+ in order to come, so please come prepared to show your student ID. Once you're in, our space is yours! Check out the event calendar for more details.
Youth Nights will be back in February, so send any ideas for activities to karori.youthnight@wcc.govt.nz.
Pukapuka about gaming history!  
The greatest stories ever played : video games and the evolution of storytelling / Hansen, Dustin
"A lifelong gamer with over 20-years experience in the gaming industry examines the storytelling skills in some of the most beloved and moving games of the past thirty years in this fun and informative YA non-fiction title"– Provided by publisher." (Catalogue)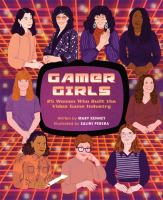 Gamer girls : 25 women who built the video game industry / Kenney, Mary
"Discover the women behind the video games we love–from the iconic games they created, the genres they invented, the studios and companies they built–and how they changed the industry forever. From classic games like Centipede and Solitaire to popular modern games like Final Fantasy, Uncharted, and Halo, this book explores the work and history of 25 influential women in the video game industry and how their contributions ultimately built and transformed the medium that we know today…" (Abridged from catalogue)

Video game creators / Arbona, Alejandro
"Did you know that Nintendo started in the mid-19th century as a playing card company and that the Japanese giant also sold rice and operated taxi cabs? And did you know that the very first video game was called Tennis for Two and was created by a US government scientist named William Higinbotham? Today, video games play a gigantic role in our culture and none of this would have been possible without people like Shigeru Miyamoto, the creative mastermind that turned a failed business venture into the game that eventually inspired him to build Donkey Kong and Mario Bros., or Donna Bailey, who created the arcade sensation video game Centipede…" (Abridged from catalogue)

Gamish : a graphic history of gaming / Ross, Edward
"This… illustrated book transports us through the history of video games, from the pioneering prototypes of the 1950s to the modern era of blockbuster hits and ingenious indie gems. Exploring the people and politics behind one of the world's most exciting art-forms, this is a love letter to something that has always been more than just a game."–Back cover." (Catalogue)