If you're a fan of the Percy Jackson universe, or any one of Rick Riordan's intertwining demi-god fantasy worlds, you'll know that what he specialises in is taking a mythology (Greek, Roman, Norse, Egyptian…) and putting it in the contemporary world. Cue heroes, gods, teens with powers and some excellent action sequences. He's a well known writer and he's written a lot. A whole lot, I just Googled it and it's over 40 books at least, yikes.
Here's something I just found out about him: he is also involved in Rick Riordan Presents which is a publishing project under the Disney-Hyperion umbrella. These books involve the mythologies (in a broad sense) of a range of underrepresented cultures and backgrounds and are written by authors with the cultures and backgrounds they are writing about. It is an amazing way for Riordan to use his platform to get voices, who might otherwise be unheard, into the mainstream.  As his website says: it's about letting people tell their own stories. Riordan acts as an editor for these works but they are entirely the property of and ideas of each individual author. How cool would it be to be a young/up-and-coming author and have your work picked up by Riordan?!
In fact the Korean NZ author Graci Kim is having a book published through Rick Riordan Presents next year that centres on a clan of Korean-American witches living in LA!  This will be Kim's debut novel (first book). It sounds amazing, read the blurb here so you can get all hyped about it before it comes out next year in May.
A few things about the Rick Riordan Presents books: NO they are not set in the Percy Jackson world. YES they feature mythology and action in the same way that Riordan's books do!
Rick Riordan reckons you'll like them and so do I. The library has many of these books available in hard copy and also some online from one of our book borrowing apps called OverDrive.
Dragon Pearl / Lee, Yoon Ha
"A sci-fi adventure about a girl who stows away on a battle cruiser to solve the mystery of her missing brother. Best-selling author Rick Riordan presents Yoon Ha Lee's space opera about thirteen-year-old Min, who comes from a long line of fox spirits.
But you'd never know it by looking at her. To keep the family safe, Min's mother insists that none of them use any fox-magic, such as Charm or shape-shifting. They must appear human at all times.
Min feels hemmed in by the household rules and resents the endless chores, the cousins who crowd her, and the aunties who judge her. She would like nothing more than to escape Jinju, her neglected, dust-ridden, and impoverished planet. She's counting the days until she can follow her older brother, Jun, into the Space Forces and see more of the Thousand Worlds.
When word arrives that Jun is suspected of leaving his post to go in search of the Dragon Pearl, Min knows that something is wrong. Jun would never desert his battle cruiser, even for a mystical object rumored to have tremendous power. She decides to run away to find him and clear his name.
Min's quest will have her meeting gamblers, pirates, and vengeful ghosts. It will involve deception, lies, and sabotage. She will be forced to use more fox-magic than ever before, and to rely on all of her cleverness and bravery. The outcome may not be what she had hoped, but it has the potential to exceed her wildest dreams.
This sci-fi adventure with the underpinnings of Korean mythology will transport you to a world far beyond your imagination." (Catalogue)
The storm runner / Cervantes, Jennifer
"A contemporary adventure based on Maya mythology from Rick Riordan Presents! Best-selling author Rick Riordan presents J.C. Cervantes' contemporary adventure based on Maya mythology.
Zane has always enjoyed exploring the dormant volcano near his home in New Mexico, even though hiking it is challenging. He'd much rather hang out there with his dog, Rosie, than go to middle school, where kids call him Sir Limps a Lot, McGimpster, or Uno–for his one good leg.
What Zane doesn't know is that the volcano is a gateway to another world and he is at the center of a powerful prophecy. A new girl at school, Brooks, informs him that he's destined to release an evil god from the ancient Maya relic he is imprisoned in–unless she can find and remove it first.
Together they return to the volcano, where all kinds of crazy happens. Brooks turns into a hawk, a demon attacks them in a cave, and Rosie gives her all while trying to protect Zane.
When Zane decides to save his dog no matter the cost, he is thrust into an adventure full of surprising discoveries, dangerous secrets, and an all-out war between the gods, one of whom happens to be his father. To survive, Zane will have to become the Storm Runner. But how can he run when he can't even walk well without a cane?" (Catalogue)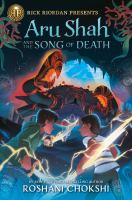 Aru Shah and the song of death / Chokshi, Roshani
"Best-selling author Rick Riordan presents best-selling author Roshani Chokshi and her sequel to Aru Shah and the End of Time.
Aru is only just getting the hang of this whole Pandava thing when the Otherworld goes into full panic mode. The god of love's bow and arrow have gone missing, and the thief isn't playing Cupid. Instead, they're turning people into heartless fighting-machine zombies.
If that weren't bad enough, somehow Aru gets framed as the thief. If she doesn't find the arrow by the next full moon, she'll be kicked out of the Otherworld. For good.
But, for better or worse, she won't be going it alone. Along with her soul-sister, Mini, Aru will team up with Brynne, an ultra-strong girl who knows more than she lets on, and Aiden, the boy who lives across the street and is also hiding plenty of secrets. Together they'll battle demons, travel through a glittering and dangerous serpent realm, and discover that their enemy isn't at all who they expected." (Catalogue)