Kia ora, e hoa mā! For the next post in our ongoing series exploring the riches of the Central collection at Te Pātaka, our Collection Distribution Centre in Johnsonville, we thought it appropriate to celebrate some of the books by Māori authors that are held there. Kia kaha te reo Māori!
The drill is just the same as last time — find the book you want in the catalogue, click 'Place Reserve,' and choose the branch you want to pick it up from. For extra credit, if you want to find only books held at Te Pātaka, you can either:
Filter your search results by location and select "Off-Site Storage," or,
Filter your search results by collection and choose the collection type you think best describes the book you're looking for, for example, "Store – Adult Fiction" or "Store – Young Adult Fiction."
For now, though, here are some of our favourites. Many of these books are out of print and only held at Te Pātaka or in our New Zealand collection at He Matapihi Molesworth Library. Check out our handy booklist to find more literary gems from Māori authors past and present.
Bloom / Morey, Kelly Ana
"Summoned home by her grandmother to the Maori settlement where she grew up, Constance Spry returns to her mother and sister and the country pub where they live. Slowly, but surely, she gathers the myriad threads that are the lives and loves of the four murderous Women Spry." (Catalogue)
Kissing shadows / Renée
"Do we ever really know or understand the motives of the ones we love? When Vivvie Caird is faced by the sight of her beautiful, strong-willed mother lying limp and speechless in a hospital bed, she feels empowered to begin unlocking the mystery that is her fathers legacy. Vivvies nave undertaking soon finds a parallel in her mothers own account of what happened when her husband left home one day, never to return. A family, and a court must confront a devastating event that occurred in the midst of the hard times of last century. This fast-paced, page-turning novel takes the reader into an absorbing and moving world of shadowy relationships and intrigue." (Catalogue)
Wooden horses / George, James
"This novel focuses on former UN peacekeeper Tom Solomon and the mysterious old Maori woman, Phoenix, who seeks him out on a remote Northland beach to recount the story of her life. She tells of her foster parents, Jessye and Will, and of her intense love affair with a runaway boy, Luka." (Catalogue)
Ngā waituhi o Rēhua / Mataira, Katarina
"This science fantasy novel in te reo Maori follows four teenagers living on Rehua, a planet settled after Earth is destroyed by ecological disasters and global war. The four raise hokio, giant mystical birds, which take them on flights to explore their new world. On one flight, they discover an island with another colony of people, and here, they are given a quest to interpret hieroglyphic message drawn on cave walls. Deciphering these symbols leads them to appease the feared tipua wheke, a gargantuan octopus, and help the Turehu, fair-skinned sea fairies, who have discovered a way to return to Earth." (Catalogue)
One night out stealing. / Duff, Alan
"The second gripping, powerful novel by the author of Once Were Warriors. Boys' homes, borstal, jail, stealing, then jail again – and again. That's been life for Jube and Sonny. One Pakeha, the other Maori, only vaguely aware of life beyond pubs and their hopeless cronies . . . Reviewers found it compulsive and unforgettable, one saying: 'Brutal, foul-mouthed, violent, despairing and real . . . it can't be ignored'. In this novel Alan Duff confirms his skills as a gripping story-teller and a masterful creator of characters and situations. As one reviewer noted, it is 'original and important'." (Catalogue)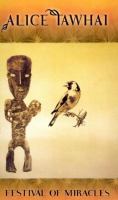 Festival of miracles / Tawhai, Alice
"An electrifying debut. This is a collection of short stories by a gifted writer. Alice Tawhai is bilingual and is a keen observer of the luminous, the unusual, the different and the beautiful both in her writing and through her photography. In Festival of Miracles Alice Tawhai has created a bittersweet New Zealand wonderland that is at once luminous and sensual, tragic and fated. The stories in this debut collection are set from the Hokianga to Bluff, and they are populated by a stunning range of characters – circus workers, tattoo artists, bikies, mail-order brides, beautiful victims, wild children, immigrants, tangata whenua – who never cease to believe that they will find perfect things amidst the human imperfection of their lives: miracles, not misfortune." (Catalogue)