Peeps, it's a weird time for all of us, librarians included, as we attempt to navigate the apocalypse with nary an open library in sight from which to retrieve the objects of our solace — books. But fear not! The library, in its wisdom, has foreseen such a calamity and from the depths of its vast reserves of online material has produced a bounteous temple of all things YA — the OverDrive Teen Reading Room. All you need is a library card (click here to grab one if you haven't already) and all the reading material you could ever need is at your fingertips from the comfort of whichever anti-viral fortress you're currently holed up in. Check the list below for some of my faves:
Aristotle and Dante discover the secrets of the universe / Sáenz, Benjamin Alire
Guys, I don't want to freak you out but READ THIS BOOK NOW. This is the OverDrive eAudiobook version, so you don't even have to read words, just zone out and let Saenz's perfectly spare, searing prose transport you. This is a gorgeous story of family, friendship, love, pain, illness, recovery, and discovery that paints in poignant, pointillistic detail the agony and anticipation of leaving childhood behind and moving somewhere new. Waste no more time, and while you're at it read everything else Saenz has ever written. You won't regret it.
Feed / Anderson, M. T
It may seem a little on the nose to be recommending dystopian fiction right now, but hear me out. This modern classic is absolutely worth a read — it takes a peek beneath the veil and examines human nature with a kind of clarity seldom seen in any fiction. Unsettling? Yes. Frightening? Probably. Un-put-downable? Absolutely.
An unofficial encyclopedia of strategy for Fortniters / Rich, Jason
We understand it's not entirely impossible that there may be some people out there who are choosing to spend their isolation period not reading, but gaming. We have you nerds covered as well! The Unofficial Encyclopedia of Strategy for Fortniters is just one part of a gaming eBook collection that includes titles on Fortnite, Minecraft, Terraria, and more. Can't go outside? Make your own outside, inside!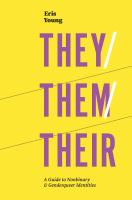 Finally, I wanted to do a special plug for our wonderful OverDrive LGBTIQ+ Reading Room. We've pulled together our favourite titles from across the rainbow spectrum and curated the ultimate collection of LGBTIQ+ reads for you to enjoy. There's heaps to choose from across fiction and nonfiction, eBook and eAudio — biographies, romance, YA fiction, the arts, crime and mysteries, social comment and social issues, personal essays, poetry, and much much more. Feel free to send through a request if we're missing a title you think we should have!
Even though our physical sites are closed, we're here for you still. Follow us on social media or comment on one of these posts if you want to stay in touch. We'll be keeping you up to date with books, websites, resources and other cool stuff and general distraction during these spooky, spooky times. Stay safe and stay indoors!