In the name of Spring (again), I bring you books featuring girls with flowery and botanical names. Violets, Daisys and Lilys, you'll find them right here.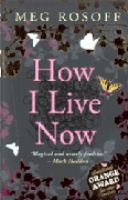 How I Live Now, Meg Rosoff
"Fifteen-year-old Daisy thinks she knows all about love. Her mother died giving birth to her, and now her dad has sent her away for the summer, to live in the English countryside with cousins she's never even met. There she'll discover what real love is: something violent, mysterious and wonderful. There her world will be turned upside down and a perfect summer will explode into a million bewildering pieces. How will Daisy live then?'" (adapted from Syndetics)
Featuring awesome protagonist Daisy. We also have the movie version on DVD, but it is R16 so you may have trouble reserving it with a young adult library card. Give us a call if you get stuck!
Cinder, Marissa Meyer
"Cinder, a gifted mechanic, is a cyborg. She's a second-class citizen with a mysterious past, reviled by her stepmother and blamed for her stepsister's illness. But when her life becomes intertwined with the handsome Prince Kai's, she suddenly finds herself at the center of an intergalactic struggle, and a forbidden attraction. Caught between duty and freedom, loyalty and betrayal, she must uncover secrets about her past in order to protect her world's future." (Syndetics)
Cinder has one horrible step-sister, but her other, lovely step-sister is named Peony. We also have this book on CD, and Rebecca Soler does an incredible job of narrating all the unique characters.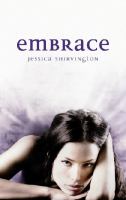 Embrace, Jessica Shirvington
"Violet Eden is dreading her seventeenth birthday dinner. After all, it's hard to get too excited about the day that marks the anniversary of your mother's death. The one bright spot is that Lincoln will be there. Sexy, mature and aloof, he is Violet's idea of perfection. But why does he seem so reluctant to be anything more than a friend? Nothing could have prepared her for Lincoln's explanation: he is Grigori, part angel and part human, and Violet is his eternal partner. Without warning, Violet's world is turned upside down. As Violet gets caught up in an ancient battle between dark and light, she must choose her path. The wrong choice could cost not only her life, but her eternity…" (adapted from Syndetics)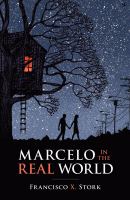 Marcelo In The Real World, Francisco X. Stork
"Marcelo Sandoval hears music no one else can hear–part of the autism-like impairment no doctor has been able to identify–and he's always attended a special school where his differences have been protected. But the summer after his junior year, his father demands that Marcelo work in his law firm's mailroom in order to experience "the real world." There Marcelo meets Jasmine, his beautiful and surprising coworker, and Wendell, the son of another partner in the firm. He learns about competition and jealousy, anger and desire. But it's a picture he finds in a file — a picture of a girl with half a face — that truly connects him with the real world: its suffering, its injustice, and what he can do to fight." (adapted from Syndetics)
Dash & Lily's Book of Dares, Rachel Cohn & David Levithan
"Lily has left a red notebook full of challenges on a favorite bookstore shelf, waiting for just the right guy to come along and accept its dares. But is Dash that right guy? Or are Dash and Lily only destined to trade dares, dreams, and desires in the notebook they pass back and forth at locations across New York? Could their in-person selves possibly connect as well as their notebook versions? Or will they be a comic mismatch of disastrous proportions?" (Syndetics)
Soulmates, Holly Bourne
"Every so often, two people are born who are the perfect match for each other. Soulmates. But while the odds of this happening are about as likely as being struck by lightning, when these people do meet and fall in love, thunderstorms, lightning strikes and lashings of rain are only the beginning of their problems. After a chance meeting at a local band night, Poppy and Noah find themselves swept up in a whirlwind romance unlike anything they've ever experienced before. But with a secret international agency preparing to separate them, a trail of destruction rumbling in their wake, they are left with an impossible choice: the end of the world, or a life without love?" (Syndetics)
This one doubly wins because the author (Holly) has a botanical name too!
Vampire Academy, Richelle Mead
"St. Vladimir's Academy isn't just any boarding school—it's a hidden place where vampires are educated in the ways of magic and half-human teens train to protect them. Rose Hathaway is a Dhampir, a bodyguard for her best friend Lissa, a Moroi Vampire Princess. They've been on the run, but now they're being dragged back to St. Vladimir's—the very place where they're most in danger… Rose and Lissa become enmeshed in forbidden romance, the Academy's ruthless social scene, and unspeakable nighttime rituals. But they must be careful lest the Strigoi—the world's fiercest and most dangerous vampires—make Lissa one of them forever." (Goodreads)
If one's not enough, we have the whole series here in our collection!
On a Clear Day, Walter Dean Meyers
"Dahlia is a Low Gater: a sheep in a storm, struggling to survive completely on her own. The Gaters live in closed safe communities, protected from the Sturmers, mercenary thugs. And the C-8, a consortium of giant companies, control global access to finance, media, food, water, and energy resources–and they are only getting bigger and even more cutthroat. Dahlia, a computer whiz, joins forces with an ex-rocker, an ex-con, a chess prodigy, an ex-athlete, and a soldier wannabe. Their goal: to sabotage the C-8. But how will Sayeed, warlord and terrorist, fit into the equation?" (Syndetics)
This one's actually not out just yet, but you can still reserve it before its release in a couple of weeks.
Flora Segunda, Ysabeau Wilce
"Flora knows better than to take shortcuts in her family home, Crackpot Hall–the house has eleven thousand rooms, and ever since her mother banished the magickal butler, those rooms move around at random. But Flora is late for school, so she takes the unpredictable elevator anyway. Huge mistake. Lost in her own house, she stumbles upon the long-banished butler–and into a mind-blowing muddle of intrigue and betrayal that changes her world forever." (Syndetics)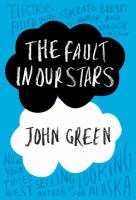 The Fault In Our Stars, John Green
"Despite the tumor-shrinking medical miracle that has bought her a few years, Hazel has never been anything but terminal, her final chapter inscribed upon diagnosis. But when a gorgeous plot twist named Augustus Waters suddenly appears at Cancer Kid Support Group, Hazel's story is about to be completely rewritten." (Syndetics)
I couldn't make this list and NOT include Hazel Grace! It just couldn't be done. We also have this as an audiobook on CD.
There are plenty more books that could have made it onto this list – have you got any suggestions? Let us know in the comments!