Risk anything! Care no more for the opinions of others, for those voices. Do the hardest thing on earth for you
Below is a blog and book list by Louise, one of our librarians, remembering Katherine Mansfield on the centenary of her death. Louise talks about her wide influence as a New Zealand writer and her connections to Karori and to our city, as well as a recent Wellington City Libraries connection…
On my shelf sits a ragged and much-loved Penguin edition of the Collected Works of Katherine Mansfield given to me by my parents in 1986 when I was 17.  I consumed and adored this book. Mansfield's writing was delicate but strong, subtle, with a focus on stream-of-consciousness and (that gem of a phrase from high school English) reflected a 'slice of life'. And she was a New Zealander like me! I was inspired and enriched immediately.
I took this book with me on a six-week language exchange to Tahiti between sixth and seventh form. I was horribly homesick, and somehow the representations of New Zealand (to me often containing a pang of her own homesickness) and the tiny worlds she created in a few pages were soothing and beautiful, even when describing sadness and cruelty. The Doll's House remains affecting nearly 40 years after I first read it. That summer was the start of my great love for Katherine Mansfield who challenged the literary world with her modernity (both in writing and her approach to life) and left a legacy that drew admiration from the likes of her contemporary Virginia Woolf right through to the Italian great Italo Calvino. My heart always sings when I am reading about a writer and they mention Mansfield as an influence – she is still relevant today and her writing continues to fascinate and entertain.
This week marks the centenary of her death, at the young age of 34, on 9 January 1923 in Avon-Fontainebleau, France. I now work at the Karori Library, near the corner of Beauchamp Street, named for Mansfield's family who lived in Karori at the time of her birth. We have a new courtyard outside the library and there is a line from her short story Prelude in relief on one of the walls: "And then at the first beam of sun the birds began", very apt for the start of a day near Zealandia. This week we have a display in the library commemorating her death. This morning, when I went to get a coffee at the cafe next door to the library I saw a man at the counter with a book he had just borrowed from our display. I told him I was writing a blog about Katherine Mansfield and he told me his name was Phil and that he had attended Karori Normal School where there was a memorial to Mansfield. Having seen our display, he thought it was about time he read some of her stories. I love the idea of Phil sitting in a cafe in Karori reading Mansfield's stories in the suburb of her birth as we commemorate her life and death in Europe.
Wellington City Libraries has a strong connection to Katherine Mansfield and you can read about the discovery of a previously unknown short story, His Little Friend, by a then 11-year-old Kathleen M. Beauchamp (her given name), which was published on the children's page of the New Zealand Graphic on 13 October 1900 and found a few years ago in our collection by our New Zealand History Specialist Gabor Toth and the Wellington writer Redmer Yska.
We have many items by and about Katherine Mansfield in our collections. Her writing sparks and her life was fascinating, intersecting with many interesting characters such as Maata Mahupuku, Virginia Woolf, D.H. Lawrence, Bertrand Russell, and Dora Carrington. See below for just a few items that we recommend from and about an author who wrote: "To be alive and to be a 'writer' is enough":

Bliss: and other stories / Mansfield, Katherine
" This edition includes a modern introduction and a list of suggested further reading. Bliss and Other Stories represents the range of themes and concerns for which Katherine Mansfield is known. Besides the great number of marriage and couple's narratives, this collection also includes "woman alone" stories about unmarried women exploring hopes, dreams, trials, and fears. Mansfield's greatest skill is her ability to capture accurately the tender life of the human psyche and soul. " (Adapted from our catalogue)
A strange beautiful excitement: Katherine Mansfield's Wellington, 1888-1903 / Yska, Redmer
"How does a city make a writer? Described by Fiona Kidman as a 'ravishing, immersing read', this is a 'wild ride' through the Wellington of Katherine Mansfield's childhood. From the grubby, wind-blasted streets of Thorndon to the hushed green valley of Karori, author Redmer Yska, himself raised in Karori, retraces Mansfield's old ground: the sights, sounds and smells of the rickety colonial capital, as experienced by the budding writer" (Adapted from our catalogue)
Katherine Mansfield's New Zealand / O'Sullivan, Vincent
"A stunning, fully illustrated guide to the country and times that shaped our greatest short story writer — a feast of images and relevant excerpts from Mansfield's stories and journals. Katherine Mansfield was born in Wellington in 1888 and died in France in 1923, regarded as one of the finest short story writers of her time. Her country of birth, initially a source of frustration for her, in time came to influence her writing. From Kezia's Karori journey in Prelude, to the landscape of The Woman at the Store, the images of colonial New Zealand are a distinctive and compelling part of Katherine Mansfield's writing. A fascinating section of the book details her expedition to the Urewera and thermal regions. The first (monochrome) edition of Katherine Mansfield's New Zealand appeared in 1974; this edition has been extensively revised, with colourful new images and vivid excerpts from Katherine Mansfield's writing." (From our catalogue)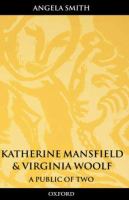 Katherine Mansfield and Virginia Woolf : a public of two / Smith, Angela
"Long after the death of Katherine Mansfield (1888-1923), Virginia Woolf (1882-1941) described being haunted by Mansfield in dreams. Through detailed comparative readings of their fiction, letters, and diaries, Smith explores the intense affinity between the two writers. Their particular inflection of modernism is interpreted through their shared experience as `threshold people', familiar with the liminal, for each of them a zone of transition and habitation. Writing at a time when the First World War and changing attitudes to empire problematized boundaries and definitions of foreignness, we see how the fiction of both Mansfield and Woolf is characterized by moments of disorienting suspension in which the perceiving consciousness sees the familiar made strange, the domestic made menacing." (From our catalogue)
The Bloomsbury Handbook to Katherine Mansfield / Martin, Todd (EDT)/ Keuss, Jeff (EDT)
"Through her formally innovative and psychologically insightful short stories, Katherine Mansfield is increasingly recognised as one of the central figures in early 20th-century modernism. Bringing together leading and emerging scholars and covering her complete body of work, this is the most comprehensive volume to Mansfield scholarship available today. The Bloomsbury Handbook to Katherine Mansfield covers the full range of contemporary scholarly themes and approaches to the author's work, including: New biographical insights, including into the early New Zealand years, responses to the historical crises: the Great War, empire and orientalism, Mansfield's fiction, poetry, criticism and private writing, Mansfield and modernist culture – from Bloomsbury to the little magazines, her contemporaries – Woolf, Lawrence and von Arnim, Mansfield and the arts – visual culture, cinema and music. The book also includes a substantial annotated bibliography of key works of Mansfield scholarship from the last 30 years." (Adapted from our catalogue)
New Zealand stories / Mansfield, Katherine
"Katherine Mansfield is New Zealand's most celebrated writer, and one of the key figures in the history of the short story in English. This is the first time the stories set in her own country have been brought together and published in the order in which she wrote them. The Mansfield that emerges from this fresh perspective is both familiar and unexpected." (From our catalogue)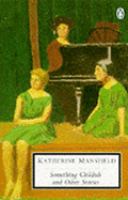 Something childish and other stories / Mansfield, Katherine
"A collection of stories that span the length of Katherine Mansfield's writing career." (Adapted from our catalogue)