Libraries are places where we can find resources to help us learn about the experiences of others. We can then take what we have learnt and use our understanding of people and situations to make the world a better place. It might sound cliched, but knowledge and truth do educate and empower us.
We have many excellent non-fiction resources at Wellington City Libraries that can give an insight into the Black Lives Matter and #GiveNothingToRacism movements and the current racial and political situation in the United States of America.
Step outside of your comfort zone and confront some harsh realities with the resources listed below.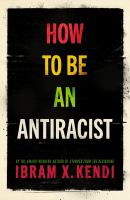 How to be an antiracist / Kendi, Ibram X
Following on from his National Book Award-winning and New York Times best-selling Stamped from the Beginning Kendi considers here what an antiracist society might look like. Founding director of the Antiracism Research and Policy Center, Kendi shows that neutrality on racism is not an option and that until we become part of the solution, we will only be part of the problem. He helps us recognise that everyone is, at times, complicit in racism whether they realise it or not and shows us how instead to be a force for good. Ebook but also available as an audiobook.
Between the world and me / Coates, Ta-Nehisi
Ta-Nehisi Coates examines the USA's 'long war on black people' not only to understand himself but to also clarify the continuing role race plays in the US today. Toni Morrison called this book 'required reading' and it is a strong, and perceptive examination of race relations in the United States. Also available as an ebook. You can also check out Coates' other powerful works about race in the USA:  The Beautiful Struggle: A Memoir, and We Were Eight Years in Power: An American Tragedy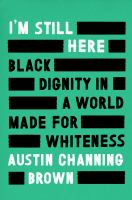 I'm still here: black dignity in a world made for whiteness / Brown, Austin Channing
Growing up in majority-white schools, organisations, and churches, Brown had to learn 'what it means to love blackness' and how to navigate the racial divide in the USA as a writer, speaker and expert who helps organisations practice inclusion. This is a powerful account of how and why our actions often fall short of our words and a look at how white, middle-class, evangelicalism has participated in an era of rising racial hostility. Also available as an audiobook.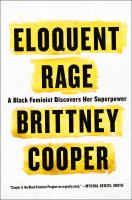 Eloquent rage: a black feminist discovers her superpower/Cooper, Brittney C.
Black feminist Brittney Cooper explores the theory that that anger is a powerful source of energy that can give us the strength to keep on fighting. Rather than seeing black women's anger as a destructive force that threatens the civility and social fabric of the USA, Cooper shows us that black women's eloquent rage is what makes Serena Williams a powerful tennis player, what makes Beyoncé's anthems resonate, and what makes Michelle Obama an icon. Eloquent rage reminds women that they don't have to settle for less. A positive, uplifting exploration of black feminism. Ebook, but also available as an audiobook.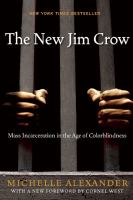 The new Jim Crow: mass incarceration in the age of colorblindness / Alexander, Michelle
Benjamin Todd Jealous, president and CEO of the NAACP, has called this book a 'call to action', as it challenges the notion that the election of Barack Obama signaled a new era of colorblindness. Legal scholar Michelle Alexander argues that 'we have not ended racial caste in America; we have merely redesigned it'. She further asserts that by targeting black men through the War on Drugs and decimating communities of color, the U.S. criminal justice system functions as a contemporary system of racial control—relegating millions to a permanent second-class status—even as it formally adheres to the principle of colorblindness. Also available as an ebook, and an audiobook.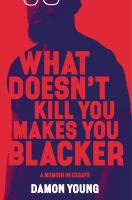 What doesn't kill you makes you blacker: a memoir in essays / Young, Damon
What Doesn't Kill You Makes You Blacker explores Damon Young's efforts to survive while battling and making sense of the various neuroses his country has given him as a black man. Provocative, humorous, poignant and challenging. (ebook)
You can also find documentaries such as I Am Not Your Negro on our free movie streaming platform Beamafilm, or docos like Stay Woke: The Black Lives Matter Movement on YouTube.
For teens, you can check out our curated Give Nothing to Racism ebook list here.