Like many major cultural events across the globe, this year's World Science Fiction Convention (aka CoNZealand) has decided to go virtual. The convention was due to be held in Wellington, but this change hasn't dampened the excitement and buzz around it–or its associated awards, the Hugos. To get you ready for this science fiction bonanza we are doing a series of blogs looking at shortlists from some of the various Hugo Award categories.
For this particular blog we are going to look at the shortlist for this year's Best Novel category, which excitingly includes New Zealand writer Tamsyn Muir. Enjoy!
Best Novel Award Shortlist:
The city in the middle of the night / Anders, Charlie
"January is a dying planet–divided between a permanently frozen darkness on one side, and blazing endless sunshine on the other. Humanity clings to life, spread across two archaic cities built in the sliver of habitable dusk. And living inside the cities, one flush with anarchy and the other buckling under the stricture of the ruling body, is increasingly just as dangerous as the uninhabitable wastelands outside." (Adapted from Catalogue)
Also available as an eBook.
Gideon the ninth / Muir, Tamsyn
"Muir's Gideon the Ninth unveils a solar system of swordplay, cutthroat politics, and lesbian necromancers. Her characters leap off the page, as skillfully animated as arcane revenants. The result is a heart-pounding epic science fantasy." (Catalogue) Also available as an eBook.
The light brigade / Hurley, Kameron
"The Light Brigade: it's what soldiers fighting the war against Mars call the ones who come back…different. Grunts in the corporate corps get busted down into light to travel to and from interplanetary battlefronts. Everyone is changed by what the corps must do in order to break them down into light. Those who survive learn to stick to the mission brief–no matter what actually happens during combat." (Adapted from Catalogue) Also available as an eBook.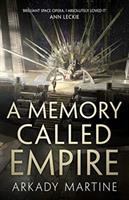 A memory called empire / Martine, Arkady
"Ambassador Mahit Dzmare travels to the Teixcalaanli Empire's interstellar capital, eager to take up her new post. Yet when she arrives, she discovers her predecessor was murdered. But no one will admit his death wasn't accidental – and she might be next. Now Mahit must navigate the capital's enticing yet deadly halls of power, to discover dangerous truths." (Adapted from Catalogue) Also available as an eBook.
Middlegame / McGuire, Seanan
"Meet Roger. Skilled with words, he instinctively understands how the world works through the power of story. Meet Dodger, his twin. Numbers are her world, her obsession, her everything. Roger and Dodger aren't exactly human, though they don't realise it. They aren't exactly gods, either. Not entirely. Not yet. Meet Reed, skilled in the alchemical arts like his progenitor before him. Reed created Dodger and her brother. He has a plan: to raise the twins to the highest power…" (Adapted from Catalogue) Also available as an eBook.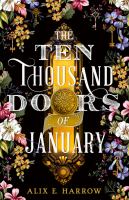 The ten thousand doors of January / Harrow, Alix E
"In the early 1900s, a young woman embarks on a fantastical journey of self-discovery after finding a mysterious book. In a sprawling mansion filled with peculiar treasures, January Scaller is a curiosity herself. As the ward of the wealthy Mr. Locke, she feels little different from the artifacts that decorate the halls: carefully maintained, largely ignored, and utterly out of place. Then she finds a strange book. A book that carries the scent of other worlds, and tells a tale of secret doors, of love, adventure and danger." (Adapted from Catalogue)
Discover More:
New to the Hugos–or indeed the wondrous delights of science fiction? Never fear, we have the perfect introduction for you on our free film streaming service, Kanopy. How Great Science Fiction Works is a 24 episode series by twice Hugo-nominated Dr Gary K. Wolfe. This exhaustive overview is both rigorous and deeply informative and covers every aspect of science fiction, from cyberpunk to Mary Shelley and all points in between. And as an added bonus it doesn't count as one of your monthly borrows!