On the 21st of February 1864, colonial and British forces attacked Rangiaowhia, a peaceful agricultural settlement close to Te Awamutu, resulting in the massacre of non-combatant Māori including women, children, and the elderly. This was at the peak of Ngā Pakanga o Aotearoa (The New Zealand Wars, 1845-1872) in the Waikato and part of a series of conflicts that shaped Aotearoa New Zealand. Unfortunately, these conflicts are not always well-known or understood. This has been a particular source of mamae (pain) and riri (anger) for Māori.
In 2014 two Otorohanga school girls, Leah Bell and Waimarama Anderson, visited the Rangiaowhia site as part of a school trip and were dismayed that there was little local knowledge of sites like Rangiaowhia and the conflicts and consequences of Ngā Pakanga o Aotearoa. They were also surprised that this aspect of New Zealand history was not taught in schools. Leah and Waimarama decided to start a petition that would ask the Government to:
Raise awareness of the Land Wars and how they relate to local history
Introduce these local histories into the New Zealand Curriculum for all New Zealanders
To remember those who died during the wars by implementing a statutory day of commemoration.
This petition was successful and our national day for the commemoration of Ngā Pakanga o Aotearoa, known as Te Pūtake o te Riri, He Rā Maumahara (The Source of Anger, A Remembrance Day), has been held every year on 28 October since 2018.
In te ao Māori the past, present, and future are intertwined. As the well-known whakataukī (proverb) says 'Ka mua, ka muri': we must look to the past to inform the future. Te Pūtake o te Riri, He Rā Maumahara is a day for reflection on the conflicts of Ngā Pakanga o Aotearoa. By understanding these conflicts that took place throughout our country in the nineteenth century we can better understand present day New Zealand and look forward to a future of balance and increased awareness of our own history.
Below are some excellent resources that can help us learn about Te Pūtake o te Riri, He Rā Maumahara and Ngā Pakanga o Aotearoa:
Fragments from a contested past: remembrance, denial and New Zealand history / Kidman, Joanna
"'What a nation or society chooses to remember and forget speaks to its contemporary priorities and sense of identity. Understanding how that process works enables us to better imagine a future with a different, or wider, set of priorities.' History has rarely felt more topical or relevant as, all across the globe, nations have begun to debate who, how and what they choose to remember and forget. In this BWB Text addressing 'difficult histories', a team of five researchers, several from iwi invaded or attacked during the nineteenth-century New Zealand Wars, reflect on these questions of memory and loss locally. Combining first-hand fieldnotes from their journeys to sites of conflict and contestation with innovative archival and oral research exploring the gaps and silences in the ways we engage with the past, this group investigates how these events are remembered – or not – and how this has shaped the modern New Zealand nation." (Adapted from our catalogue) Also available as a BWB eBook
The New Zealand Wars: Ngā Pakanga o Aotearoa / O'Malley, Vincent
"The New Zealand Wars were a series of conflicts that profoundly shaped the course and direction of our nation's history. Fought between the Crown and various groups of Māori between 1845 and 1872, the wars touched many aspects of life in nineteenth century New Zealand, even in those regions spared actual fighting. Physical remnants or reminders from these conflicts and their aftermath can be found all over the country, whether in central Auckland, Wellington, Dunedin, or in more rural locations such as Te Pōrere or Te Awamutu. The wars are an integral part of the New Zealand story but we have not always cared to remember or acknowledge them. Today, however, interest in the wars is resurgent. Vincent O'Malley's new book provides a highly accessible introduction to the causes, events and consequences of the New Zealand Wars. The text is supported by extensive full-colour illustrations as well as timelines, graphs and summary tables" (Adapted from our catalogue) Also available as a BWB eBook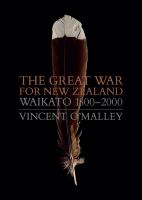 The great war for New Zealand: Waikato 1800-2000 / O'Malley, Vincent
"Spanning nearly two centuries from early contact between tangata whenua and the European newcomers through to settlement of the Waikato-Tainui claim and an apology from the New Zealand government, The Great War for New Zealand tells the story of a landmark conflict, its origins and aftermath. At the centre of the book are the Tainui people and their history"(Adapted from our catalogue) Also available as a BWB eBook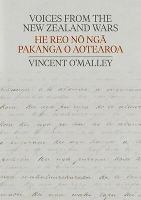 Voices from the New Zealand wars: he reo nō ngā pakanga o Aotearoa / O'Malley, Vincent
"'Welcome to our story, this history. Wherever in the world the bones of your ancestors lie, wherever their ashes may have been dispersed, here you will find traces of them, and of yourself…. It is, of course, a story of colonisation and resistance – and a history that has never stopped repeating'. This book takes us to the heart of conflicts with a series of first-hand accounts from Māori and Pākehā who either fought in or witnessed the wars that ravaged New Zealand between 1845 and 1872. From Heni Te Kiri Karamu's narrative of her remarkable exploits as a wahine toa, through to accounts from the field by British soldiers and powerful reports by observers on both sides, we learn about the wars at a human level. The often fragmentary, sometimes hastily written accounts that make up Voices from the New Zealand Wars vividly evoke the extreme emotions – fear, horror, pity and courage – experienced during the most turbulent time in our country's history. Each account is expertly introduced and contextualised, so that the historical record speaks to us vividly through many voices" (Adapted from our catalogue) Also available as a BWB eBook
Wars without end : ngā pakanga whenua o mua, New Zealand's land wars : a Māori perspective / Keenan, Danny
"From the earliest days of European settlement in New Zealand, Māori have struggled to hold on to their land. Tensions began early, arising from disputed land sales. When open conflict between Māori and Imperial forces broke out in the 1840s and 1860s, the struggles only intensified. For both sides, land was at the heart of the conflict, one that casts a long shadow over race relations in modern-day New Zealand. 'Wars without end' is the first book to approach this contentious subject from a Māori point of view, focusing on the Māori resolve to maintain possession" (Adapted from our catalogue)
Bridget Williams Books has several excellent database of eBooks about New Zealand history that you have access to with your library card. To access these collections, simply head over to our eLibrary resources and scroll down to find the different resources from Bridget Williams Books. Follow these links to access the collection. You will need your library card number and your pin to login.
Bridget Williams Books on our eLibrary
Watch this clip for a discussion from the authors of Fragments of a Contested Past: