2022 saw a whole raft of fabulous Aotearoa New Zealand books of quite exceptional quality released, featuring a dazzling array of genres, styles and subjects; presenting the 2023 judges with the unenviable and almost impossible task of selecting winners from such a strong longlist. However, they did their job and this year's 2023 winners have now been announced.
The Axeman's Carnival, by Ngāruawāhia-based writer Catherine Chidgey,  won the Jann Medlicott Acorn Prize for Fiction. Fiction judge convenor Stephanie Johnson said the novel is "a powerfully compelling read from start to finish".
Alice Te Punga Somerville (Te Āti Awa, Taranaki) won the Mary and Peter Biggs Award for Poetry for Always Italicise: How to Write While Colonised.
Broadcaster, music critic and author Nick Bollinger won the Booksellers Aotearoa New Zealand Award for Illustrated Non-Fiction for Jumping Sundays: The Rise and Fall of the Counterculture in Aotearoa New Zealand.
The General Non-Fiction Award went to historian and lawyer Ned Fletcher for his work, The English Text of the Treaty of Waitangi. 
The Four Best First Book Awards went to:
Anthony Lapwood (Ngāti Ranginui, Ngāi Te Rangi, Ngāti Whakaue, Pākehā)  for Home Theatre, which won the Hubert Church Prize for Fiction award.
Khadro Mohamed  for We're All Made of Lightning, which was awarded the Jessie Mackay Prize for Poetry.
The Judith Binney Prize for Illustrated Non-Fiction went to Christall Lowe (Ngāti Kauwhata, Tainui, Ngāti Maniapoto) for Kai: Food Stories and Recipes from my Family Table.
And  Grand: Becoming my Mother's Daughter by Noelle McCarthy won the E.H. McCormick Prize for General Non-Fiction.
Over the course of 2022 – 2023 we were lucky enough to interview several of the winners and below you can view or listen to those interviews.
The axeman's carnival / Chidgey, Catherine
""Everywhere, the birds: sparrows and skylarks and thrushes, starlings and bellbirds, fantails and pipits – but above them all and louder, the magpies. We are here and this is our tree and we're staying and it is ours and you need to leave and now. Tama is just a helpless chick when he is rescued by Marnie, and this is where his story might have ended. 'If it keeps me awake,' says Marnie's husband Rob, a farmer, 'I'll have to wring its neck.' But with Tama come new possibilities for the couple's future. Tama can speak, and his fame is growing. Outside, in the pines, his father warns him of the wickedness wrought by humans. Indoors, Marnie confides in him about her violent marriage. The more Tama sees, the more the animal and the human worlds – and all of the precarity, darkness and hope within them – bleed into one another. Like a stock truck filled with live cargo, the story moves inexorably towards its dramatic conclusion: the annual Axeman's Carnival. Part trickster, part surrogate child, part witness, Tama the magpie is the star of this story. Though what he says aloud to humans is often nonsensical (and hilarious with it), the tale he tells us weaves a disturbingly human sense. " (Adapted from Catalogue) Also available as an eBook.
Always italicise : how to write while colonised / Te Punga Somerville, Alice
"'Always italicise foreign words', a friend of the author was advised. In her first book of poetry, Māori scholar and poet Alice Te Punga Somerville does just that. In wit and anger, sadness and aroha, she reflects on 'how to write while colonised' – how to write in English as a Māori writer; how to trace links between Aotearoa and wider Pacific, Indigenous and colonial worlds; how to be the only Māori person in a workplace; and how – and why – to do the mahi anyway." (Adapted from Catalogue) Also available as an eBook.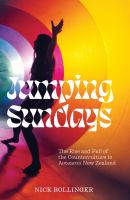 Jumping Sundays : the rise and fall of the counterculture in Aotearoa New Zealand / Bollinger, Nick
"A remarkable story of beards and bombs, freaks and firebrands, self-destruction and self-realisation, during the 1960s and '70s." (Adapted from Catalogue) Also available as an eBook.
The English text of the Treaty of Waitangi / Fletcher, Ned
"How was the English text of the Treaty of Waitangi understood by the British in 1840? With one exception, the Treaty sheets signed by rangatira and British officials were in te reo Māori. The Māori text, Te Tiriti o Waitangi, was a translation by the missionary Henry Williams of a draft in English provided by William Hobson, the Consul sent by the British government to negotiate with Māori. Despite considerable scholarly attention to the Treaty, the English text has been little studied. In part, this is because the original English draft exists only in fragments in the archive; it has long been regarded as lost or 'unknowable', and in any event superseded by the authoritative Māori text. The English Text of the Treaty of Waitangi emphasises that the original drafting of the Treaty by British officials in 1840 cannot be separated from the wider circumstances of that time. This context encompasses the history of British dealings with indigenous peoples throughout the Empire and the currents of thought in the mid-nineteenth century, a period of rapid change in society and knowledge. It also includes the backgrounds and motivations of those primarily responsible for framing the Treaty: British Resident James Busby, Consul and future Lieutenant-Governor William Hobson, and Colonial Office official James Stephen. Through groundbreaking scholarship, Fletcher concludes that the Māori and English texts of the Treaty reconcile, and that those who framed the English text intended Māori to have continuing rights to self-government (rangatiratanga) and ownership of their lands. This original understanding of the Treaty, however, was then lost in the face of powerful forces in the British Empire post-1840, as hostility towards indigenous peoples grew alongside increased intolerance of plural systems of government." (Adapted from Catalogue) Also available as an eBook
Home theatre / Lapwood, Anthony
"Welcome to the Repertory Apartments-where scenes of tenderness and trouble, music and magic, the uncanny and the macabre play out on intimate stages. A mother and her young son battle an infestation of ants. A bass player is beset by equine hallucinations. A widow seeks a new home with a spare room for guests. A radio factory foreman intercepts queer broadcasts from the future. And a time-traveller stranded in a distant corner of the multiverse tries to find his way home. Moving between the early 20th century and the modern day, this genre-bending collection, spanning the fantastical and the keenly real, introduces an ensemble of remarkable characters-and the fateful building that connects them all." (Adapted from Catalogue) Also available as an eBook
We're all made of lightning / Mohamed, Khadro
"Khadro Mohamed expertly navigates the experience of being a Muslim women in Aotearoa, bringing us along on her journey of selfhood. Shifting between Aotearoa, Egypt and Somalia, we get a glimpse into her worlds, which are rich and full of life. Mohamed has a sense of wonder for the world around her, exploring nature, food, family and identity. This book is a love letter to her homeland, her whakapapa, and herself." (Adapted from Catalogue)
Kai : food stories and recipes from my family table / Lowe, Christall
"The gathering of food and the gathering of people to share a meal are at the heart of Maori family life. Award-winning food photographer Christall Lowe invites us to join her whanau table and experience for ourselves an abundance of mouthwatering dishes, a veritable feast for the eyes and for the stomach. Kai is a passionate homage to a life deeply rooted in food, where exquisite flavours weave seamlessly with cherished food memories.It is impossible not to open the pages of this book and be inspired by the beautifully captured recipes, and compelled to recreate the deliciousness of Kai in your own kitchen. This book is a precious taonga – a treasure trove of recipes gifted to you from Christall's pataka (storehouse), for your family table." (Adapted from Catalogue)
Grand : becoming my mother's daughter / McCarthy, Noelle
"Funny, charismatic and generous; angry, vicious and hurt; in pub lounges all over Cork City, Noelle McCarthy's mother Carol rages against her life and everything she's lost. As soon as she can, Noelle runs away. All the way to New Zealand, to make a new, different kind of life. But then Mammy gets sick, and it's time to face everything that's waiting back home. From Catholic Ireland in the '70s, '80s and '90s to sparkling Auckland in the first years of the new millennium, Grand is a story of the invisible ties that bind us, of bitter legacies handed down through the generations, and of the leap of faith it takes to change them." (Adapted from Catalogue) Also available as an eBook