"It was as if the sun had come out" — Nelson Mandela, i tana rongo kua whakakorehia te kēmu ka tū ki Kirikiriroa.
I roto i ā mātou kōwhiringa o ngā whiwhinga pukapuka paki hou i tēnei marama, he pakimaero e pā ana ki tētahi o ngā taiopenga whakaweherua i te tangata, nui rawa i te hītori moroki o Aotearoa.
E whā tekau tau ki muri, i taiāwhiotia a Aotearoa e te tīma whutupōro o Āwherika ki te Tonga. Ko te hua o taua haerenga, me te kaupapa tōrangapū i Āwherika ki te Tonga i taua wā, ko te weheruatanga pāpori nui, nāna te porihanga o Aotearoa i haurua, i hika ai ngā mautohe mātinitini, ngā mahi mokorea a ngā pirihimana, me te torenga mai o tētahi whāruarua puta noa i te motu. I noho te Haerenga Springbok hei tautute ā-tōrangapū nui rawa i Aotearoa i te rautau 20. Ko te pūtake o te ripi i te porihanga, ko te mahi tonu o Āwherika ki te Tonga i raro i te pūnaha whakarihariha o te whakatāuke tangata, arā te apartheid, ā, mēnā ka whai pānga tēnei ki ngā kaupapa hākinakina.
He nui ngā kōrero kua tuhia mō te haerenga nei mai i ngā taha katoa o te tohe.
Ā, mēnā e hiahia ana koe i ētahi atu mōhiohio mō te hītori o te Haerenga, kua hono tahi Ngā Whare Pukapuka o Te Whanganui-a-Tara me Te Kano Kohinga Kupu o Pōneke i tēnei tau hei tohu i ngā taiopenga o te tau 1981 i te wā i hua mai.
E tīhau mataora ana te pūkete Twitter o Tweet the Tour i ngā āhuatanga i te wā i tatū ai.
I tēnei marama, i te kōwhiringa pukapuka paki hou, kei ā mātou a Hold the line: The Springbok tour of '81: a family, a love affair, a nation at war: a novel nā Kerry Harrison. He kōrero paki o tēnei wā hiranga nui, e hanga whakaari ana i ngā whakatete o te haerenga.
Tērā anō ētahi atu pukapuka tino rerekē o Aotearoa i ngā kōwhiringa o tēnei marama. Ko The Piano Girls he kōrero paki hou e tino mihia ana, nā Elizabeth Smither. Ā, ko The Only Living Lady Parachutist nā Catehrina Clarke, he pakimaero i poua i runga i te pono, e hāngai ana ki te ao o Lillian, he tuawahine whakahaere poihau hauwera toremutu ākina ā-mate, nāna te iwi i whakaohooho i Aotearoa me Ahitereiria i ngā tau o te 1890.
A darker reality / Perry, Anne
"E tohu ana ngā tīpuna o Elena ki te whakanui i tētahi huringatau mā te whakarite i tētahi pāti mīharo mā rātou ko ngā hoa mananui o tōna koroua. Engari ka mutu wawe, pouri hoki ngā whakariterite i te wā ka tukia tētahi o ngā manuhiri a Lila Worth, e te motukā i te huanui i waho. E whakapono ana a Elena, i whakamātau ana a Lila ki te whāki i tētahi kaupapa ki a ia i mua i tōna matenga, ā, nō te waeatanga mai o tana rangatira mahi i te kāinga, a MI6, i whakaū he tūtei o Piritana a Lila, kātahi ka hono atu a Elene ki tētahi atu tūtei ki te rapu he aha ngā mōhiohio waiwai e puritia ana e taua wahine rā." (He mea urutau i te Rārangi)
Hard like water / Yan, Lianke
"Nō te hokinga o Gao Aijun ki tōna pā kāinga me te hīkaka i ngā mahi angitu i roto i a Tūmatauenga, ka kite ia i te wāhine ātaahua nei a Xia Hongmei e hīkoi kore hū ana i te taha o te rerewē i te ahiahi ruhi o te rā, ā, hinga tonu atu i te aroha. I a rāua e huna ana i tā rāua hononga i ō rāua makau ake, ka kuhu mārika rāua ki ngā taukumekume ki te whakaara i te pāhoro i tō rāua pā kāinga taiwhenua. Ka tatari rāua ki te kaikaiātara i tō rāua hononga, kia oti rā anō i a Aijun te kari i tētahi anapoka o te aroha, i waenga i ō rāua kāinga, otirā ka eke tō rāua pāhoro, aroha whiwhita hoki ki tōna taioreoretanga." (He mea urutau i te Rārangi)
The hummingbird / Veronesi, Sandro
"Ko Marco Carrera 'te hummingbird,' he tangata āhua tipua nei e taea e ia te nohotū i te wā e neke haere tonu ana te ao. I a ia e urungi haere ana i ngā wero o te oranga – e whakaanga ana i te matenga o tōna tuahine, me te korenga o tōna tuakana; te tiaki i ōna mātua i te wā e tata ana ki te mate; e whakatipu ana i tana mokopuna i te wā kāore e tāea e tōna whaea ake, te tamāhine a Marco, te tiaki i a tana tamaiti ake; te whakatau i tana aroha mō Luisa, he wahine manganga – ka noho a Marco Carrera hei tohu mō te toa wairua whakaiti e rauroha ana i te nui o tō tātou oranga o ia rā" (He mea urutau i te Rārangi)
The piano girls / Smither, Elizabeth
"Tokotoru tūāhine puorooro ka whakamānawa i tō rātou ia tau mā tētahi takinga piana, hei whakamaharatanga ki a ia. Ka whakataetae tētahi ki tētahi, ka whakangungu huna ki te kite ko wai te toa o rātou. I ētahi atu kōrero, ko te waiata, te kai, me ngā wharekai ngā ariā. Tērā tētahi wahine e pana ana i tētahi kaiwhakawai mā te tunu kai nui; Ka whakarite a Fire Lady i ngā kai tahu waiwaihā i tētahi wharekai. He poti e karangahia ana ko Min; He wehenga tokorua whakamamae i tētahi hōtēra hāneanea; he wahine taiohi e whakamaimoa ana ki ōna ū. Ka kapi i ngā kōrero te whānuitanga o ngā kaupapa mai i ngā rā i te kura me ngā whakangungu ori hīteki ki te taipakeketanga."(He mea urutau i te Rārangi)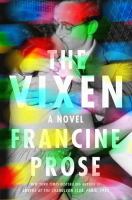 The vixen : a novel / Prose, Francine
"1953. Kātahi anō a Simon Putnam kia whiwhi mahi i tētahi umanga whakaputa whakahirahira o New York, ā, kua whai i tana kaupapa mahi tuatahi: te whakatika i The Vixen, the Patriot and the Fanatic, he kaitīhae pari mōrihariha, i poua pea i runga i te whakawātanga paetata, whakamatenga hoki o Ethel rāua ko Julius Rosenberg. He mahi auaha e takune ana ki te whakapakari i ngā ahumoni o te umanga e hinga haere ana. He hoa i te tamarikitanga te māmā o Simon nō Ethel Rosenberg; ka tangihia te matenga o Ethel e ōna mātua. Ka tūtaki a Simon ki te kaituhi o The Vixen, i a Anya Partridge he wahine pokerenoa, whakakonuka hoki, e noho tau ana i tōna rūma kakara-opiuma nei, i tētahi whare wairangi hāneanea i Hudson River. Ka tau te māramatanga ki a Simon, e whakataruna ana te katoa, e pupuri kōrero muna ana, ā, ko ngā taiopenga māori e huna ana i tētahi tāhū weriweri." (He mea urutau i te Rārangi)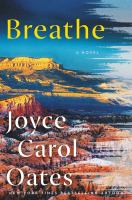 Breathe : a novel / Oates, Joyce Carol
"I waenga i tētahi horanuku tino ātaahua engari he whanokē, i New Mexico, ka noho tūturu tētahi tokorua mārena o Cambridge, MA, i tētahi whare wānanga whakahirahira. Nō te pānga o te tāne i te mate porehu, i hē te tohu i te tuatahi, ka takahurihia ō rāua ao, ā, ka takatū rāua tahi i tētahi haerenga moepapa. I te toru tekau mā whitu tau, e aro ana a Michaela ki te whakaaro whakawehi o te pouarutanga – me te ngaronga o Gerard, otirā ko tōna tuakiri tērā i tino waihanga i tōna." (He mea urutau i te Rārangi)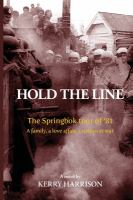 Hold the line : the Springbok tour of '81 : a family, a love affair, a nation at war : a novel / Harrison, Kerry
"Ko te tau 1981 te tau, ā, e takatū ana a Aotearoa ki te hautū i te kapa Springboks o Āwherika ki te Tonga, he whenua tāuke, mō tētahi haerenga ā-motu mō te whutupōro. E hia mano ngā kaiporotēhi i uru ki tētahi kaupapa mautohe tautoko nui, e tuki tahi ana ki tētah iwi pōrangi ki te tautoko i te whutupōro. Ahakoa te tipunga o te mautohe tūmatanui, e mārō tonu ana te kāwanatanga me te Ūniana Whutupōro ka haere tonu te haerenga. Ka hoki mai a Beth i Rānana. He kaitautoko tōna matua, he mōrehu o Te Pakanga Tuarua, o te whutupōro, ka huri tōna tungāne hei kaiporotēhi i ngā riri ā-tiriti. E ako ana ia i te ture, ā, ka tūtaki ki a Viktor, engari kāore ia i mōhio, he mema ia o rōpū rongowehi nei, te Police Red Squad. Ka ahatia tō rāua hononga tauaro i tētahi whenua e mōrearea nui ana te oranga o te nono a te tangata?" (He mea urutau i te Rārangi)
The only living lady parachutist / Clarke, Catherine
"Hei whakamātau i tōna manawanui, ka mōreareatia e te wahine manawa kai tūtae nei a Lillian tōna ake oranga, mō te rongotoa me te whairawa, mā te hekerangi i tētahi poihau hauwera i Ahitereiria me Aotearoa. Engari i te ao tauwhāinga o ngā tau 1890 o ngā tāngata tinihanga, ngā tāngata whakahīhī, me ngā tāngata totohe ā-whakaari nei, he māia anō ia ki te whakaanga i ngā kōrero pono o tōna onamata?" (He mea urutau i te Rārangi)