The purpose revolution : how leaders create engagement and competitive advantage in an age of social good / Izzo, John B.
"We're in the midst of a purpose revolution. Customers, employees, and investors are making it clear that they want companies to do more than provide good products, good prospects, and good profits–they want companies to do some social good too. Ironically, as this extremely timely book demonstrates, purpose-driven companies do better on nearly every traditional metric: greater customer loyalty, higher retention, more innovation, and a healthier bottom line. But how do you become a purpose-driven company? Just crafting an inspiring new mission statement and starting a CSR program won't cut it, says John Izzo, who predicted the purpose revolution in his 1994 book Awakening Corporate Soul. Purpose must pervade every part of your organization. In this thoroughly researched hands-on guide, Izzo and Jeff Vanderwielen provide a tool kit for deeply embedding purpose into your leadership and organizational culture. Using scores of real-world examples and practical exercises, Izzo and Vanderwielen help leaders find a truly authentic purpose, one that is a natural fit for them and their organization. They describe concrete actions leaders can take to ensure that employees own it, customers and recruits connect with it, and every corporate action and activity reflects it. They show leaders how to avoid common pitfalls on the path to purpose and how to use purpose to guide all their decision making. In an increasingly crowded economic landscape, purpose gives you a powerful competitive advantage. But it does more than that. Finding and communicating an inspiring purpose will revitalize the entire organization, top to bottom. Purpose makes business more rewarding in every sense"– Provided by publisher." (Catalogue)
Brand the change / Miltenburg, Anne
"In a perfect world, great changemaking ventures would grow purely based on their own merit. In the real world, we have to be creative and strategic about how we brand our initiatives and get the support we need to help them grow into effective, sustainable organisations. Creating a strong brand is crucial to getting the audience you deserve and, ultimately, increasing your impact. With over twelve years of experience as a brand developer, Anne Miltenburg has worked with organisations and people as diverse as tech companies, scientists, women's rights activists and bankers, from Zambia to Ireland and from the USA to Saudi Arabia. To help her clients comprehend the branding process and think more like brand strategists, Anne developed tools and exercises which became the foundation for a training format used in over 15 countries to support starting and scaling social enterprises. This book opens up the method for everyone looking to build or strengthen their brand for change." (Catalogue)
The excellence dividend : principles for prospering in turbulent times from a lifetime in pursuit of excellence / Peters, Thomas J
"Management guru Tom Peters shows that nothing beats a high-quality product or service, designed and delivered by people who are as dedicated to each other as they are to their shared goal. With his unparalleled expertise and inimitable charisma, Peters offers brilliantly simple, actionable guidelines for success that any business leader can immediately implement, punctuated by incisive quotes from some of today's leading lights in business." (Catalogue)
Me and my mentor : how mentoring supercharged the careers of 11 extraordinary women / Breekveldt, Norah
How important is mentoring in accelerating my career success and helping me realise my potential? Why are men more likely to have mentors than women? How do I proactively pursue a mentoring relationship? What is more effective – formal mentoring programs or informal mentoring relationships?
Me and My Mentor explores these and other questions mentors and mentees face in their working life. Eleven mentor and mentee couples talk openly about their experiences, the professional and personal friendships that evolved, the challenges they worked through, the career and learning opportunities that opened up for them and the mutual benefits they received from the relationship. Each story provides practical tips and insightful lessons from which men and women can learn and apply to their own mentoring journeys.
If you've ever been curious about how mentoring can advance your career, or how you can apply mentoring to achieve true diversity in your workplace, then Me and My Mentor is a must read!" (Catalogue)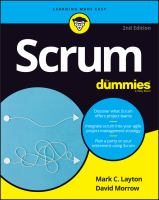 Scrum for dummies / Layton, Mark
"Scrum is an agile project management framework that allows for flexibility and collaboration to be a part of your workflow. Primarily used by software developers, scrum can be used across many job functions and industries. Scrum can also be used in your personal life to help you plan for retirement, a trip, or even a wedding or other big event. Scrum provides a small set of rules that create just enough structure for teams to be able to focus their innovation on solving what might otherwise be an insurmountable challenge. Scrum For Dummies shows you how to assemble a scrum taskforce and use it to implement this popular Agile methodology to make projects in your professional and personal life run more smoothly–from start to finish…No matter your career path or job title, the principles of scrum are designed to make your life easier. Why not give it a try?"–Amazon.com." (Catalogue)
The healthy workplace nudge : how healthy people, cultures and buildings lead to high performance / Miller, M. Rex
"Discover how healthy buildings, culture, and people lead to high profits Organizations and employees now spend an average of $18,000 per year per employee for health costs, a 61% increase in 10 years. These are direct costs, but the hidden costs of time out of the office, distraction, disengagement, and turnover far exceed the direct costs. The Healthy Workplace Nudge explains the findings of research on 100 large organizations that have tackled the problems of employee health costs and disengagement in four fresh ways: Happiness leads to health and performance Behavioral economics to nudge healthy employee behavior Healthy culture Healthy buildings In addition to proving highly effective, these approaches represent a fraction of the cost sunk into traditional wellness and engagement programs. The book explains how to create a workplace that is good for people, releases them to what they do best and enjoy most, and produces great and profitable work. Find actionable strategies and tactics you can put into use today Retain happy, productive talent Cut unnecessary spending and boost your bottom line Benefit from real-world research and proven practice If youre a leader who cares about the health and happiness of your employees, a human resource professional, or a professional who develops, designs, builds, or outfits workplace environments to improve employee health and wellbeing, this is one book youll want to have on hand."– Provided by publisher." (Catalogue)
The mind of the leader : how to lead yourself, your people, and your organization for extraordinary results / Hougaard, Rasmus
"Most leaders think they're effective at motivating their employees, but study after study shows that employees are more disengaged and uninspired than ever. The solution lies not in more management training or fun off-sites but in looking within–into the mind of the leader. Based on their years-long research and practice, Rasmus Hougaard and Jacqueline Carter, of the Potential Project, have conclusively found that three qualities stand out as being foundational for leaders today: mindfulness, selflessness, and compassion–what they call the MSC Leadership Mind, the ideal mind of the leader. Mindfulness addresses the distractedness that kills our focus, stunts our productivity, and makes us action-addicted multitaskers. Selflessness addresses the general lack of fulfillment in work life by helping us–and the people we lead–find true happiness and meaning. And compassion addresses today's social disintegration by enhancing true human connections, followership, and engagement. While some think these traits are innate, Hougaard and Carter, together with hundreds of their associates working with thousands of leaders around the world, have developed a system to help leaders of all kinds learn and cultivate the MSC Leadership Mind. By addressing their own needs first, then those of their people, and finally the culture of their organization, every leader can learn to embody what makes for great leadership in today's challenging organizational environment.– Provided by publisher." (Catalogue)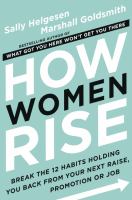 How women rise : break the 12 habits holding you back from your next raise, promotion, or job / Helgesen, Sally
"Ready to take the next step in your career … but not sure what's holding you back? Read on. Leadership expert Sally Helgesen and bestselling leadership coach Marshall Goldsmith have trained thousands of high achievers–men and women–to reach even greater heights. Again and again, they see that women face specific and different roadblocks from men as they advance in the workplace. In fact, the very habits that helped women early in their careers can hinder them as they move up. Simply put, what got you here won't get you there … and you might not even realize your blind spots until it's too late. Are you great with the details? To rise, you need to do less and delegate more. Are you a team player? To advance, you need to take credit as easily as you share it. Are you a star networker? Leaders know a network is no good unless you know how to use it. Sally and Marshall identify the 12 habits that hold women back as they seek to advance, showing them why what worked for them in the past might actually be sabotaging their future success. Building on Marshall's classic best seller What Got You Here Won't Get You There, their new book How women rise is essential reading for any woman who is ready to advance to the next level." (Catalogue)
Soulpreneurs : live your purpose, lift your platform and leap into prosperity / Luciano, Yvette
"Whether you wish to start up (or supercharge) your business, create your blog or book, attract abundance as an artist, or transition from your day job to your dream career, Soulpreneurs is the blueprint you've been waiting for. Learn how to: get clear on your purpose and vision, identify your key strengths and values, build your confidence, grow your brand sustainably, and stay on track when things don't go to plan." (Catalogue)
The CEO next door : the 4 behaviours that transform ordinary people into world-class leaders / Botelho, Elena L.
"Based on an in-depth analysis of over 2,600 leaders drawn from a database of more than 17,000 CEOs and C-suite executives, as well 13,000 hours of interviews, and two decades of experience advising CEOs and executive boards, Elena L. Botelho and Kim R. Powell overturn the myths about what it takes to get to the top and succeed. What those who reach the top share are four key behaviors that anyone can master: they are decisive; they are reliable, delivering what they promised when the promise it, without exception; they adapt boldly, and they engage with stakeholders without shying away from conflict. Based on this breakthrough study of the most successful people in business, Botelho and Powell offer career advice for everyone who aspires to get ahead." (Catalogue)
The new science of radical innovation : the six competencies leaders need to win in a complex world / Giles, Sunnie
"Following Sunnie Giles's Harvard Business Review article ""The Most Important Leadership Competencies, According to Leaders Around the World,"" this book uses solid scientific principles to help leaders in any organization navigate successfully through the increasing speed and interdependence in today's market." (Catalogue)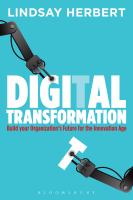 Digital transformation : build your organization's future for the innovation age / Herbert, Lindsay"Digital Transformation is a wonderful read and provides fantastic insights…Digital Transformation is a wonderful read and provides fantastic insights. More than that, it provides the 'How' together with practical guidance on undertaking the journey to digital transformation. This book should be on the '2018 must read list' for anyone who wants to gain a greater understanding of, or embark on, digital transformation. I will be highly recommending this book to my colleagues and industry peers.(Amazon reviewer)
Live in Wellington, and are still needing to do research but no longer have access to Unversity or Polytechnic online resources? Have a look at our Mygateway online resources. We have some fantastic resources available for FREE including Business Source Premier, Academic Source Elite and Proquest Research Library. If you are want to upskill further, have a look at Lynda.com. Lynda.com is a subscription service but FREE with your Wellington City Libraries membership.
If you need some assistance with a research project, or have a deadline to meet, we offer one hour's free research per each separate topic. If your search skills are a bit rusty, we offer free training in the use of our online resources. Contact prosearch@wcc.govt.nz or ring Marilyn on 801 4059.
Counter mentor leadership : how to unlock the potential of the 4-generation workplace / Kelly Riggs and Robby Riggs.
"This book is the result of over three decades of combined experience from Kelly and Robby Riggs-dynamic, occasionally irreverent, always insightful, father (Boomer) and son (Millennial), who work with organizations grappling daily with multi-generational conflict. Through their collaboration, Kelly and Robby share their very different perspectives on the same problems most companies are STILL dealing with, but haven't had the courage or the tools, to address. Issues such as: a shocking lack of leadership skills; the culture-killing generational divide that is demolishing many companies; and the stunning, often unrecognized impact of technology on the workplace. In their "shamelessly funny, brilliantly written" debut book, Kelly and Robby:
· Discuss today's workplace dynamics, including the changes in communication modes, the influx of technology, and the impact of Millennials and Digital Natives
· Explain how a one-sided approach to leadership focused on "managing" Millennials is grossly insufficient, resulting in an inability to attract and retain critical young talent
· Explore the new challenges of leadership inherent with the explosion of technology-time compression, distractions, complexity and the pace of change
· Reveal how old leadership challenges persist, and explore how the younger generation will expose those challenges more than ever
· Detail the CounterMentor leadership model and prescribe specific tactics and techniques for addressing both old and new leadership issues. (Syndetics Summary)
Management starts with you / Alan Hester.
"Management Starts With You is a wise, honest and practical guide to success in this challenging but fascinating role. Among many powerful insights we learn that: Before we can successfully manage others we first need to manage ourselves. Most of us do not naturally know how to manage, but we can learn.
· Life as a manager is easier when we stop thinking about the effect of our actions on ourselves and think instead about their effect on others. People don't want to be managed, but they absolutely need the security of being led.
· Being respected is much more important than being liked!
· Traditional time management techniques don't work for managers, so we need to rethink our approach to this most precious of all resources.
· What we focus on we get more of; so we need to focus on the right things." (Syndetics summary)
The one-percent edge : small changes that guarantee relevance and build sustainable success / Susan Solovic with Ray Manley.THE ONE PERCENT EDGE: SMALL CHANGES THAT GUARANTEE RELEVANCE AND BUILD SUSTAINABLE SUCCESS
"Want to stay competitive? Keep evolving. Solid profits, a strong brand, steady customers–all of these can vanish when market shifts disrupt business as usual. So how do you keep from losing ground? How do you stay a step ahead of competitors? The solution is surprisingly straightforward: innovate tweak by tweak. By making incremental adjustments to every aspect of the business–marketing, customer service, finances, products, people–then repeating the process, fixing weaknesses and spotting opportunities becomes a winning habit. Entrepreneur Susan Solovic, an expert in business survival tactics, explains how to continually grow, improve, and move the business forward. With hundreds of strategies, examples, and a six-step process, The One-Percent Edge explains how to: Put energy into profitable areas and trim dead weight * Raise prices by selling value instead of things * Access new markets by adapting products or services * Hire the right team players * Turn customers into brand ambassadors * Find your own niche and avoid imitating * And more. When change happens swiftly and often, even successful brands are vulnerable. Businesses with the edge are constantly evolving . . . and pulling ahead of the pack."(Syndetics summary)
Disenchantment : managing motivation and demotivation at work / Adrian Furnham and Luke Treglown.
"Workplace disenchantment can cause major issues for organisations – productivity decreases, employees can turn actively destructive and individual health and well-being can deteriorate. Most people start a job happy enough and determined to do a good job – if they are lucky, they have found a job which suits their skills and values. They may be eager, hopeful and willing to be engaged. So when and why do they become disenchanted and demotivated? In this new book, Adrian Furnham and Luke Treglown look at several theories into job satisfaction and workplace motivation. They explore how much of a motivator money really is, and which personality profiles are more likely to lead to a disruptive, disenchanted employee. Disenchantment discusses the related and identifiable behaviours that very clearly lead to disenchantment, and how individuals and organisations can work to prevent this and boost motivation and engagement in a way that is practicable and sustainable. Keeping employees motivated takes more than just ensuring they're not unhappy, and Disenchantment outlines some of the ways that organisations can manage this."(Syndetics summary)
The science of intelligent achievement : how smart people focus, create and grow their way to success / Isaiah Hankel.
"Smart strategies for pragmatic, science-based growth and sustainable achievement. The Science of Intelligent Achievement teaches you the scientific process of finding success through your most valuable assets: Selectivity – how selective are you with who and what you let into your life? Ownership – how dependent are you on others for your happiness and success? Pragmatism – how consistent and practical are you in your progress? First, this book will show you how to develop your focus by being very selective with where you spend your mental energy. If you've failed to reach an important goal because you were distracted, misinformed, or overcommitted, then you know the role focus and selectivity play in achievement. Second, you will learn how to stop allowing your happiness and success to be dependent on other people and instead, start taking ownership over your life. Finally, you will learn the art of changing your life through pragmatic decisions and actions. Self-improvement is not the result of dramatic changes. Instead, science has shown that personal and professional change is initiated and sustained by consistent, practical changes. To grow, you must leverage the power of micro-decisions, personality responsibility, and mini-habits. Your own biology will not let you improve your life in any other way.
What do you currently value? What are working to attain? Have you been taught to value your job title or your relationship with some other person above all else? Have you been convinced that the most valuable things in life are your paycheck, the number of people who say 'hello' to you at the office, and the number of people who say 'I need you' at home? Or, have you become so passive in what you value that you let anyone and anything into your life, as long as whatever you let in allows you to stay disconnected from the cold hard truth that when things really go wrong in your life, the only person who will be able to fix it and the only person will be responsible for it is you. If so …welcome to fake success . Passivity, dependence, and the sacrifice of realism and personal responsibility to whatever fuzzy, grandiose ideal is currently trending in the ether or your mind–these are markers of fake success.
Intelligent Achievement , on the other hand, is not a moving target. It's not empty either. Instead, it's sturdy, full, and immovable. It's not something that's just handed to you. It's not something you're nudged to chase or coerced into wanting. Intelligent Achievement comes from within you. It's a collection of values that are aligned with who you are–values you have to protect and nurture. These values do not increase your dependence on other people and things. Instead, they relieve you of dependence. This kind of achievement is something that you have a part in building from the ground up–you know what's in it–you chose it, someone else didn't choose it for you.
Achieving real success means you must be selective, take ownership over your life, and above all, be willing to make consistent, pragmatic changes to move forward. The Science of Intelligent Achievement shows you how. (Syndetics summary)
Win win : when business works for women, it works for everyone / Joanne Lipman.
" A FINANCIAL TIMES BUSINESS BOOK OF THE MONTH 'Urgently needed' Charles Duhigg, bestselling author of THE POWER OF HABIT and SMARTER 'Attention, good guys: this book is for you' Adam Grant, bestselling author of ORIGINALS and OPTION B with Sheryl Sandberg 'I know what you're thinking: 'Not another career guide-cum-manifesto, telling us to "woman up" and demand more money.' But that isn't what Lipman says. Instead, she uses data, reams of it, to expose how the system is rigged against women. She then calls for men to join the fight to make the workplace more equal' SUNDAY TIMES STYLE MAGAZINE
Women spend their working lives adapting to an environment set up for men, by men: from altering the way they speak to changing the clothes they wear to power posing. But still the gender gap persists. And once you see it – women being overlooked, interrupted, their ideas credited to men – it's impossible to ignore. But it needn't be this way. Diving deep into the wide range of government initiatives, corporate experiments and social science research Joanne Lipman offers fascinating new revelations about the way men and women work culled from the Enron scandal, from brain research, from transgender scientists and from Iceland's campaign to 'feminise' an entire nation. Packed with fascinating and entertaining examples – from the woman behind the success of Tupperware to how Google reinvented its hiring process – WIN WIN is a rallying cry to both men and women to finally take real steps towards closing the gender gap. Published in the US as THAT'S WHAT SHE SAID.(Syndetics summary)
The workplace today demands continuing skills development. Whether you are looking to learn business, software, technology, and creative skills to meet your personal or professional goals Lynda.com is one of the best sources for online learning. Normally, using Lynda.com requires a paid subscription, but as a Wellington City Libraries member you have free and unlimited access to over 3500 online tutorials and courses via Lynda.com. Thinking of changing careers, there is a Career Development Guide with some great 2018 videos "Resume Makeover", "figuring your next move" "taking charge of your career". The videos let you work at your own pace and are designed to cater for every level of experience.
Have a look, you won't be disappointed
Crushing it! : how great entrepreneurs build their business and influence — and how you can, too / Gary Vaynerchuk.
"Four-time New York Times bestselling author Gary Vaynerchuk offers new lessons and inspiration drawn from the experiences of dozens of influencers and entrepreneurs who rejected the predictable corporate path in favor of pursuing their dreams by building thriving businesses and extraordinary personal brands.
In this lively, practical, and inspiring book, Gary dissects every current major social media platform so that anyone, from a plumber to a professional ice skater, will know exactly how to amplify his or her personal brand on each. He offers both theoretical and tactical advice on how to become the biggest thing on old standbys like Twitter, Facebook, YouTube, Instagram, Pinterest, and Snapchat; podcast platforms like Spotify, Soundcloud, iHeartRadio, and iTunes; and other emerging platforms such as Musical.ly. For those with more experience, Crushing It! illuminates some little-known nuances and provides innovative tips and clever tweaks proven to enhance more common tried-and-true strategies.
Crushing It! is a state-of-the-art guide to building your own path to professional and financial success, but it's not about getting rich. It's a blueprint to living life on your own terms." (Syndetics summary)
Capacity : create laser focus, boundless energy, and an unstoppable drive in any organization / Chris Johnson, Matt Johnson.
"Optimize your talent by removing the obstacles in their path. Capacity is a proven system for bringing the best out of your team-and yourself. Matt and Chris Johnson set the mark on how to succeed in the future with their energizing message, humorous stories and their generational differences. As the world speeds-up faster and faster, organizations and their people try to keep up. This pressure to do more with less has reached epidemic levels of concern and organizations are panicking on how to recruit, retain and attract the best talent for the future. Burnout, low engagement, and overwhelming stress are jeopardizing organizations? ability to scale and win. As outdated performance models of the past crumble under pressure, Matt and Chris show you how to build and protect your most valuable asset?YOUR PEOPLE. What if you could beat the clock and expand your capacity by 6 hours per week? Or 11? Think about the organizational impact if your workforce were given fresh capacity to perform, lead, and grow. This book offers a clear, workable solution for organizations functioning in the real world: by paring it down to three performance pillars they must have to succeed'focus, energy, and drive. Ever organization sets initiatives, but many remain unfinished because their capacity to do so fails before it starts. This framework is different: these changes bring the type of benefits that cause transformation. Giving your people what they need makes buy-in irrelevant, and allows them to perform at their highest potential. Not only can it work, but it is the only thing that will work over the long term. By making your organization a great place to work, you retain your best talent and attract more like it. With dedicated resources, focus, sustainable effort, and comprehensive strategy, your top performers will be equipped to drive your organization to the top." (Syndetics summary)
Cowgirl power : how to kick ass in business and life / Gay Gaddis.
Offers insights and guidance on success for women, exploring how women can cultivate and access their power, using the real-life cowgirl heroines of the early twentieth century as exemplars of gutsy risk-taking.
Big potential : how transforming the pursuit of success raises our achievement, happiness, and well-being / Shawn Achor.
"Bestselling author Shawn Achor shows how to unlock hidden sources of potential in ourselves and others. In a world that thrives on competition and individual achievement, we are measuring and pursuing potential all wrong. By pursuing success in isolation – pushing others away as we push ourselves too hard – we are not just limiting our potential, we are becoming more stressed and disconnected than ever. In his highly anticipated follow-up to The Happiness Advantage , Achor reveals a better approach. Drawing on his work in 50 countries, he shows that success and happiness are not competitive sports. Rather, they depend almost entirely on how well we connect with, relate to, and learn from each other. Just as happiness is contagious, every dimension of human potential – performance, intelligence, creativity, leadership ability and health – is influenced by those around us. So when we help others become better, we reach new levels of potential, as well. Rather than fighting over scraps of the pie, we can expand the pie instead.
Small Potential is the limited success we can attain alone. BIG Potential is what we can achieve together. Here, Achor offers five strategies – the SEEDS of Big Potential–for lifting the ceiling on what we can achieve while returning happiness and meaning to our lives. The dramatic shifts in how we approach work today demand an equally dramatic shift in our approach to success. Big Potential offers a new path to thriving in the modern world." (Syndetics summary)
The power of connection : how to become a master communicator in your workplace, your head space and at your place / Rik Rushton.
"A simple communication framework to begin practising today. We all carry around the technology to stay connected 24/7, yet many of us are disengaged and challenged with our lack of communication skills. The Power of Connection provides you with practical, real-world solutions for improving your professional performance, your personal relationships and your outlook one conversation at a time. Becoming a confident and compelling communicator might be the most important skill for leaders in the modern business landscape, parents in the modern home and individuals who use self-talk′ to help shape their world. By adopting the simple strategies revealed in every chapter, you can become an unshakeable success at what you set out to do. This book is designed to help you start communicating better today , so start reading and start practicing with your very next conversation! Understand your communication strengths and weaknesses Become a better listener to build a deeper connection Learn how communication sits at the heart of all relationships Develop the skills to connect, inspire, engage and empower. We are surrounded by noise, yet no one is actually saying anything we can connect with or are we just not listening? Communication is a two-way street, and involves so much more than just speaking. The Power of Connection offers a quick and easy road map for your personal journey of growth and development that will make you a better parent, friend, spouse and employee. It′s the right message for this time considering there′s never a wrong time to level up your skills and become more effective at work, at home and in life." (Syndetics summary)
HBR's 10 must reads on mental toughness.
" Come back from every setback a stronger and better leader. If you read nothing else on mental toughness, read these ten articles by experts in the field. We've combed through hundreds of articles in the Harvard Business Review archive and selected the most important ones to help you build your emotional strength and resilience–and to achieve high performance. This book will inspire you to:
Thrive on pressure like an Olympic athlete Manage and overcome negative emotions by acknowledging them Plan short-term goals to achieve long-term aspirations Surround yourself with the people who will push you the hardest Use challenges to become a better leader Use creativity to move past trauma Understand the tools your mind uses to recover from setbacks. This collection of articles includes "How the Best of the Best Get Better and Better," by Graham Jones; "Crucibles of Leadership," by Warren G. Bennis and Robert J. Thomas; "Building Resilience," by Martin E.P. Seligman; "Cognitive Fitness," by Roderick Gilkey and Clint Kilts; "The Making of a Corporate Athlete," by Jim Loehr and Tony Schwartz; "Stress Can Be a Good Thing If You Know How to Use It," by Alla Crum and Thomas Crum; "How to Bounce Back from Adversity," by Joshua D. Margolis and Paul G. Stoltz; "Rebounding from Career Setbacks," by Mitchell Lee Marks, Philip Mirvis, and Ron Ashkenas; "Realizing What You're Made Of," by Glenn E. Mangurian; "Extreme Negotiations," by Jeff Weiss, Aram Donigian, and Jonathan Hughes; and "Post-Traumatic Growth and Building Resilience," by Martin Seligman and Sarah Green Carmichael." (Syndetics summary)
The introvert's edge : how the quiet and shy can outsell anyone / Matthew Pollard with Derek Lewis.The Introvert's Edge: How the Quiet and Shy Can Outsell Anyone
"An introvert? Great at sales? YES. Sales is a skill anyone can learn and master–and introverts are especially good at it once they learn how to leverage their natural strengths. Introverts aren't comfortable with traditional tactics like aggressively pushing a product or talking over a customer's objections. That's the beauty of The Introvert's Edge : it doesn't focus on the sale itself but on a sales system that helps introverts feel sincere instead of sales-y. Powerful and practical, the book reveals how to: Find natural confidence * Prepare for every situation * Present your value so that customers want to buy * Sidestep objections * Judge when the customer's ready to buy * Ask for the sale–without asking * Continually adapt and improve * Profit from a process that doesn't rely on personality * Enjoy sales. With stories of introverted entrepreneurs, salespeople, and business owners who went from stagnant to success, The Introvert's Edge shows you how to succeed in sales–without changing who you are". (Syndetics summary)
Reputation game : the art of changing how people see you / David Waller, Rupert Younger.
"It's a game you're already playing, whether you like it or not. You can choose to ignore it and remain at the mercy of what others say about you, or you can take the time to learn how it works. For those who do the potential benefits are unlimited. Through pioneering research and interviews with a host of major figures ranging from Jay-Z and LinkedIn co-founder Reid Hoffman to Bernie Madoff and Man Booker prize-winning Hilary Mantel, Waller and Younger reveal the key mechanisms that make and remake our reputations, providing the essential guide to the most important game in business and in life." (Syndetics summary)
Inspired leadership : how you can achieve extraordinary results in business / Kevin Gaskell.
"Elevate your leadership to achieve the extraordinary. Inspired Leadership is the essential guide to performing at the highest level every day. As CEO of Porsche, author Kevin Gaskell led the company from near-bankruptcy to the most profitable car company. During his four years at BMW, the company saw 80% growth in sales and 500% increase in profitability. Good leaders get results and great leaders get great results–but Inspired Leaders get extraordinary results, turn around companies, ensure people development and turn brands into household names. This book shows you how to become an Inspired Leader. Workable strategies, practical frameworks, and real-world essential skills give you a concrete curriculum for success, while anecdotes and examples drawn from the author's experiences illustrate important concepts in action.
Inspirational, aspirational, and deeply instructional, this guide will become your go-to resource for navigating the leader's role. From tricky situations to everyday interactions, you'll learn the skills and outlook you need to take your leadership to the next level.
Learn what Inspired Leadership looks like in terms of results Discover the key factors that separate Inspired leaders from the merely "great" Adopt the tools and processes that get extraordinary results in the real world Understand the essential core of high performance, and incorporate it into your day-to-day
Quality leadership is the difference between success and failure, but Inspired Leadership is the difference between success and world-class performance. It requires 360-degree attention, laser focus, authentic relationships, and a rock-solid understanding of the leader's role. When you're ready to achieve the extraordinary, Inspired Leadership is the resource to keep within arm's reach". (Syndetics summary)
Win big risk small : an entrepreneurs formula / Dorry Kordahi.
With no higher education, no family fortune and armed only with a burning desire to succeed, Dorry Kordahi went from being a suburban hairdresser, to being the head of an incredibly diverse group of companies. He achieved this by turning his inspirational ideas into breathtaking reality and is now one of Australias most highly respected and high-profile entrepreneurs.Locked away in a safe are three scraps of paper covered in scribble. These scraps are Dorrys original formula. They might not look like much yet they rapidly translated into one of Australias most inspiring start-ups.Using his unique business formula, Dorry Kordahi founded DKM Global, from the garage in his parents's back yard in late 2002 while still in his mid-twenties. In one of the world's most competitive industries with more than 4000 competitors in Australia alone, his star swiftly shone bright and he quickly took the lead.Today DKM Global not only remains the market leader in the field of marketing and merchandise solutions but, as the result of several carefully orchestrated acquisitions and investments, now encompasses numerous women's and men's fashion companies, a fashion sock company and a large, blue chip portfolio of corporate uniform clients.Deservedly, awards and accolades have been and continue to be heaped upon Dorry. He has appeared multiple times in such prestigious publications as BRW's Young Rich List and, while very young, was named one of Ernst & Youngs Entrepreneurs of the Year. Now a popular media figure, Dorry, within the pages of WIN BIG THINK SMALL, shares the formula that has made the success that he is. What is more he maintains and explains how anyone can adopt and use his formula to climb their own mountain of dreams. Dorry Kordahi's story is one that will inspire you.
Indigenous aspirations and rights : the case for responsible business and management / edited by Amy Klemm Verbos, Ella Henry and Ana Maria Peredo.
"Indigenous peoples are recognised as groups with specific rights based on their historical ties to particular territories. The United Nations estimates there are 370 million Indigenous peoples, with Indigenous populations being recognised in Australia, Canada, New Zealand, the United States, the Arctic region, Central and South America, and across Asia and Africa.
Indigenous Aspirations and Rights takes an Indigenous perspective in examining the intersection of business with Indigenous peoples' rights, in light of the UN Global Compact and the PRME. Indigenous rights include, but are not limited to, human, cultural, educational, employment, participatory development, economic, and social rights, rights to land and natural resources, and impacts on identity, institutions, and relations. This book illustrates three main aspects of business practices in relation to Indigenous peoples: learning from failure, unresolved issues and on-going challenges, and developing models for success.
Edited by three leading voices in Indigenous rights research and practice, Indigenous Aspirations and Rights features contributions from around the globe. The work draws together policy implications for management and implications for Indigenous peoples, and examines how the PRME, the UN Global Compact, and the concept of socially responsible business can be expanded to encompass more positive outcomes for Indigenous peoples". Syndetics summary)
The startup way : how entrepreneurial management transforms culture and drives growth / Eric Ries.
"The Startup Way reveals how organisations of all sizes can harness startup techniques to drive growth. In The Lean Startup , Eric Ries, Entrepreneur in Residence at Harvard, created a global movement. Concepts like constant iteration, minimal viable products (MVPs), and pivoting have changed the language of business. Now he turns his attention to companies and organizations of all sizes.
Ries has been working with giant firms like General Electric and Toyota to help them become more nimble, in order to spur growth and produce products and services that customers want. In The Startup Way , he shares his insights, stories and best practices, delivering a critical toolkit to solve all business challenges.
Today every company needs to get faster and smarter. Read The Startup Way and discover how to embrace change, survive and thrive." (Syndetics summary)
The power of onlyness : make your wild ideas mighty enough to dent the world / Nilofer Merchant.
"An 800-CEO-READ Staff Pick. In The Power of Onlyness, Nilofer Merchant, one of the world's top-ranked business thinkers, reveals that, in fact, we have now reached an unprecedented moment of opportunity for your ideas to "make a dent" on the world. Now that the Internet has liberated ideas to spread through networks instead of hierarchies, power is no longer determined by your status, but by "onlyness"–that spot in the world only you stand in, a function of your distinct history and experiences, visions and hopes. If you build upon your signature ingredient of purpose and connect with those who are equally passionate, you have a lever by which to move the world. This new ability is already within your grasp, but to command it, you need to know how to meaningfully mobilize others around your ideas. Through inspirational and instructive stories, Merchant reveals proven strategies to unleash the centrifugal force of a new idea, no matter how weird or wild it may seem. Imagine how much better the world could be if every idea could have its shot, not just the ones that come from expected people and places. Which long-intractable problems would we solve, what new levels of creativity would be unlocked, and who might innovate a breakthrough that could benefit ourselves, our communities, and especially our economy. This limitless potential of onlyness has already been recognized by Thinkers 50, the Oscars of management, which cited it one of the five ideas that will shape business for next twenty years. Why do some individuals make scalable impact with their ideas, regardless of their power or status? The Power of Onlyness unravels this mystery for the first time so that anyone can make a dent. Even you." (Syndetics summary)
Culture Is everything : the story and system of a start-up that became Australia's best place to work / Tristan White.
"How One Company Is Redefining The Meaning Of Going To WorkTristan White's story started like many others. He had a dream towork in a job that inspired him. He didn't find that job, so he created it.In 2004, The Physio Co (TPC) was born with one team member: TristanWhite. In the thirteen years since, TPC has become a remarkablehealthcare success story based upon fast growth and a thriving,systemized company culture.Tristan's obsession with creating an inspiring place to work for himselfand others has resulted in more than a decade of learning, testing andrefining. If you've ever wondered how to build and sustain a thrivingcompany culture, the Culture Is Everything system developed byTristan White and The Physio Co team is your answer.The Physio Co story and Culture Is Everything system explained in thisbook will give you the confidence and knowledge to create a strongculture in your very own business or team." (Syndetics summary)
The leadership mind switch : rethinking how we lead in the new world of work / D. A. Benton ; Kylie Wright-Ford.
Lead your company to success in the New Industrial Revolution!The world of business has completely transformed in recent years–and the pace of change will only increase in coming years. But one thing remains the same: Quality leadership is the hinge on which the fate of every organization swings. The Leadership Mind Switch provides the critical lessons you need to lead your company in a fully globalized business world where radical technologies reign supreme. Debra Benton and Kylie Wright-Ford have helped some of today's most top executives successfully position themselves and their companies for the future. Now, in this groundbreaking leadership guide, they share their insight with you. Learn how to effectively lead a workforce that is rich in demographic texture–representing as many as four different generations Has varying–and sometimes conflicting–expectations of the company Operates with different ideas about what success looks like Uses, approaches, and even understands technology in different ways. The answers to these questions and many others are all here. You'll learn how to be the kind of leader who is both firm in his or her decisions but maintains an air of approachability. You'll learn how to drive high productivity while keeping your workers happy and satisfied in their jobs. And you'll learn how to embrace new technologies without sacrificing the human touch–which is the hallmark of great leadership. It will take unprecedented levels of agility, confidence, and fearlessness to lead into the future. Make the leadership mind switch to seize the competitive edge now in order to drive profits and growth tomorrow." (Syndetics summary)
Side hustle : from idea to income in 27 days / Chris Guillebeau.
The author of the New York Times Bestseller THE $100 STARTUP shows how to launch a profitable side hustle in just 27 days. For some people, the thought of quitting their day job to pursue the entrepreneurial life is exhilarating. For many others, it's terrifying. After all, a stable job that delivers a regular paycheck is a blessing. And not everyone has the means or the desire to take on the risks and responsibilities of working for themselves. But what if we could quickly and easily create an additional stream of income without giving up the security of a full-time job? Enter the side hustle. Chris Gullibeau is no stranger to this world, having launched more than a dozen side hustles over his career. Here, he offers a step-by-step guide that takes you from idea to income in just 27 days. Designed for the busy and impatient, this detailed roadmap will show you how to select, launch, refine, and make money from your side hustle in under a month… A side hustle is more than just another stream of income, it's also the new job security. When you receive paychecks from different sources, it allows you to take more chances in your "regular" career. More income means more options. More options equals freedom. You don't need entrepreneurial experience to launch a profitable side hustle. You don't have to have an MBA, or know how to code, or be an expert marketer. You don't need employees or investors. With Chris as a guide, anyone can make more money, pursue a passion, and enjoy greater security – without quitting their day job." (Syndetics summary)
Blue ocean shift : beyond competing : proven steps to inspire confidence and seize new growth / W. Chan Kim, Renée Mauborgne.
"NEW YORK TIMES BESTSELLER
#1 WALL STREET JOURNAL BESTSELLER
USA TODAY BESTSELLER –BLUE OCEAN SHIFT is the essential follow up to Blue Ocean Strategy , the classic and 3.6 million copy global bestseller by world-renowned professors W. Chan Kim and Renee Mauborgne. Drawing on more than a decade of new work, Kim and Mauborgne show you how to move beyond competing, inspire your people's confidence, and seize new growth, guiding you step-by-step through how to take your organization from a red ocean crowded with competition to a blue ocean of uncontested market space. By combining the insights of human psychology with practical market-creating tools and real-world guidance, Kim and Mauborgne deliver the definitive guide to shift yourself, your team, or your organization to new heights of confidence, market creation, and growth. They show why non disruptive creation is as important as disruption in seizing new growth. BLUE OCEAN SHIFT is packed with all-new research and examples of how leaders in diverse industries and organizations made the shift and created new markets by applying the process and tools outlined in the book. Whether you are a cash-strapped startup or a large, established company, nonprofit or national government, you will learn how to move from red to blue oceans in a way that builds your people's confidence so that they own and drive the process. With battle-tested lessons learned from successes and failures in the field, BLUE OCEAN SHIFT is critical reading for leaders, managers, and entrepreneurs alike. You'll learn what works, what doesn't, and how to avoid the pitfalls along the way. This book will empower you to succeed as you embark on your own blue ocean journey. BLUE OCEAN SHIFT is indispensable for anyone committed to building a compelling future." (Syndetics summary)
From breakdown to breakthrough : forging resilient business relationships in the heat of change / Michael Papanek with Liz Alexander, PhD.From Breakdown to Breakthrough: Forging Resilient Business Relationships in the Heat of Change
"What happens to you, your team, even your entire organization when the business environment becomes more volatile and challenging? Have you noticed how some leaders continue to achieve breakthrough results under even the most difficult of circumstances while others' relationships break down, creating even more turmoil? Which of these leaders do you choose to be? In "From Breakdown to Breakthrough", leading change consultant, Michael Papanek, draws on his experience, insights, and research with top executives to shine a spotlight on how anyone—even those whose business relationships have suffered in the heat of change in the past—can establish the resilient relationships required for a long-term track record of business success. From his early days working during the General Motors—Electronic Data Systems merger in Detroit, to launching his own consultancy in San Francisco just as the U.S. economy reached its nadir, author Michael Papanek learned first-hand why it is vital to ensure all business relationships are Strong, Flexible, and Fair. Weaving this knowledge into a model applied successfully by his clients within leading organizations including Apple, Google, and Yahoo!, Papanek now offers this proven approach to any business professional wondering how to rise above the vicious cycle of relationship breakdown that many of us find ourselves in—especially during times of incessant change. The history of every company is always about key relationships that either led to long-term success, or breakdown. Some leaders seem naturally adept at riding what Papanek calls "The Heat Curve," emerging from volatile times with their relationships not just in tact, but enhanced. From Breakdown to Breakthrough shows how you can achieve that not just for yourself, but for everyone you work with." (Syndetics summary)
If you would like to come to a free information session on Starting a business in New Zealand, or you know of someone who would benefit from coming to the session, then the Migrant Connect Information Service provided by the Citizens Advice Bureau in Wellington is running an early evening session (5.30 – 7.30pm) on Thursday 26th October 2017, in connection with Immigration New Zealand.
It will be held in the Mezzanine Floor meeting room, Central Library, 65 Victoria Street, Wellington.
Speakers will be James Sauaga who looks after the Business Mentor service at the Wellington Chamber of Commerce, Eric Janse van Rensburg from the invaluable website one stop shop Biz (business.govt.nz), Dr Zainab Radhi from Smart Start Business and myself, Marilyn Domney – Business Information Specialist at Wellington City Libraries
If you want to find out more about this event please email wellingtoncentral@cab.org.nz
The caterpillar's edge : evolve, evolve again, and thrive in business / Sid Mohasseb.
"The secret code to growing a successful business is adjusting your strategy every single day. Business leaders, large and small, need to learn a new game with very different rules. They must accept an ever-changing and uncertain landscape, but a landscape that can be constantly leveraged for greater profitability. They must believe that their companies are caterpillars with the potential to become butterflies. The Caterpillar's Edge shows why we must embrace a future of flux. It exposes the addictions that chain us to our past and the truths that influence our behaviors. And, it shows just how to seize breakthrough advantages by pushing through all the noise around "Big Data." Within its DNA, the caterpillar aspires and pushes for more, and it gets just that, evolving gracefully from one entity into another, always building a competitive edge in the process. Break free from accepted archaic business practices by cracking that secret code which demands evolving your business always." (Syndetics summary)
Building the agile business through digital transformation / Neil Perkin, Peter Abraham.
" Building the Agile Business through Digital Transformation is a guide for organizational development professionals and change managers needing to better understand, implement and lead digital transformation in the workplace. It sets aside traditional thinking and outdated strategies to explain what steps need to be taken for an organization to become truly agile. It addresses how to build organizational velocity and establish iterative working, remove unnecessary process, embed innovation, map strategy to motivation and develop talent to succeed. Building the Agile Business through Digital Transformation provides guidance on how to set the pace and frequency for change and shows how to break old habits and reform the behaviours of a workforce to embed digital transformation, achieve organizational agility and ensure high performance. Full of practical advice, examples and real-life insights from organizational development professionals at the leading edge of digital transformation, this book is an essential guide to building an agile business." (Syndetics summary)
Fit for growth : a guide to strategic cost cutting, restructuring, and renewal / Vinay Couto, John Plansky, Deniz Caglar.
" A practical approach to business transformation Fit for Growth * is a unique approach to business transformation that explicitly connects growth strategy with cost management and organization restructuring. Drawing on 70-plus years of strategy consulting experience and in-depth research, the experts at PwC's Strategy& lay out a winning framework that helps CEOs and senior executives transform their organizations for sustainable, profitable growth. This approach gives structure to strategy while promoting lasting change. Examples from Strategy&'s hundreds of clients illustrate successful transformation on the ground, and illuminate how senior and middle managers are able to take ownership and even thrive during difficult periods of transition. Throughout the Fit for Growth process, the focus is on maintaining consistent high-value performance while enabling fundamental change. Strategy& has helped major clients around the globe achieve significant and sustained results with its research-backed approach to restructuring and cost reduction. This book provides practical guidance for leveraging that expertise to make the choices that allow companies to: Achieve growth while reducing costs; Manage transformation and transition productively; Create lasting competitive advantage; Deliver reliable, high-value performance. Sustainable success is founded on efficiency and high performance. Companies are always looking to do more with less, but their efforts often work against them in the long run. Total business transformation requires total buy-in, and it entails a series of decisions that must not be made lightly. The Fit for Growth approach provides a clear strategy and practical framework for growth-oriented change, with expert guidance on getting it right. * Fit for Growth is a registered service mark of PwC Strategy& Inc. in the United States" (Syndetics summary)
Multipliers : how the best leaders make everyone smarter / Liz Wiseman.
We've all had experience with two dramatically different types of leaders. The first type drains intelligence, energy, and capability from the people around them and always needs to be the smartest person in the room. These are the idea killers, the energy sappers, the diminishers of talent and commitment. On the other side of the spectrum are leaders who use their intelligence to amplify the smarts and capabilities of the people around them. When these leaders walk into a room, light bulbs go off over people's heads; ideas flow, and problems get solved. These are the leaders who inspire employees to stretch themselves to deliver results that surpass expectations. These are the Multipliers. And the world needs more of them, especially now when leaders are expected to do more with less. Leadership expert Liz Wiseman explores these two leadership styles, showing how Multipliers can have a resoundingly positive and profitable effect on organizations — getting more done with fewer resources, developing and attracting talent, and cultivating new ideas and energy to drive organizational change and innovation. In analyzing data from more than 150 leaders, Wiseman has identified five disciplines that distinguish Multipliers from Diminishers. These five disciplines are not based on innate talent; indeed, they are skills and practices that everyone can learn to use, even lifelong and recalcitrant Diminishers. Real-world case studies and practical tips and techniques bring to life each of these principles, showing you how to become a Multiplier too, whether you are a new or an experienced manager. This updated edition includes new examples of Multipliers as well as two new chapters: one on accidental Diminishers, and one on how to deal with Diminishers.
One minute mentoring : how to find and work with a mentor–and why you'll benefit from being one / Ken Blanchard and Claire Diaz-Ortiz.
" The bestselling co-author of the legendary The One Minute Manager#65533; and a former Twitter executive join forces to create the ultimate guide to creating powerful mentoring relationships. The past decade has seen the dramatic rise of a word now well known in corporate hallways: mentoring. But a new awareness about mentoring hasn't necessarily meant an increased understanding of how to implement the practice. While most people agree that having a mentor is a good thing, they don't know how to find one or use one. And despite widespread approval for the idea of being a mentor, most people don't think they have the time or skills to do so. Positive mentoring relationships can change the way we lead and help us succeed. In One Minute Mentoring, legendary management guru Ken Blanchard and Claire Diaz-Ortiz, a former Twitter executive and early employee, combine their knowledge to provide a systematic approach to intergenerational mentoring, giving readers great insight into the power and influence of mentoring and encouraging them to pursue their own mentoring relationships. Using his classic parable format, Blanchard explains why developing effective communication and relationships across generations can be a tremendous opportunity for companies and individuals alike. One Minute Mentoring is the go-to source for learning why mentoring is the secret ingredient to professional and personal success." (Syndetics summary)
People with purpose : how great leaders use purpose to build thriving organizations / Kevin Murray.
This book brings together a wide range of research on how having a clearly defined purpose as part of one's business strategy is a vital element in business success and longevity. Leaders who communicate a defined corporate mission alongside clear and genuine corporate values allow their employees to find purpose in their day to day roles and embody their company's vision. This in turn, facilitates employee engagement, loyalty and work satisfaction. Illustrated with more than 30 case studies unearthed from exclusive interviews with top CEOs from a wide range of industries, Kevin Murray explores how leaders who have powerfully articulated purpose statements have brought companies back from the brink of collapse or continue to rapidly grow their businesses into resilient successful companies, which attract and retain top talent, keep employees engaged and deliver top financial results.