This month's fiction showcase shows a broad and diverse range and depth of writing styles and topics. However the darker dystopian trends in our society today and in the recent past seem to be a recurring theme with both The Divers' Game by Jesse Ball and Rodrigo Rey Rosa's Human Matter which stare deeply into our collective dark heart. Carrying on the dark theme is Stephen King's acclaimed return with The Institute. Once again King uses a group of children as his main protagonists but this time the horror has its roots in modern American society. We also have international bestselling author Tracy Chevalier's moving account of a woman crafting and creating her own life anew at the dawn of the Second World War, along with new works by Emma Donoghue and Ruth Ware. Enjoy!

The divers' game : a novel / Ball, Jesse
"The old-fashioned struggle for fairness has finally been abandoned. It was a misguided endeavor. The world is divided into two groups, pats and quads. The pats may kill the quads as they like, and do. The quads have no recourse but to continue with their lives.
The Divers' Game
is a thinly veiled description of our society, an extreme case that demonstrates a truth: we must change or our world will collapse." (Adapted from Catalogue)
Night boat to Tangier : a novel / Barry, Kevin
"In the dark waiting room of the ferry terminal in the sketchy Spanish port of Algeciras, two aging Irishmen — Maurice Hearne and Charlie Redmond, longtime partners in the lucrative and dangerous enterprise of smuggling drugs — sit at night, none too patiently. It is October 23, 2018, and they are expecting Maurice's estranged daughter (or is she?), Dilly, to either arrive on a boat coming from Tangier or depart on one heading there. This nocturnal vigil will initiate an extraordinary journey back in time to excavate their shared history of violence." (Adapted from Catalogue) Also available as an eBook.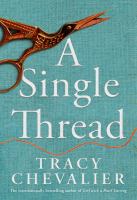 A single thread / Chevalier, Tracy
"It is 1932, and the losses of the First World War are still keenly felt. Violet Speedwell, mourning for both her fiancé and her brother and regarded by society as a 'surplus woman' unlikely to marry, resolves to escape her suffocating mother and strike out alone. A new life awaits her in Winchester. Yes, it is one of draughty boarding-houses and sidelong glances at her naked ring finger from younger colleagues; but it is also a life gleaming with independence and opportunity…" (Catalogue)  Also available as an eBook.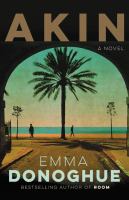 Akin : a novel / Donoghue, Emma
"Noah Selvaggio is days away from his first visit back to Nice since he was a child, bringing with him a handful of puzzling photos he's discovered from his mother's wartime years. But he receives a call from social services: Noah is the closest available relative of an eleven-year-old great-nephew he's never met, who urgently needs someone to look after him.  The unlikely duo, suffering from jet lag and culture shock, bicker about everything from steak frites to screen time. Both come to grasp the risks people in all eras have run for their loved ones, and find they are more akin than they knew." (Adapted from Catalogue)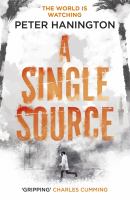 A single source / Hanington, Peter
"Veteran BBC reporter William Carver is in Cairo, bang in the middle of the Arab Spring. 'The only story in the world' according to his editor. But it isn't. There's another story, more significant and potentially more dangerous, and if no one else is willing to tell it, then Carver will – whatever the consequences. A Single Source tells two stories, which over a few tumultuous months come together to prove inextricably linked." (Adapted from Catalogue)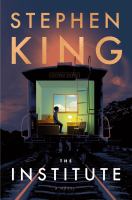 The institute : a novel / King, Stephen
"In the middle of the night, in a house on a quiet street in suburban Minneapolis, intruders silently murder Luke Ellis's parents and load him into a black SUV. Luke will wake up at The Institute, in a room that looks just like his own, except there's no window.  In this most sinister of institutions, the director, Mrs. Sigsby, and her staff are ruthlessly dedicated to extracting from these children the force of their extranormal gifts. There are no scruples here. If you go along, you get tokens for the vending machines. If you don't, punishment is brutal." (Adapted from Catalogue)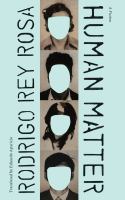 Human matter : a fiction / Rey Rosa, Rodrigo
"More than a decade ago, novelist Rodrigo Rey Rosa made his first visit to the Historical Archive of the Guatemala National Police, where millions of previously hidden records were being cataloged, scanned, and eventually published online. Bringing to light detailed evidence of crimes against humanity, the Archive Recovery Project inspired Rey Rosa to craft a meta-novel that weaves the language of arrest records and surveillance reports with the contemporary journal entries of a novelist (named Rodrigo) who is attempting to synthesize the stories of political activists, indigenous people, and other women and men who became ensnared in a deadly web of state-sponsored terrorism." (Adapted from Catalogue)
The turn of the key / Ruth Ware.
"When Rowan stumbles across the advert, it seems like too good an opportunity to miss – a live-in nanny position, with a very generous salary. And when she arrives at Heatherbrae House, she is smitten by the luxurious 'smart' home fitted out with all modern conveniences by a picture-perfect family. What she doesn't know is that she's stepping into a nightmare – one that will end with a child dead and her in a cell awaiting trial for murder. She knows she's made mistakes. But she's not guilty – at least not of murder. Which means someone else is…" (Adapted from Syndetics summary)