The world is a book and the those who do not travel read only one page" – Saint Augustine.
These authors definitely went travelling and did so during some very difficult times, making their experiences and subsequent books truly remarkable. Read our blog about Robin Hyde, Boyong Ma, Lian Yang, and how their China-NZ travel experiences inspired them and their work.
Robin Hyde
Robin Hyde (real name Iris Wilkinson, b. 1906) grew up in Wellington. Like her book The Godwits Fly (1938) which was inspired by her childhood, Dragon Rampant covers her extraordinary experience of travelling to China during the Japanese occupation. In 1938 she began a journey to travel to London to meet her publishers. Stopping in Hong Kong where she worked briefly as a freelance journalist, she soon became aware of the situation that had developed over the border in mainland China. She took a boat to Japanese-controlled Shanghai which was still suffering the impact of having been bombed. There she met Rewi Alley, Edgar & Peggy Snow and the Guardian's Far East correspondent, Harold Timperley. Impressed with the quality of her work, Timperley offered to fund her travel to Canton so that she could report on the situation there. After first returning to Hong Kong where she met the NZ writer James Bertram, she travelled deep into Guangzhou and the neighbouring provinces to the front-line of battles raging between Japanese troops and Chinese nationalists. After the city of Xuzhou was bombed and captured Japanese soldiers injured her eyes, but she managed to escape to limp 80 kilometres along railway tracks to safety. She was escorted to Tsing Tao before managing to get back to Hong Kong where she interviewed the Nationalist leader, Rosamond Soong Ch'ing-ling, before continuing on to London. Her dramatic and graphic account of her experience in China was published in Dragon Rampant; 'dragon' in the title alluding to the Imperial Japanese army and their invasion of China.
Text sourced from https://www.nzepc.auckland.ac.nz/authors/hyde/china.asp
Dragon rampant / Hyde, Robin
"Based on her own experience, Robin Hyde depicted a picture of the 1930s Japanese occupied China, just before the World War Two. Robin Hyde was the only lone female journalist visited China during the war time and hence written the best history book delivered. Similar to other people trapped in a war zone, she suffered from sickness, fear, poverty and turbulence. She also received help along the way and met the important people she intended to interview. It's one of the only books on this topic and delivered with lyrical prose only Robin Hyde could deliver. " (Librarian's review)
Ma Boyong 马伯庸
Ma Boyong (b. 1980) is a well-known author, columnist and blogger in China. Several of his novels have been adapted to popular TV drama series', including The longest day in Chang'An . In 2010 his achievements in writing were recognised after he was awarded the 'People's Literature Prize', one of China's most prestigious honours. In 2012, he was awarded 'Prose Award'; in 2023, he became the screenwriter of the TV series The case of Daming's silk under the Microscope. 
His journey to becoming one of China's best known contemporary writers followed an unusual path. In 2001 he was an international student at Waikato University studying marketing and communications, but his exposure to the literature collection in the university library inspired him to begin writing fiction. It was also while he was at Waikato University that he met his wife, they returned to China together where his literary career soon took off. In 2019 he was invited to make a return visit New Zealand along with several other well-known Chinese figures with significant NZ connections. Ma Boyong's short story The Great Migration has been translated into English and many of his books can be found on the library catalogue in both Chinese and English.
Text sourced from https://www.waikato.ac.nz/news-opinion/media/2019/famous-chinese-literary-genius-got-his-inspiration-from-waikato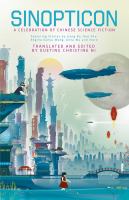 Sinopticon : a celebration of Chinese science fiction
"First time translated into English, this book presents a collection of China's best science fiction stories from thirteen award winning and best-selling writers. This book won the 2022 British Fantasy Awards of Best Anthology. The editor has curated the science-fiction and fantasy short stories and thread them through so the stories link to one another.  'The Great Migration' by Ma Boyong is a selected short story in this collection. (Librarian's review) 
Yang Lian, 杨炼
The poet Yang Lian was born in Switzerland in 1955 but was raised in Beijing. He visited Hong Kong in 1986, Australia in 1988 and the following year was invited to NZ as a visiting scholar by John Minford of Auckland University and to participate in the 1989 New Zealand-China Writers and Translators Workshop. He became a teacher in Auckland where he lectured on non-mainstream Chinese literature ('Meng Long Pai') for the Department of Asian Language and Literature. He later wrote about his experience of living in Auckland in his book Unreal City and went on to win the 'Flaiano International Poetry Prize' (Italy, 1999). He had won numerous prizes such as 'International Capri Prize' (Italy, 2014); 'Li Bai Nomination Poetry Prize' (China, 2015), The First Long Poem Prize (China, 2015), 'PEN Award', (UK, 2017); 'L'Aquila International Literature Prize' (Italy, 2018).  He holds both NZ and British citizenship and today divides his time between living in London and Berlin.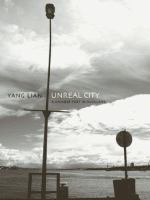 Unreal city : a Chinese poet in Auckland / Yang, Lian
"Yang Lian is a Chinese non-mainstream Chinese literature (Meng Long Pai) poet. During the four years he lived in Auckland, he has written the story from a startling, fresh perspective. Published in English for the first time in the scholarly collection, this book Unreal City had later won the 'Flaiano International Poetry Prize' (Italy, 1999). (Librarian's review)