"Never attempt to win by force what can be won by deception."

― Niccolò Machiavelli, The Prince
Niccolò Machiavelli's The Prince was first published in 1532 and is commonly regarded as one of the first books of modern philosophy. And it was also the work responsible for bringing the word Machiavellian into usage, the cunning, sneaky, underhand, the ends-justify-the-means approach to the acquisition of power, particularly in politics, is sadly still often used to this day. The influence of the Machiavellian approach to power is in great evidence in our recently acquired fantasy novel The Councillor by E. J Beaton, in which the death of a queen triggers a series of events and dramatic power plays. In other recently acquired titles we have the latest gripping and thrilling novel from The Martian author Andy Weir,  Hail Mary is a truly compelling page turner. The film rights have already been snapped up with Ryan Gosling slated to be the lead. Below is just a small selection of our other recently acquired Science Fiction and Fantasy titles.
The councillor / Beaton, E. J
"When the death of Iron Queen Sarelin Brey fractures the realm of Elira, Lysande Prior, the palace scholar and the queen's closest friend, is appointed Councillor. Publically, Lysande must choose the next monarch from amongst the city-rulers vying for the throne. Privately, she seeks to discover which ruler murdered the queen, suspecting the use of magic. Resourceful, analytical, and quiet, Lysande appears to embody the motto she was raised with: everything in its place. Yet while she hides her drug addiction from her new associates, she cannot hide her growing interest in power." (Adapted from Catalogue) Also available as an eBook.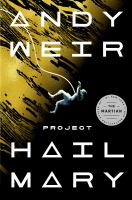 Project Hail Mary : a novel / Weir, Andy
"The sole survivor on a desperate, last-chance mission to save both humanity and the earth. Ryland Grace has been asleep for a very, very long time. He's just been awakened to find himself millions of miles from home, with nothing but two corpses for company. He can't remember his own name, let alone the nature of his assignment. Alone on this tiny ship that's been cobbled together, it's up to him to conquer an extinction-level threat to our species. And thanks to an unexpected ally, he just might have a chance." (Catalogue)
The stone wētā / Cade, Octavia
"When the cold war of data preservation turns bloody – and then explosive – an underground network of scientists, all working in isolation, must decide how much they are willing to risk for the truth. For themselves, their colleagues, and their future. A claustrophobic and compelling cli-fi thriller by Octavia Cade." (Adapted from Catalogue)
Firebreak / Kornher-Stace, Nicole
"New Liberty City, 2134. Two corporations have replaced the US, splitting the country's remaining forty-five states (five have been submerged under the ocean) between them: Stellaxis Innovations and Greenleaf. There are nine supercities within the continental US, and New Liberty City is the only amalgamated city split between the two megacorps, and thus at a perpetual state of civil war as the feeds broadcast the atrocities committed by each side. Here, Mallory streams Stellaxis's wargame SecOps on BestLife, spending more time jacked in than in the world just to eke out a hardscrabble living from tips……." (Catalogue)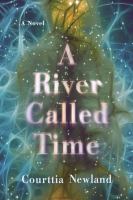 A river called Time / Newland, Courttia
"The Ark was built to save the lives of the many, but rapidly became a refuge for the elite, the entrance closed without warning. Years after the Ark was cut off from the world–a world much like our own, but in which slavery has never existed–a chance of survival within the Ark's confines is granted to a select few who can prove their worth. Among their number is Markriss Denny, whose path to future excellence is marred only by a closely guarded secret: Once inside the Ark, Denny learns of another with the same power, whose existence could spell catastrophe for humanity. " (Adapted from Catalogue) Also available as an eBook.
Immunity index / Burke, Sue
"In a US facing growing food shortages, stark inequality, and a growing fascist government, three perfectly normal young women are about to find out that they share a great deal in common. Their creator, the gifted geneticist Peng, made them that way–before such things were outlawed. Rumors of a virus make their way through an unprotected population on the verge of rebellion, only to have it turn deadly. As the women fight to stay alive and help, Peng races to find a cure–and the cover up behind the virus" (Adapted from Catalogue) Also available as an eBook. 
Spellmaker / Holmberg, Charlie N.
"England, 1895. An unsolved series of magician murders and opus thefts isn't a puzzle to Elsie Camden. But to reveal a master spellcaster as the culprit means incriminating herself as an unregistered spellbreaker. When Elsie refuses to join forces with the charming assassin, her secret is exposed, she's thrown in jail, and the murderer disappears. But Elsie's hope hasn't vanished.Through a twist of luck, the elite magic user Bacchus Kelsey helps Elsie join the lawful, but with a caveat: they must marry to prove their cover story. Forced beneath a magical tutor while her bond with Bacchus grows, Elsie seeks to thwart the plans of England's most devious criminal." (Adapted from Catalogue)
Radio life / Miller, Derek B.
"When Lilly was first Chief Engineer at The Commonwealth, nearly fifty years ago, the Central Archive wasn't yet the greatest repository of knowledge in the known world, protected by scribes copying every piece of found material – books, maps, even scraps of paper – and disseminating them by Archive Runners to hidden off-site locations for safe keeping. Back then, there was no Order of Silence to create and maintain secret routes deep into the sand-covered towers of the Old World or into the northern forests beyond Sea Glass Lake. Back then, the world was still quiet, because Lilly hadn't yet found the Harrington Box. But times change. ….." (Adapted from Catalogue)