Image via Giphy
One of the books in our recently acquired crime and thriller novels selection is The Rising Tide by the hugely popular and talented Ann Cleeves. So, we thought it was long overdue that we take a peek into the writer's life of Ann Cleeves so far, and her creation Inspector Vera Stanhope.
Ann Cleeves is known as the doyen of village noir, an author whose much loved crime books often show a keen interest in, or are rooted in, community. Brought up in north Devon, as a writer Ann initially struggled to find publishers interested in her work. Out of necessity she did various jobs: such as being a cook at the Fair Isle bird observatory, an auxiliary coastguard and as a library outreach worker, all jobs that have informed her writing in one way or another.
Ann and her family moved to Northumberland 1987, and the northeast provided fertile inspiration for many of her books. Ann is a writer who famously doesn't plot in advance, instead starting with a scene and seeing where the events lead her. Since becoming a full-time writer her books have become international bestsellers: especially in the UK, USA, Scandinavia and Germany. Her literary creations include: Vera Stanhope, Jimmy Perez and Matthew Venn, all of whom have made it into highly popular TV shows. In 2017 she won the highest award in the crime writing world, the Crime Writers' Association's Cartier Diamond Dagger for "sustained excellence" in crime fiction. A huge and vocal supporter of libraries, she was awarded an OBE in the 2022 New Year Honours List "for services to Reading and Libraries".
Her latest book features the indomitable Inspector Vera Stanhope. Vera is a wonderful creation, not your usual detective. Instead, Vera is a dishevelled, near retirement, member of the fictitious 'Northumberland & City Police' who, despite her irritable character, cares deeply about what she does and indeed her work colleagues. An inspector who uses her superior sleuthing skills to unpick knotty cases, in The Rising Tide she is asked to solve a mystery on the Holy Island of Lindisfarne, off the northeast coast of England.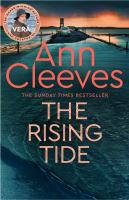 The rising tide / Cleeves, Ann
"Fifty years ago, a group of teenagers spent a weekend on Holy Island, forging a bond that has lasted a lifetime. Now, they still return every five years to celebrate their friendship, and remember the friend they lost to the rising waters of the causeway at the first reunion. Now, when one of them is found hanged, Vera is called in. Learning that the dead man had recently been fired after misconduct allegations, Vera knows she must discover what the friends are hiding, and whether the events of many years before could have led to murder then, and now . . . But with the tide rising, secrets long-hidden are finding their way to the surface, and Vera and the team may find themselves in more danger than they could have believed possible . . ." (Adapted from Catalogue)
The whole truth / Hunter, Cara
"She has everything at stake; he has everything to lose. But one of them is lying, all the same. When an Oxford student accuses one of the university's professors of sexual assault, DI Adam Fawley's team think they've heard it all before. But they couldn't be more wrong. Because this time, the predator is a woman and the shining star of the department, and the student a six-foot male rugby player. Soon DI Fawley and his team are up against the clock to figure out the truth. What they don't realise is that someone is watching. And they have a plan to put Fawley out of action for good." (Adapted from Catalogue) Also available as an eBook.
The cliff house / Brookmyre, Christopher
"Jen's hen party is going to be out of control. She's rented a luxury getaway on its own private island. The helicopter won't be back for seventy-two hours. They are alone… They think. As well as Jen, there's the pop diva and the estranged ex-bandmate, the tennis pro and the fashion guru, the embittered ex-sister-in-law and the mouthy future sister-in-law. It's a combustible cocktail, one that takes little time to ignite, and in the midst of the drunken chaos, one of them disappears. Then a message tells them that unless someone confesses her terrible secret to the others, their missing friend will be killed. Problem is, everybody has a secret. And nobody wants to tell." (Adapted from Catalogue)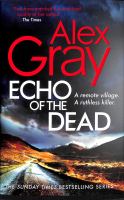 Echo of the dead / Gray, Alex
"After a stressful winter, DSI William Lorimer is enjoying some time away from Glasgow. He and his new friend, Daniel Kohi, have retreated to the wilds of the Scottish Highlands to unwind. But what awaits them is far from a holiday. Despite its troubled history, the mountain village of Glencoe is now a popular resort, famed for its close-knit community, its breath-taking scenery and the warm welcome it offers weary travellers. So it's particularly shocking when two bodies are discovered in quick succession on the nearby peaks. With a potential serial killer on the loose, Lorimer's Major Incidents Team are drafted in from Glasgow. It's clear that a dark secret lurks beneath the wild beauty of this place. " (Adapted from Catalogue)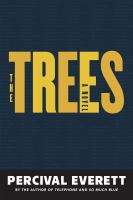 The trees : a novel / Everett, Percival
"After a series of brutal murders in a rural Mississippi town, investigators arrive and discover a large number of similar cases that all have roots in the past. When a pair of detectives from the Mississippi Bureau of Investigation arrive to investigate a series of brutal murders in the rural town of Money, they meet expected resistance from the local sheriff, his deputy, the coroner, and a string of racist White townsfolk. The murders present a puzzle, for at each crime scene there is a second dead body: that of a man who resembles Emmett Till. The detectives suspect that these are killings of retribution, but discover that eerily similar murders are taking place all over the country. " (Adapted from Catalogue) Also available as an eBook.
1989 / McDermid, Val
"There's nothing like a killer story… 1989. The world is changing, and Allie Burns is still on the front line, overing the stories that count. Although Allie is no longer an investigative journalist, her instincts are sharper than ever. When she discovers a lead about the exploitation of society's most vulnerable, Allie is determined to give a voice to those who have been silenced. As Allie edges closer to exposing the truth, she travels behind the Iron Curtain to East Berlin on the brink of the revolution. The dark heart of the story is more shocking than she ever imagined. And to tell it, Allie must risk her freedom and her life…" (Adapted from Catalogue)
The three Dahlias / Watson, Katy
"Three rival actresses team up to solve a murder at the stately home of Lettice Davenport, the author whose sleuthing creation of the 1930s, Dahlia Lively, had made each of them famous to a new generation. In attendance at Aldermere: the VIP fans, staying at house; the fan club president turned convention organiser; the team behind the newest movie adaptation of Davenport's books; the Davenport family themselves; and the three actresses famous for portraying Dahlia Lively through the decade. Each actress has her own interpretation of the character and her own secrets to hide – but this English summer weekend they will have to put aside their differences as the crimes at Aldermere turn anything but cosy. When fictional death turns into real bodies." (Adapted from Catalogue)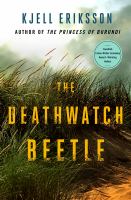 The deathwatch beetle : a mystery / Eriksson, Kjell
"Four years have passed since Cecilia Karlsson disappeared from the island of Gräsö in Roslagen. When Ann Lindell receives a tip that she has been seen alive she cannot help getting involved, even though she is no longer with the police. The black sheep of the island, Nils Lindberg, has never forgotten Cecilia Karlsson, with whom he was in love as a teenager. And he carries a secret. He may not be completely sober all the time, but he has no doubt of what he saw out on the bay just before Cecilia disappeared. Cecilia's parents are desperate, not knowing what happened to their daughter. Yet their silent house contains many things that have been left unsaid…" (Adapted from Catalogue)