The Ngaio Marsh Awards celebrate literary excellence in crime, mystery and thriller writing. This year's longlist has just been announced — and what a fabulous and varied shortlist it is!
Included amongst its illustrious ranks we have novels set in Renaissance Florence,  1930s Singapore, New York City, and 1990s Auckland — with many established authors sitting alongside debut writers. The diversity of tropes, characters, styles, and settings is truly thrilling!
Now  in its twelfth year, The Ngaio Marsh Awards are, as always, a terrific showcase of exciting and innovative Aotearoa New Zealand storytelling that is truly world class. The finalists for both the Best Novel and Best First Novel categories will be announced in early August, and then the finalists will be celebrated and winners announced as part of a special event at this year's WORD Christchurch Festival, to be held from 31 August to 4 September 2022.
Longlist for this year's Best Novel prize:
Before you knew my name, by Jacqueline Bublitz
The quiet people, by Paul Cleave
To the sea, by Nikki Crutchley
Polaroid nights, by Lizzie Harwood
Isobar precinct, by Angelique Kasmara
Nancy business, by RWR McDonald
She's a killer, by Kirsten McDougall
The last guests, by JP Pomare
The devils you know, by Ben Sanders
Quiet in her bones, by Nalini Singh
Waking the tiger, by Mark Wightman
About the longlisted titles:
City of vengeance / Bishop, D. V. 
"Florence. Winter, 1536. A prominent Jewish moneylender is murdered in his home, a death with wide implications in a city powered by immense wealth. Cesare Aldo, a former soldier and now an officer of the Renaissance city's most feared criminal court, is given four days to solve the murder: catch the killer before the feast of Epiphany, or suffer the consequences. During his investigations Aldo uncovers a plot to overthrow the volatile ruler of Florence, Alessandro de' Medici. If the Duke falls, it will endanger the whole city. …" (Adapted from Catalogue)
Also available as an eBook.
Before you knew my name / Bublitz, Jacqueline
"Dead girls don't usually get to tell their story, but Alice Lee has always been a different type of girl. When she arrives in New York on her eighteenth birthday, carrying nothing but $600 cash and a stolen Leica in her bag, Alice is a plucky teenager looking to start a new life away from her dark past. Now she's 'Jane Doe', 'Riverside Jane', an unidentified body on a slab at City Morgue…" (Catalogue)
Also available as an eBook.
The quiet people / Cleave, Paul
"Cameron and Lisa Murdoch are successful crime-writers. They have been on the promotional circuit, joking that no-one knows how to get away with crime like they do. After all, they write about it for a living. So when their 7 year old son Zach goes missing, naturally the police and the public wonder if they have finally decided to prove what they have been saying all this time – are they trying to show how they can commit the perfect crime?" (Adapted from Catalogue)
Also available as an eBook.
To the sea / Crutchley, Nikki"
"Keep a secret. Tell a lie. Protect the family. At all costs. A compulsively readable suspense thriller which will keep guessing and keep you up late into the night. Iluka has been the only home that 18-year-old Ana has ever known. The beautiful wild pine plantation overlooking the Pacific Ocean where her grandfather builds furniture, her aunt runs an artists' retreat and her uncle tends the land, is paradise, a private idyll safe from the outside world. But the place holds a violent secret and when a stranger arrives, Ana will need to make a choice – to protect everything – and everyone – she holds dear – or tell the truth and destroy it all. " (Adapted from Catalogue)
Also available as an eBook.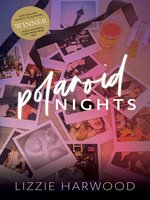 Polaroid Nights , Lizzie Harwood (ebook)
"Auckland city bars, 1996, when the click / whirr of a Polaroid 600 proved you were living your best life. Betty's is on repeat: waitress till late, drink till dawn, in bed to forget. But partying like there's no tomorrow is no fix for the problems crowding in. When her ex is murdered and left in her bed, Betty and her flatmate Alabama turn to the bar world to find out who did it. Was it the Psychic – or someone closer?" (Overdrive description)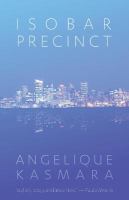 Isobar precinct / Kasmara, Angelique
"Lestari Aris is a woman on the edge. Her tattoo studio on Karangahape Road is hammered by burglaries; the hangers-on in her life, from a teenage runaway to a married cop, are bonded to her for reasons she can't fathom. And years after Lestari's father disappeared, her Indonesian mother is still lost in a self-medicated blur. When a murder in Symonds Street Cemetery whirls Lestari into the orbit of an unpredictable drug, she uncovers a decades-long covert clinical study targeting rough sleepers and others on the fringes – and its dark connections with her own life and history. Everything is connected: the past is circling. How far will Lestari go to save someone she loves? " (Adapted from Catalogue)
Also available as an eBook.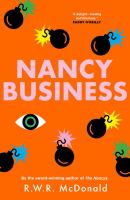 Nancy business / McDonald, R. W. R. 
"It's been four months since Tippy, Uncle Pike and Devon were together for Christmas. Now back for the first anniversary of Tippy's father's death, the Nancys are reformed when Riverstone is rocked by an early morning explosion that kills three people and destroys the town hall. A new case is born. Is the accused bomber really guilty? Is there a second bomber? And if so, does that mean a threat to destroy Riverstone Bridge is real? And is asparagus a colour? Once again, it is up to the Nancys to go against the flow and ignore police orders to get to the truth. " (Adapted from Catalogue)
Also available as an eBook
She's a killer / McDougall, Kirsten 
"The world's climate is in crisis and New Zealand is being divided and reshaped by privileged immigrant wealthugees. Thirty-something Alice has a near-genius IQ and lives at home with her mother with whom she communicates by Morse code. Alice's imaginary friend, Simp, has shown up, with a running commentary on her failings. But then she meets Erika – an actual genius full of terrifying ambition. It's about what happens when we refuse to face our most demanding problems, told by a woman who is a strange and calculating force of chaos." (Adapted from Catalogue)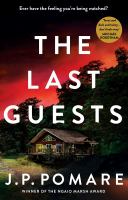 The last guests / Pomare, J. P.
"What do you do when you think no one is watching? Lina and Cain are doing their best to stay afloat. Money has been tight since Cain returned from active duty, and starting a family is proving harder than they thought. Putting Lina's inherited lakehouse on Airbnb seems like the solution to at least one of their problems. The secluded house is more of a burden than a retreat, anyway, and fixing up the old place makes Cain feel useful for once. But letting strangers stay in their house might not be the best idea. Someone is watching – their most mundane tasks, their most intimate moments – and what they see will change everything." (Adapted from Catalogue)
The devils you know / Sanders, Ben
"Vincent needs a change. He's spent the last fifteen years in covert operations for the U.S. government, but after a botched and fatal mission, he decides he's done with pulling triggers for shadowy officialdom. He wants a rest from the violence. Vincent accepts a job in Santa Barbara, California, as head of security for supermarket mogul Eugene Lamar. It's perfect: his main duty is driving the boss to and from golf, which means ample down-time for surfing, or sitting by the pool contemplating life – and how to live it with a zero body-count. He's intrigued too by Lamar's daughter .  And can Vincent keep her safe from the brutal characters who are after her father? …" (Adapted from Catalogue)
Also available as an eBook.
Quiet in her bones / Singh, Nalini 
"When socialite Nina Rai disappeared without a trace, everyone wrote it off as another trophy wife tired of her wealthy husband. But now her bones have turned up in the shadowed green of the forest that surrounds her elite neighborhoods, a haven of privilege and secrets that's housed the same influential families for decades. The rich live here, along with those whose job it is to make their lives easier. And some body knows what happened to Nina one rainy night ten years ago. Her son Aarav heard a chilling scream that night, and he's determined to uncover the ugly truth that lives beneath the moneyed elegance . . . " (Adapted from Catalogue)