To celebrate the 21st anniversary of the fabulous Wellington Writers Walk, we've taken a closer look at just a few of the authors represented. In this blog we take a look at Alistair Te Ariki Campbell's typographical sculpture, which features a quote taken  from 'Blue Rain' in The Dark Lord of Savaiki: Collected Poems, Hazard Press, 2003.
Blue rain from a clear sky.
Our world a cube of sunlight –
but to the south
the violet admonition
of thunder.
In the video below, local authors and Wellington Writers Walk Committee members Philippa Werry and Maggie Rainey-Smith explore Alistair Te Ariki Campbell's work – to be found by going down steps between the Circa Theatre and the harbour to a walkway over the water, or viewed from above. They provide a fascinating insight into Alistair Te Ariki Campbell's work life and creative process, and also  celebrate his achievements, body of work and connections to Wellington.
The collected poems of Alistair Te Ariki Campbell / Campbell, Alistair
"The definitive edition of one of the most important bodies of work in New Zealand poetry. Based on a spiral-bound manuscript entitled Complete Poems 1947-2007 found among Campbell's papers after his death, this is his most substantial collection to date and the first to be published in hardback since 1981." (Adapted from Catalogue)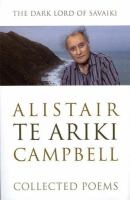 The dark lord of Savaiki : collected poems / Campbell, Alistair
"In The Dark Lord of Savaiki Alistair Te Ariki Campbell presents the best of his early and middle period poems, as well as his latest collections, Gallipoli and other Poems, Maori Battalion, acclaimed as a New Zealand epic poem, and an autobiographical poem in letters, Poets in Our Youth. Few New Zealand poets have treated the natural world with greater sensitivity, while his personal lyrics and love poems have a music and a depth of feeling that set them apart. Campbell is in the enviable position of being both a New Zealand and a Cook Islands poet, enabling him to draw on imagery, folklore, history, and mythology from both sources, with powerful effect. The publication of this book is a time for celebration, as a poet in his eightieth year publishes perhaps his best collection" (Adapted from Catalogue)
It's love, isn't it? : the love poems / Campbell, Alistair
"Poet Meg Campbell, not long before she died, expressed the wish to be published with her husband, Alistair Te Ariki Campbell, in a joint collection of their poems. Sadly, she died before this could be accomplished. Campbell has now carried out her wish with this striking and unusual collection of love poems mainly from the exacting early and middle years of their marriage. Tested by mental illness, infidelity, doubt, and independence, their love remained strong to the end. Campbell has matched the love poems, his and hers, which appear on facing pages throughout the book. The result is never less than cogent and illuminating. If you like poems that are frank, direct and passionate, this is the book for you." (Adapted from Catalogue)
Scribbling in the dark : Alistair Te Ariki Campbell / Wattie, Nelson
"From the early days of Mine Eyes Dazzle Campbell's poetic voice has had a charismatic force which has won him an unusually broad range of admirers. Young readers continue to be drawn by his strength of personal feeling, his compelling eroticism and his vivid renderings of the New Zealand and South Pacific environment." (Adapted from Catalogue)
Just poetry / Campbell, Alistair
Fantasy with witches / Campbell, Alistair