To celebrate the 21st anniversary of the fabulous Wellington Writers Walk, we've taken a closer look  at just a few of the authors represented. In this blog we take a look at Bill Manhire's typographical sculpture, which features a quote taken from 'Milky Way Bar' in Milky Way Bar, Victoria University Press, 1991
I live at the edge
of the universe,
like everybody else.
In the video below, local authors and Wellington Writers Walk Committee members Philippa Werry and Maggie Rainey-Smith explore Manhire's work, to be found overlooking the water by the  bridge, near the Hikitia floating crane. They provide a fascinating insight into Bill Manhire's work life and creative process, and also celebrate his continuing achievements, body of work and connections to Wellington.
Milky Way bar / Manhire, Bill
"Collection of award winning Bill Manhire poetry first released in 1992. Which includes his Wellington Writers Walk poem  " (Adapted from Catalogue)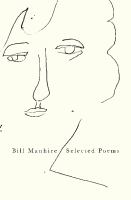 Selected poems / Manhire, Bill
"This generous selection of Bill Manhire's poems moves from playful early pieces like "On Originality" and "How to Take off Your Clothes at the Picnic" to major works of recent years such as "Hotel Emergencies"–a powerful response to contemporary atrocities–and "Erebus Voices"–written to be read by Sir Edmund Hillary at the 25th anniversary of the Mt. Erebus tragedy. The poems featured in this definitive collection of New Zealand's most important poet are deceptively simple, often funny, and always revelatory of his own and his country's history." (Adapted from Catalogue)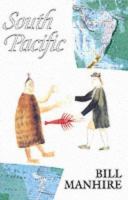 South Pacific / Manhire, Bill
""In this lively, humorous and original book, the romance of the Pacific confronts the truth about that paradise. The stories include a do-it-yourself murder mystery an assassination attempt on the Queen, the hilarious account of a Writers' Congress in Kuala Lumpur, and an unsettling, futuristic tale from 1999." "Set in New Zealand and its environs, several of the pieces were first collected in The New Land, which won the 1990 Buckland Award for the best work of literature published in New Zealand. In South Pacific Bill Manhire has added view tales and other work. A vein of satire runs through his stories. Yet rooted as many of them are in a particular place and time, the laughter they generate is anything but local." (Adapted from Catalogue)
The victims of lightning / Manhire, Bill
"Building on previous themes and introducing some new techniques, this collection reveals a respected poet at the height of his powers. Here are finely crafted lyrics, found poems, a bracket of songs, and complex emotions–all tempered by the use of humor." (Adapted from Catalogue)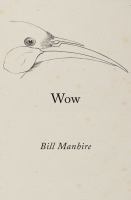 Wow / Manhire, Bill
"Excuse me if I laugh. The roads are dark and large books block our path. The air we breathe is made of evening air. The world is longer than the road that brings us here. Bill Manhire's new book begins with the song of an extinct bird, the huia, and journeys on into troubling futures. These poems reach for the possibilities of lyric, even as their worlds are being threatened in a range of agitating ways. In the title poem we hear a baby say Wow to life and to the astonishing prospect of language; but almost immediately we hear the world reply: Also. Along the way there are several desperate jokes. " (Adapted from Catalogue)
The stories of Bill Manhire / Manhire, Bill
"Collects the stories from The New Land : A Picture Book (1990) and the stories added to South Pacific (1994) and Songs of My Life (1996). In addition there are previously uncollected and unpublished stories, the choose-your-own-adventure novella The Brain of Katherine Mansfield (1988), and the memoir Under the Influence (2003)." (Adapted from Catalogue)
Lifted / Manhire, Bill
"An award-winning collection exploring the plight of the secular spirit in the face of mortality and human violence, this work demonstrates a poet writing at the height of his powers." (Adapted from Catalogue)
Some things to place in a coffin / Manhire, Bill
"Bill Manhire's first new collection of poems for seven years takes its title from his elegy for his close friend the painter Ralph Hotere, who died in 2013. At its heart is the sequence 'Known Unto God', commissioned by the BBC for the centenary of the Battle of the Somme in 2016. These are poems of memory and mortality, which are also full of jokes and good tunes." (Adapted from Catalogue)
Mutes & earthquakes : Bill Manhire's creative writing course at Victoria