"Crooked world, straight world, same rules – everybody had a hand out for the envelope."
― Colson Whitehead, Harlem Shuffle
The recently acquired crime and mystery title that caught our eye this month was the much-anticipated Crook Manifesto by Pulitzer Prize winner Colson Whitehead. A dazzling and much-anticipated return to the world of Harlem Shuffle. Like its predecessor the book is clearly a crime novel and a fabulous one at that, but it is also a literary lens that focusses on a particular place and its culture at a particular point in time.
The place is the New York neighbourhood of Harlem, the time is the early seventies. A place and time known historically for its social difficulties.  Harlem in the early 70's was a troubled neighbourhood; poverty-stricken with low employment and many other major social issues.  The situation was so bad that many former Harlem residents who could afford to leave did so . This exodus largely left behind only the poorest, most deprived segments of the community. However, as Colson vividly illustrates, Harlem at this time also had a thriving musical scene and was continuing to create its own unique  culture and, in many ways, was a place of vibrant energy. Colson Whitehead's period detail and atmosphere building is meticulous and immersive.
Other titles that caught our eye were Christina Koning's Murder in Regent's Park, and Scottish crime writer Alex Gray's Questions For a Dead Man .
There is also a bit of a Japanese flavour to this month's selections with The Mill House Murders by Yukito  Ayatsuji, the pitch dark The Rope Artist by Fuminori Nakamura and the classic Tokyo Express  by Seichō  Matsumoto.
Crook manifesto : a novel / Whitehead, Colson
"It s 1971. Trash piles up on the streets, crime is at an all-time high, the city is careening towards bankruptcy, and a shooting war has broken out between the NYPD and the Black Liberation Army. Amidst this collective nervous breakdown furniture store owner and ex-fence Ray Carney tries to keep his head down and his business thriving. His days moving stolen goods around the city are over. It s strictly the straight-and-narrow for him until he needs Jackson 5 tickets for his daughter May and he decides to hit up his old police contact Munson, fixer extraordinaire. But Munson has his own favors to ask of Carney and staying out of the game gets a lot more complicated and deadly." (Adapted from Catalogue) Also available as an eBook
The Mill House murders / Ayatsuji, Yukito
"As they do every year, a small group of acquaintances pay a visit to the remote, castle-like Water Mill House, home to the reclusive Fujinuma Kiichi, son of a famous artist, who has lived his life behind a rubber mask ever since a disfiguring car accident. This year, however, the visit is disrupted by an impossible disappearance, the theft of a painting, and a series of baffling murders. The brilliant Kiyoshi Shimada arrives to investigate. But will he get to the truth, and will you too be able to solve the mystery of the Mill House Murders?" (Adapted from Catalogue)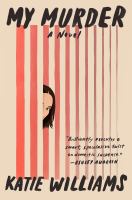 My murder / Williams, Katie
" What if the murder you had to solve was your own? Lou is a happily married mother of an adorable toddler. She's also the clone of the original Louise who, along with four other victims of a local serial killer, has been brought back to life by a government project to return the women to their grieving families. But as the new Lou re-adapts to her old life, questions remain about what exactly preceded her death, and how much to trust those around her. Understanding the truth may determine what comes next for Lou." (Adapted from Catalogue)
Continue reading "Crook Manifesto: Our latest selection of crime & mystery titles" →