"Writing is a way of sharing our humanity."
― William McIlvanney (1936 –2015)
The much-vaulted sub-genre of Tartan Noir (which is now occasionally humorously and affectionately maligned) has some very strong entries in this month's recently acquired crime, mystery and thriller selection, including books from several luminaries such as the Modern Queen of Crime Val McDermid. There's also a new book from Ian Rankin that takes up the reins from the father of "Tartan Noir", William McIlvanney. In The Dark Remains Ian completes an unfinished manuscript from William McIlvanney's archives. The resulting novel brings evocatively to life William McIlvanney's unique writing style and richly evokes the grimy world of Scotland in the 1970's as, incidentally, does Val McDermid's superb 1979.
In many ways William McIlvanney was the pioneering author who trailblazed the path for many modern Scottish crime writers to follow. There's also a new work from the fabulous  Alex Grey called Before the Storm, a truly gripping read that has plot elements that move between both Zimbabwe and Glasgow.
Other title highlights include a wonderful new (already widely acclaimed)  New Zealand  crime voice  Anne Harré and her debut novel The Leaning Man, set in Wellington with  vivid descriptions of the city itself and  includes scenes in our very own Te Awe Library; it is a compulsive and page-turning read. Keep a close eye out for our upcoming exclusive interview with Anne Harré in conversation with Dame Fiona Kidman!
You can also watch  Professor Val McDermid talk exclusively to us in the interview at the end of this blog, which includes a section on some of her creative thoughts behind 1979.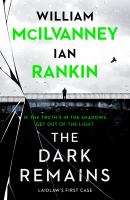 The dark remains / McIlvanney, William
"Lawyer Bobby Carter did a lot of work for the wrong type of people. Now he's dead and it was no accident. Besides a distraught family and a heap of powerful friends, Carter's left behind his share of enemies. So, who dealt the fatal blow? DC Jack Laidlaw's reputation precedes him. He's not a team player, but he's got a sixth sense for what's happening on the streets. His boss chalks the violence up to the usual rivalries, but is it that simple? As two Glasgow gangs go to war, Laidlaw needs to find out who got Carter before the whole city explodes. " (Adapted from Catalogue) Also available as an eBook.
1979 / McDermid, Val
"1979. It is the winter of discontent, and reporter Allie Burns is chasing her first big scoop. There are few women in the newsroom and she needs something explosive for the boys' club to take her seriously. Soon Allie and fellow journalist Danny Sullivan are exposing the criminal underbelly of respectable Scotland. They risk making powerful enemies – and Allie won't stop there. When she discovers a home-grown terrorist threat, Allie comes up with a plan to infiltrate the group and make her name. But she's a woman in a man's world… and putting a foot wrong could be fatal." (Adapted from Catalogue)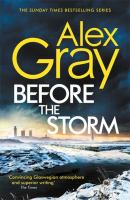 Before the storm / Gray, Alex
"Inspector Daniel Kohi of the Zimbabwean police force returns home one night to find his worst nightmare has been realised. His family dead, his house destroyed, and in fear for his life, he is forced to flee the country he loves. Far away in Glasgow, DSI William Lorimer has his hands full. Christmas is approaching, the city is bustling, and whilst the homicide rate has been relatively low, something much darker is brewing. Counter-Terrorism have got wind of a plot, here in Lorimer's native city, to carry out an unspeakable atrocity on Christmas Eve. " (Adapted from Catalogue)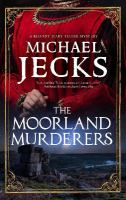 The Moorland murderers / Jecks, Michael
"July, 1556. En route to France and escape from Queen Mary's men, Jack Blackjack decides to spend the night at a Devon tavern, agrees to a game of dice – and ends up accused of murder. To make matters worse, the dead man turns out to have been the leader of the all-powerful miners who rule the surrounding moors – and they have no intention of waiting for the official court verdict to determine Jack's guilt. But who would frame Jack for murder . . . and why?  As Jack's attempts to find answers stirs up a hornet's nest of warring factions within the town, events soon start to spiral out of control . . ." (Adapted from Catalogue)
The distant dead / Thomson, Lesley
"London, 1940. Several neighbours heard the scream of the woman in the bombed-out house. One told the detective she thought the lady had seen a mouse. Another said it wasn't his business what went on behind closed doors. None of them imagined that a trusting young woman was being strangled by her lover… Tewkesbury, 2020. Beneath the vast stone arches of Tewkesbury Abbey, a man lies bleeding, close to death. He is the creator of a true-crime podcast which now will never air. He was investigating the murder of a 1940s police pathologist – had he come closer to the truth than he realised? (Adapted from Catalogue)
The royal secret / Taylor, Andrew
"Two young girls plot a murder by witchcraft. Soon afterwards a government clerk dies painfully in mysterious circumstances. His colleague James Marwood is asked to investigate – but the task brings unexpected dangers. Meanwhile, architect Cat Hakesby is working for a merchant who lives on Slaughter Street, where the air smells of blood and a captive Barbary lion prowls the stables. Then a prestigious new commission arrives. Cat must design a Poultry House for the woman that the King loves most in all the world. Unbeknownst to all, at the heart of this lies a royal secret so explosive that it could not only rip apart England but change the entire face of Europe…"- (Adapted from Catalogue)
In the crypt with a candlestick / Waugh, Daisy
"Sir Ecgbert Tode of Tode Hall has survived to a grand old age – much to the despair of his younger wife, Emma. But at ninety-three he has, at last, shuffled off the mortal coil. Emma, Lady Tode, thoroughly fed up with being a dutiful Lady of the Manor, wants to leave the country to spend her remaining years in Capri. Unfortunately her three tiresome children are either unwilling or unable (too mad, too lefty or too happy in Australia) to take on management of their large and important home, so the mantle passes to a distant relative and his glamorous wife. Not long after the new owners take over, Lady Tode is found dead in the mausoleum. Accident? Or is there more going on behind the scenes of Tode Hall…?" (Adapted from Catalogue)
The leaning man / Harré, Anne
"Wellington. The land dips and rolls, the wind has a life of its own. Dig a little deeper and the city is unforgiving and unrepentant. Forget the politicians, they're poor amateurs in deception and crime. It's Saturday night down on the wharf. Celebrations are in full swing for the Westons' fortieth wedding anniversary. Their daughter Stella has returned from London to attend. Once shoulder-tapped as detective material, a few bad decisions and a questionable ethical dilemma saw her leave the force under a cloud. She's now a private investigator in London, reduced to filming errant husbands for court cases. She doesn't want to be home. Later that night her best friend Teri is found dead in a lane in the central city. Her phone is missing. It looks like suicide, but Stella won't believe it. " (Adapted from Catalogue)