For your delight, edification, and enjoyment our very special online Q and A with the Queen of modern crime fiction Professor Val McDermid.
We are absolutely thrilled to be presenting this Online event with Professor Val McDermid.
Filmed at Val's home by her partner Professor Jo Sharp and using questions specially gathered from the users of WCL and beyond. The interview is a fascinating insightful and entertaining look into one of the most popular and critically acclaimed writers on the planet.
About Professor Val McDermid
Val McDermid is one of the biggest names in contemporary crime fiction and 'Tartan Noir' — her novels have sold more than 16 million copies and have been translated into 40 languages worldwide. Her novels currently fall into four main series, featuring a host of memorable characters: As well as five standalone novels.
The Lindsay Gordon books
The Kate Brannigan books
The DCI Karen Pirie series
The Tony Hill/Carol Jordan series
Val has also written Non-fiction, short stories, and an award-winning children's book.
Val's most recent release is the sixth DCI Karen Pirie novel called Still life. 
Val McDermid has also won crime writing's most prestigious award, the much-coveted Crime Writers' Association Gold Dagger for Best Crime Novel of the Year, for her novel The Mermaids Singing. Along with her plethora of awards, she also holds an Honorary Fellowship from St Hilda's College in Oxford — where she was the first student from a state school in Scotland ever to attend.
We have an extensive range of Val McDermid books available to borrow click here to view our entire collection.
You can find out more about Val's activities (and find loads more criminally good recipes besides!) by visiting her website — valmcdermid.com.
We wish to extend to Professor Val McDermid and Professor Jo Sharp our deepest and most sincere thanks for sharing their time with us, and for such a fabulous interview — which you can now view below.
Still life / McDermid, Val
"'On a freezing winter morning, fishermen pull a body from the sea. It is quickly discovered that the dead man was the prime suspect in a decade-old investigation, when a prominent civil servant disappeared without trace. DCI Karen Pirie was the last detective to review the file and is drawn into a sinister world of betrayal and dark secrets. But Karen is already grappling with another case, one with even more questions and fewer answers. A skeleton has been discovered in an abandoned campervan and all clues point to a killer who never faced justice – a killer who is still out there. " (Adapted from Catalogue) Also available as an Audiobook.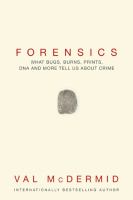 Forensics : what bugs, burns, prints, DNA, and more tell us about crime / McDermid, Val
"The dead talk–to the right listener. They can tell us all about themselves: where they came from, how they lived, how they died, and, of course, who killed them. Forensic scientists can unlock the mysteries of the past and help serve justice using the messages left by a corpse, a crime scene, or the faintest of human traces. Forensics draws on interviews with some of these top-level professionals, ground-breaking research, and McDermid's own original interviews and firsthand experience on scene with top forensic scientists." (Adapted from Catalogue) Also  available as an eBook.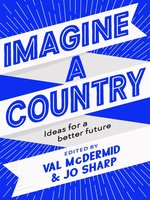 Imagine a Country, Val McDermid & Jo Sharp (ebook) "The first step on the road to change is to imagine possibility. Imagine A Country offers visions of a new future from an astonishing array of Scottish voices, from comedians to economists, writers to musicians. Edited, curated and introduced by bestselling author Val McDermid and geographer Jo Sharp, it is a collection of ideas, dreams and ambitions, aiming to inspire change, hope and imagination. Featuring: Ali Smith, Phill Jupitus, A.l. Kennedy, Alan Cumming, Kerry Hudson, Greg Hemphill, Carol Ann Duffy, Chris Brookmyre, Alison Watt, Alasdair Gray, Leila Aboulela, Ian Rankin, Selina Hales, Sanjeev Kohli, Jackie Kay, Damian Barr, Elaine C. Smith, Abir Mukherjee, Anne Glover, Alan Bissett, Louise Welsh, Jo Clifford, Ricky Ross, Trishna Singh, Cameron Mcneish, Alexander Mccall Smith, Carla Jenkins, Don Paterson, and many more…" (Overdrive description)
My granny is a pirate / McDermid, Val
" The perfect story to keep you entertained whilst stuck at home and missing Granny Who knows, when you next see her, she may have turned into a pirate… My granny is a pirate
She's sailed the seven seas.
She captured many pirate ships
But was always home for tea. When a family secret about Granny is revealed, we discover all about her fiercesome pirate reputation and her swashbuckling ways – from making other rogueish pirates walk the plank to singing sea shanties to her dog, Jolly Roger. Look again at your granny…could she be a pirate too? A must-have book for all pirate fans." (Adapted from Catalogue)