One of the most taboo of all tattoos is the Three Curses.
One of our newly acquired crime and thriller titles this month has an interesting back story — it was originally released in Japan in 1948 and has in that country gone on to be regarded as a classic of the crime genre. The tattoo murder is an acclaimed Japanese locked-room whodunit set in Tokyo in 1947 that revolves around a series of murders linked to the theft of exquisite body tattoos.
Tattoos, or irezumi, hold a special place in Japanese society and culture. Tattooing for decorative and spiritual purposes in Japan is believed  to extend back to at least the palaeolithic period and was sometimes used as a form of punishment. Their popularity fluctuated in Japanese society until the Edo period (1603–1867), by which point in time it had evolved into the established art form it is now. This development was pushed forward by two things — the development and refinement of Japanese Edo period woodblock printing, and the popularity of a Chinese novel called Shui Hu Zhuan ('Water margin'), or Suikoden in the Japanese translation (1757), in which lavish illustrations showed heavily tattooed heroes doing daring deeds of bravery. These tattoo images were often heavily stylised images of mythical creatures such as dragons or ferocious tigers. Of course, tattoos in Japan are also associated with the Yakuza, Japan's notorious mafia — with many public places such as hot springs and public baths banning customers with tattoos for that reason.
Two other crime and thriller books this month that especially caught our eye have a distinctively Scottish flavour, although they are very different books. These are: The bookseller of Inverness by Shona MacLean, and Meantime by Scottish comedian Frankie Boyle. This last is a wickedly funny, mega-dark modern Glaswegian take on Raymond Chandler's The Long Goodbye.
Have a browse!
The tattoo murder : translated and adapted by Deborah Boehm / Takagi, Akimitsu
"Miss Kinue Nomura survived World War II only to be murdered in Tokyo, her severed limbs left behind. Gone is that part of her that bore one of the most beautiful full-body tattoos ever rendered by her late father. Kenzo Matsushita, a young doctor, must assist his detective brother who is in charge of the case, because he was Kinue's secret lover and the first person on the murder scene." (Adapted from Catalogue)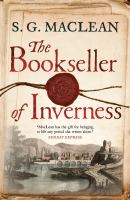 The bookseller of Inverness / MacLean, Shona
"After Culloden, Iain MacGillivray was left for dead on Drumossie Moor. Wounded, his face brutally slashed, he survived only by pretending to be dead as the Redcoats patrolled the corpses of his Jacobite comrades. Six years later, with the clan chiefs routed and the Highlands subsumed into the British state, Iain lives a quiet life, working as a bookseller in Inverness. One day, after helping several of his regular customers, he notices a stranger lurking in the upper gallery of his shop, poring over his collection. But the man refuses to say what he's searching for and only leaves when Iain closes for the night…" (Adapted from Catalogue)
Meantime / Boyle, Frankie
"Glasgow, 2015. When valium addict Felix McAveety's best friend Marina is found murdered in the local park, he goes looking for answers to questions that he quickly forgets. In a haze of uppers, hallucinogens, and diazepam, Felix enlists the help of a brilliant but mercurial GP; a bright young trade unionist; a failing screenwriter; semi-celebrity crime novelist Jane Pickford; and his crisis fuelled downstairs neighbour Donnie. Their investigation sends them on a bewildering expedition that takes in Scottish radical politics, Artificial Intelligence, cults, secret agents, smugglers and vegan record shops." (Adapted from Catalogue)
The girl in the photo / Amsinck, Heidi
"When two more victims are attacked, the police lament a rise in violence against the elderly, but who is the young girl in the photo found by DI Henrik Jungersen on the scenes of crime? Impatient to claim her inheritance, Irene's daughter hires former Dagbladet reporter Jensen and her teenage apprentice Gustav to find the necklace. Questioning his own sanity, while trying to fix his marriage, Henrik finds himself once more pitched in a quest for the truth against Jensen – the one woman in Copenhagen he is desperate to avoid." (Adapted from Catalogue)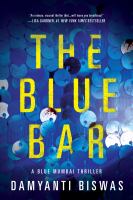 The blue bar / Biswas, Damyanti
"On the dark streets of Mumbai, the paths of a missing dancer, a serial killer, and an inspector with a haunted past converge in an evocative thriller about lost love and murderous obsession. After years of dancing in Mumbai's bars, Tara Mondal was desperate for a new start. So when a client offered her a life-changing payout to indulge a harmless, if odd, fantasy, she accepted. The setup was simple: wear a blue-sequined saree, enter a crowded railway station, and escape from view in less than three minutes. It was the last time anyone saw Tara. Thirteen years later, Tara's lover, Inspector Arnav Singh Rajput, is still grappling with her disappearance as he faces a horrifying new crisis…" (Adapted from Catalogue)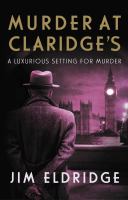 Murder at Claridge's / Eldridge, Jim
"One of the Claridge's kitchen porters is found dead – strangled. He was a recent employee who claimed to be Romanian, but evidence suggests he may have been German. Detective Chief Inspector Coburg has to find out exactly who he was, and what he was doing at Claridge's under a false identity. Once he has established those facts, he might get an insight into why he was killed, and who by. Coburg's job is complicated by the fact that so many of the hotel's residents are exiled European royalty. King George of Greece is registered as 'Mr Brown' and even the Duke of Windsor is staying, though without Wallis Simpson." (Adapted from Catalogue)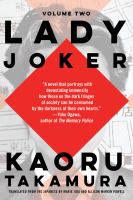 Lady Joker. Volume two / Takamura, Kaoru
" Inspired by the real-life Glico-Morinaga kidnapping, an unsolved case that terrorized Japan for two years, Lady Joker reimagines the circumstances of this watershed episode in modern Japanese history and brings into riveting focus the lives and motivations of the victims, the perpetrators, the heroes, and the villains. As the shady networks linking corporations to syndicates are brought to light, the stakes rise, and some of the investigators, journalists, and other professionals fighting to manage this crisis will lose everything. Some even their lives. Will the culprits ever be brought to justice?" (Adapted from Catalogue)
The things we do to our friends : a novel / Darwent, Heather
"Edinburgh, Scotland: a moody city of labyrinthine alleyways, oppressive fog, and buried history; the ultimate destination for someone with something to hide. Perfect for Clare, then, who arrives utterly alone and yearning to reinvent herself. And what better place to conceal the dark secrets in her past than at the university in the heart of the fabled, cobblestoned Old Town? When Clare meets Tabitha, a charismatic, beautiful, and intimidatingly rich girl from her art history class, she knows she's destined to be friends with her and her exclusive circle: raffish Samuel; shrewd Ava; and pragmatic Imogen. Clare is immediately drawn into their libertine world of sophisticated dinner parties and summers in France, but what is the cost of an extraordinary life if others have to pay?" (Adapted from Catalogue)