I love summer in Glasgow, it's my favourite day of the year.
It may not be Scotland's capital city, but Glasgow is easily Scotland's most populous — it was once one of the industrial powerhouses of Victorian Britain. The decline of these industries sadly led to many deep seated social issues that exist to this day, but nowadays Glasgow is known for its vibrant world-class art scene, its rich, comic outlook on life, some remarkable architecture and buildings — and of course deep fried mars bars and legions of novels written about or featuring life in the city.
In many of these books, the character and atmosphere of the city itself often lurks like an extra character. This year's Booker Prize shortlist features one such novel — Shuggie Bain. Set in a run-down Glasgow housing estate in the 1980s, it revolves around a lonely outsider boy and his struggle to fit in, to be accepted, and to survive.
While many novels about Glasgow focus on the darker side of the city, others show the myriad of different aspects of the city and its inhabitants. Below you'll find a selection of novels that feature Glasgow at their core and show the many faceted nature of this marvellous city. Enjoy.
Shuggie Bain [paperback] / Stuart, Douglas
"It is 1981. Glasgow is dying and good families must grift to survive. Agnes Bain  dreams of greater things: a house with its own front door and a life bought and paid for outright. But Agnes is abandoned by her philandering husband, and soon she and her three children find themselves trapped in a decimated mining town. It is her son Shuggie who holds out hope the longest. The miners' children pick on him and adults condemn him as no' right. But Shuggie believes that if he tries his hardest, he can be normal like the other boys and help his mother escape this hopeless place." (Adapted from Catalogue)
A small weeping / Gray, Alex
"The body of a prostitute is found at Glasgow's Queen Street station, her hands, pointing towards her feet, placed as if in prayer, a small flower pressed between the palms. Psychologist Solomon Brightman is called to assist DCI Lorimer in the murder hunt. But before any conclusions can be drawn, the body of a nurse is discovered at The Grange, a private clinic. Aside from the careful arrangement of the corpses, there is no obvious connection between the victims. Then a third body turns up, and it seems increasingly clear that they have a serial killer on their hands." (Catalogue)
The special dead / Anderson, Lin
" When Mark is invited back to Leila's flat and ordered to strip, he expects the experience of his life. Waking later to find Leila gone, he opens the wrong door and finds he's entered a nightmare; behind the swaying Barbie dolls that hang from the ceiling is the body of the girl he just had sex with. Rhona Macleod's investigation reveals the red silk cord used to hang Leila to be a cingulum, a Wiccan artifact used in sex magick. Sketches of sexual partners hidden in the dolls provide a link to nine men, but who are they? " (Catalogue)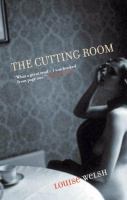 The cutting room / Welsh, Louise
"An auctioneer by profession, Rilke is an acknowledged expert in antiques. When he comes upon a hidden collection of violent, and highly disturbing, erotic photographs, Rilke feels compelled to unearth more about the deceased owner who coveted them. What follows is a compulsive journey of discovery, decadence and deviousness." (Adapted from Catalogue). Also available as an eBook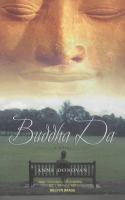 Buddha Da / Donovan, Anne
"Painter and decorator Jimmy McKenna develops  an keen interest in Buddhism after a chance meeting in a Glasgow sandwich bar with a Buddhist monk, but how will Jimmy's family react to his new found faith and how will this new approach to life change Jimmy?"  (Adapted from Catalogue)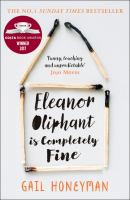 Eleanor Oliphant is completely fine / Honeyman, Gail
" Eleanor Oliphant has learned how to survive – but not how to live Eleanor Oliphant leads a simple life. She wears the same clothes to work every day, eats the same meal deal for lunch every day and buys the same two bottles of vodka to drink every weekend. Eleanor Oliphant is happy. Nothing is missing from her carefully timetabled life. Except, sometimes, everything. One simple act of kindness is about to shatter the walls Eleanor has built around herself. Now she must learn how to navigate the world that everyone else seems to take for granted." (Adapted from Catalogue)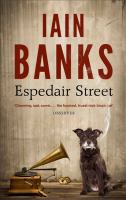 Espedair Street / Banks, Iain
"Daniel Weir used to be a famous – not to say infamous – rock star. At thirty-one he has been both a brilliant failure and a dull success. He's made a lot of mistakes that have paid off and a lot of smart moves he'll regret for ever (however long that turns out to be). Daniel Weir has gone from rags to riches and back, and managed to hold on to them both, though not to much else. His friends all seem to be dead, fed up with him or just disgusted – and who can blame them? And now Daniel Weir is all alone. As he contemplates his life, Daniel realises he has only two problems: the past and the future. " (Adapted from Catalogue)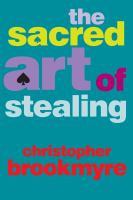 The sacred art of stealing / Brookmyre, Christopher
" Angelique had enough to be fed up about before the embarrassment of being a cop taken hostage by the most bizarrely unorthodox crooks ever to set foot in Glasgow. Disillusioned, disaffected and chronically single, she's starting to take stock of the sacrifices she's made for a job that's given her back nothing but grief. So when her erstwhile captor has the chutzpah to phone her at work and ask her out on a date, Angelique finds herself in no great hurry to turn him in. She knows now that the cops will never love her back, but maybe one of the robbers will." (Adapted from Catalogue)